Technical News
Along the Road is the place to look for information about current and upcoming activities, developments, trends, and items of general interest to the highway community. This information comes from U.S. Department of Transportation (USDOT) sources unless otherwise indicated. Your suggestions and input are welcome. Let's meet along the road.
FHWA Completes Study of Grout With Elevated Chloride Levels
Researchers at the Federal Highway Administration's (FHWA) Turner-Fairbank Highway Research Center in McLean, VA, recently wrapped up a multiphase study focused on grout with elevated chloride levels in post-tensioned concrete bridges. Bridge owners in Florida, Texas, and elsewhere enlisted FHWA's help, citing concerns about the potential for contaminated grout to cause corrosion.
The first of two studies focused on developing guidance for grout sampling, testing, data analysis, and interpretation of results. Later in 2013, FHWA will publish a guide including recommendations for courses of action State departments of transportation (DOTs) can take when they identify grout deficiencies.
The second study examined the effects of chlorides on the long-term performance of post-tensioning systems. The research included a 6-month period of accelerated corrosion testing on full-scale components and post-tensioned systems under varying levels of chloride concentration, relative humidity, and temperature. FHWA is finalizing a draft report documenting the results of this study and its conclusions.
FHWA's Office of Bridge Technology will use the results of the second study to develop and recommend actions to mitigate performance concerns for tendons with grout and elevated chloride levels. Also, in cooperation with various State DOT and industry partners, FHWA is developing training and technical guidance for installing and grouting post-tensioned structures to highlight recent improvements in procedures.
Updates Released for IHSDM Software
In February 2013, FHWA's Office of Safety Research and Development released version 8.1.0 of the Interactive Highway Safety Design Model (IHSDM). The model supports the American Association of State Highway and Transportation Officials' (AASHTO) Highway Safety Manual (HSM), Part C: Predictive Method, including a draft chapter on freeways. This updated public release is available for free download at www.ihsdm.org.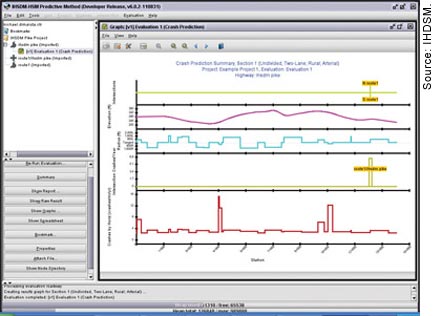 Version 8.1.0 expands and improves the software's features by extending calibration capabilities, via the IHSDM Administration Tool, to include freeway segments. The "Calibrate Using Site Data" option can assist agencies in implementing the calibration procedures described in the appendix of HSM Part C.
Registered IHSDM users can visit the "Download Login" page and type in their existing username and password to access and download this update. New users should click on the "Download Registration" link. The Web site includes additional information related to case studies, user applications, past webinar materials, and frequently asked questions.
For more information, contact Clayton Chen at 202–493–3054 or clayton.chen@dot.gov. For information on an IHSDM training course available from the National Highway Institute, visit www.nhi.fhwa.dot.gov.
Common Bridge Types Now Exempt from Historic Reviews
Individual historic reviews of certain post-1945 concrete and steel bridges and culverts are no longer required under Section 106 of the National Historic Preservation Act. At the request of FHWA, the Advisory Council on Historic Preservation eliminated the need for individual reviews for common bridge types built after 1945 that will soon need repair or replacement.
Under the previous policy, each older bridge had to undergo a historic preservation review before it could be repaired or replaced. However, FHWA has identified approximately 196,000 bridges that are old but do not have historical value and could be exempt from individual review by substituting a programmatic review that considers the identified common bridges as a group. The programmatic method streamlines the process and could save taxpayers roughly $78 million in project funds over the next 10 years.
Typically built with reinforced concrete and steel, the types of common bridges covered by this approach are highly standardized in design and character and have little historical value. However, they often serve a critical function for the traveling public. The ones built between 1946 and 1970 make up the bulk of bridges currently in need of repair or replacement nationwide.
In accordance with Section 106, the new approach allows a single review to exempt thousands of similar bridges from individual, and often repetitive, reviews for each action affecting a bridge. Bridges with distinctive historical, architectural, or engineering features, however, will not be exempt from individual reviews.
Public Information and Information Exchange
NHTSA Unveils "SaferCar" App for Smartphones
The National Highway Traffic Safety Administration (NHTSA) recently announced a new app for iPhone® and iPod touch® that provides real-time information on vehicle safety from NHTSA's SaferCar.gov site. NHTSA also gives developers access to the data that powers the app through an application programming interface (API), enabling them to integrate these data into new and existing apps and empowering consumers with important safety information. The agency plans to release an online course to teach developers how to use the new API.
The SaferCar app gives consumers immediate access to key safety information, including crash test ratings to compare across vehicle makes and models, to help them make informed buying decisions. Users can stay on top of safety issues for vehicles they already own by registering to be notified if a safety issue is discovered or by submitting complaints regarding safety concerns. Consumers also can look up driving directions to the nearest child seat inspection station and get assistance with properly installing car seats and boosters.
The app is available for free download from Apple's iTunes Store®. A version compatible with Android™ devices is under development.
NHTSA
ADOT Raises Awareness of "Move Over" Law
Crashes involving emergency response and other vehicles that are pulled over along highway shoulders claim hundreds of lives across the country each year. To improve safety on its roads, the Arizona Department of Transportation (ADOT) launched a campaign to raise awareness about the State's "Move Over" law.
Similar to Move Over laws in other States, Arizona's law requires all drivers to move over one lane, or slow down and use caution if changing lanes is not possible, when traveling past any vehicle with flashing lights that is pulled to the side of the roadway. The public awareness campaign included "Move Over Mondays" during March, when public safety officers stepped up enforcement of the law on interstates and highways statewide. ADOT produced public service announcements in English and Spanish for TV and radio and teamed with the Arizona Broadcasters Association to encourage stations across the State to air them.
ADOT continues to display messages on electronic signs above highways to remind drivers about the Move Over law and uses its social media outlets to provide additional information.
Arizona's Move Over law took effect in 2005 to protect law enforcement officers and emergency responders assisting the public. It was enhanced in July 2011 to include all vehicles pulled over with flashing lights.
For more information, visit www.MoveOverAZ.org.
ADOT
Hawaii Launches Campaign Targeting Distracted Driving
In April 2013, the Hawaii Department of Transportation (HDOT) participated for the first time in efforts to support NHTSA's National Distracted Driving Awareness Month. HDOT launched a statewide media campaign to raise awareness about distracted driving, including public service announcements in movie theaters and on television and radio.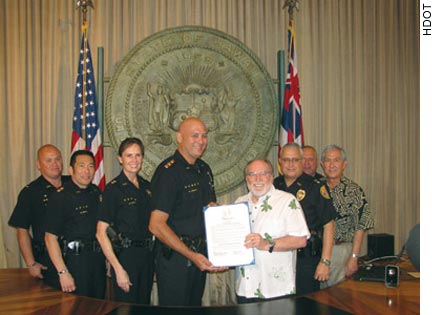 HDOT's media campaign supported Hawaii's existing county ordinances banning the use of mobile electronic devices while driving. The ordinances make it illegal for drivers to text or engage in other hand-held uses of mobile electronic devices such as cell phones, music players, personal digital assistants, and navigation devices.
Drivers who use hand-held mobile devices while driving are four times as likely to get into crashes serious enough to injure themselves or others. In 2012, Hawaii's county police departments issued 20,905 distracted driving citations statewide, indicating the pervasiveness of the problem. According to the Hawaii State Depart-ment of Health's 2007–2012 Injuries in Hawaii report, "Inattentive/Distracted Driver" was a contributing factor for 8 percent, or 24, of the 288 drivers involved in fatal traffic crashes between 2007 and 2010.
HDOT
TRB Introduces Series on Strategic Transportation Issues
The Transportation Research Board's (TRB) National Cooperative Highway Research Program (NCHRP) recently released the first in a series of reports being produced by NCHRP Project 20-83: Long-Range Strategic Issues Facing the Transportation Industry. Report 750: Strategic Issues Facing Transportation, Volume 1: Scenario Planning for Freight Transportation Infrastructure Investment analyzes the driving forces behind high-impact economic and social changes as well as sourcing patterns that may affect the U.S. freight transportation system. The report also introduces scenario planning as a tool that planners can use in conjunction with other methods to improve the quality of long-range plans for transportation infrastructure.
Four future scenarios were developed as part of the NCHRP project, as well as a detailed methodology that planners can follow to conduct their own scenario planning workshops. The scenarios and methodology are included in a DVD format with the print version of the report and are available to download at www.trb.org/main/blurbs/168694.aspx.
Major trends affecting the future of the United States and the world will dramatically reshape transportation priorities and needs. In cooperation with FHWA, AASHTO sponsored the NCHRP Project 20-83 research series to examine global and domestic long-range strategic issues and their implications for State DOTs to help prepare for the challenges and benefits created by these trends. Six more reports are planned, including Expediting Future Technologies for Enhancing Transportation System Performance and Climate Change and the Highway System.
For more information and to download the report, visit http://apps.trb.org/cmsfeed/TRBNetProjectDisplay.asp?ProjectID=2628.
TRB
ConnDOT Provides Mobile Apps For Traffic and Travel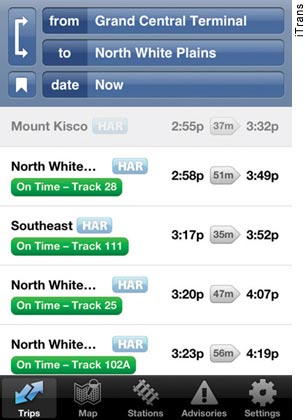 The Connecticut Department of Transportation (ConnDOT) compiled a series of smartphone apps for traffic, rail, and bus information, easily accessible from ConnDOT's Web site. The apps range from global and national services to Connecticut-specific offerings to provide commuters with updates on road and travel conditions.
"These apps give us another way to communicate with travelers and get them the best information quickly -- they make government more accessible," says ConnDOT Commissioner James P. Redeker.
For example, the "Connecticut Traffic Advisor" app, available for iPhone®, includes live traffic camera feeds, up-to-the-minute crash reports, and roadway construction details directly from ConnDOT. Some of the other apps link to Metro-North and Amtrak services, which include rail schedules and fare information, bus schedules and routes, and other public transportation information.
More information on the apps is available on ConnDOT's Web site at www.ct.gov/dot by selecting "Mobile Apps for Travelers" on the left of the home page. The site provides links to download the apps by scanning quick read (QR) barcodes. The apps range in cost from free to $2.99 and vary in availability for iPhone® and Android™ phones.
ConnDOT