Trouble in Paradise
Invasive plant and animal species are threatening Hawaii's ecosystems, but the State's transportation agency is on the job.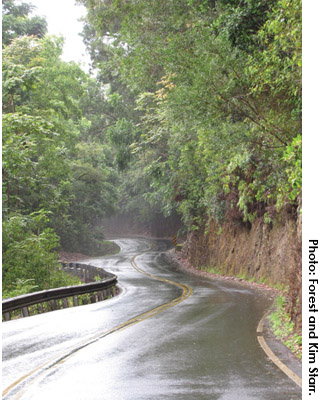 A new wave of environmental stewardship is cresting over Hawaii. Driving it is an urgent need to confront a silent invasion.
On the six main islands that comprise the Nation's only mid-Pacific State, more than 2,400 miles (3,862 kilometers) of scenic roads cross and circumnavigate rich and varied landscapes. For more than 50 years, the Highways Division of the Hawaii Department of Transportation (HDOT) has managed rights-of-way along high-population settings; wildly lush rural locales; and protected conservation areas.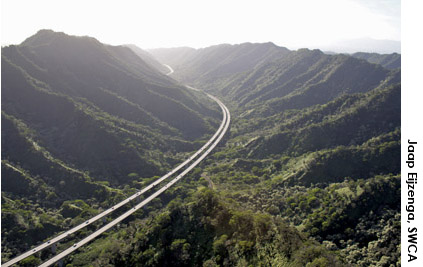 In recent decades, Hawaii has become an affordable, prime tourist destination. The visitor industry brought in $11.3 billion in statewide revenues during the first 11 months of 2011 -- and a surge in road building over the past five decades. An interstate completed in 1975 was designed to link Pearl Harbor and Wheeler Army Airfield. Another interstate was constructed in 1986, and a third in 1997 after being delayed for years due to archeological discoveries, construction challenges, and litigation.
This progressive growth has opened up stunning vistas along the newly constructed highways. But, in this mid-Pacific paradise, the transportation network requires continuous maintenance to control roadside vegetation.
With this expansion, HDOT realized it had to deal with a growing problem: the introduction of invasive species -- plant and animal pests that have negative impacts on quality of life, safety, health, the environment, and even on jobs in the tourist, agriculture, horticulture, and ranching industries. The pests are responsible for millions of dollars in crop losses, threaten native species and habitats, and spread human, plant, and animal diseases.
In 2003, the State Legislature declared, "The silent invasion of Hawaii by alien invasive species is the single greatest threat to Hawaii's economy, natural environment, and the health and lifestyle of Hawaii's people and visitors." Today, several county, State, and Federal agencies and nonprofits partner in coordinated efforts to stop the introduction and spread of invasive species.
Vehicles, including highway construction and maintenance equipment and machinery, contribute to spreading invasive plants and animal pests. With help from environmental consultants, HDOT projected that maintenance costs to control invasive species along roadways can reach an estimated $4.2 million per year statewide. With the use of new control measures, however, the agency expects costs to decrease by as much as 80 percent.
How is this miracle to happen? Read on.
Hawaii Launches a Sustainable Approach
The HDOT Highways Division has become a major player in the battle against the silent invasion of pests. Along with HDOT's main objective of providing safe and efficient roadways, the agency has taken up the challenge of invasives by adopting a new approach that features early and rapid response.
The agency is assisted by the islands' Invasive Species Committees, island-based partnerships of government agencies, nongovernment organizations, and private businesses. The committees work to control invasive pests on lands that include highway rights-of-way managed by HDOT. Each committee implements rapid response and control plans. Their early detection efforts help keep invasive plant species, while still in small populations, out of nurseries, botanical gardens, agricultural experiment areas, and other sites of potential introduction.
According to Chris Dacus, HDOT's landscape architect and certified arborist who has spearheaded the control effort, the Highways Division launched a plan to curb the introduction, spread, and negative impacts of invasive species encountered along highway rights-of-way. The plan embraces prevention as the best way to manage invasive species.
At the heart of this new initiative lies the agency's clarion call, "Be a good environmental steward," which encourages maintenance workers to use sustainable roadside practices, such as preventing soil erosion and protecting native habitats. This sustainable approach to maintaining highway landscapes includes the control of nonnative plants and their replacement with indigenous Hawaiian species. Revegetation with local species decreases the loss of native habitats, while supporting soil stabilization and visual appeal.
"The ultimate goal is to manage Hawaii's roadways in a sustainable manner to provide a safer, environmentally healthy, visually appealing experience for motorists, and to provide a uniquely Hawaiian sense of place," Dacus says.
A Strategy That Raises the Bar
As one of the largest land stewards in the State, the HDOT Highways Division, with funding assistance from the Federal Highway Administration (FHWA) and contract support from an environmental consulting firm, has initiated efforts to raise the bar on previous practices. To this end, HDOT has launched a Statewide Noxious Invasive Pest Program to control invasive plant species and keep them to a manageable level along State roads; protect conservation, scenic, and native habitat areas; and ensure early detection of high-priority invasive species.
The 2012-2022 Statewide Noxious Invasive Pest Program Strategic Plan details HDOT's commitment to mitigating the introduction, spread, and impact of invasive species. The agency developed the plan with input from approximately 35 Federal, State, county, nongovernmental, and private stakeholders. They modeled the plan after the National Invasive Species Council's strategic plan.
The Hawaiian strategy identifies ways in which HDOT's Highways Division can make effective and meaningful responses to the overwhelming number of pests already established, as well as those with introduction potential. By working on species within landscape maintenance zones, HDOT workers can help control the introduction and spread of invasive species by becoming familiar with them, learning how to report invasive plants and animals, cleaning vehicles and equipment after working in pest-infested areas, planting native and noninvasive species along roads, and working cooperatively with other groups. In these ways, they can help save Hawaii millions of dollars in irreversible damage from invasive species.
"Even during this economic downturn, the Hawaii Department of Transportation is providing the necessary leadership to invest in environmental sustainability," says Pat V. Phung, a professional engineer with the FHWA Hawaii Division. "This investment should provide great dividends for future generations. Keeping Hawaii a paradise is not an easy obligation, but the Hawaii Department of Transportation has fully embraced this challenge."
Hawaii's 10-year strategic plan outlines five major goals to achieve effective responses. The goals are prevention, early detection and rapid response, control and management, restoration, and collaboration. To deliver information to help achieve these goals, HDOT developed a new field manual and began holding training workshops for maintenance crews.
Maintenance Crews And Their Partners
While accomplishing tasks such as mowing, weeding, trimming, and pruning, HDOT maintenance contractors and crews will focus on prevention as the key to controlling invasive species. In the new manual and workshops, HDOT teaches the crews to recognize, remove, and report pests along Hawaii roads to prevent invasives from spreading. In addition, crews are taught to clean equipment and vehicles before arriving at a worksite each day and after working in infested areas to reduce the spread of weeds and other pests. Some of the most effective tools for cleaning equipment are brushes, brooms, air compressors, vacuums, and high-pressure water guns.
The maintenance crews also will collaborate with other groups working to protect Hawaii from invasive species. Partners include groups such as the Landscape Industry Council of Hawaii, Invasive Species Committees, Hawaii Pacific Weed Risk Assessment, Hawaii Department of Agriculture, Hawaii Department of Land and Natural Resources, and Maui County. The other groups will go beyond the rights-of-way in controlling invasives, and groups such as the Invasive Species Committees work with landowners and usually receive a lot of cooperation.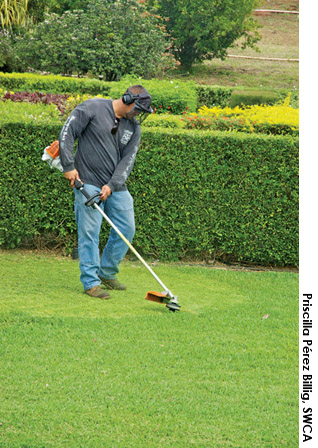 Restoration efforts will include selecting native and noninvasive plants with a preference for buying those propagated on the specific island where they will be planted. Local resources, such as native plant specialists, botanical gardens, and local arboreta, will contribute to the selection of native, noninvasive plants for landscaping and erosion control.
Further, HDOT programs will complement conservation efforts already established in Hawaii. Site-specific invasive species management plans will target stretches of road along or near ecologically sensitive locations, such as national parks, wildlife refuges, and natural area reserves.
"As a member of Hawaii's Invasive Species Committees, I am grateful for the leadership that HDOT, its employees, and contractors are showing," says Christy Martin, public information officer for the Coordinating Group on Alien Pest Species. "They are joining us in preventing invasive species from becoming established and spreading. This program will help us protect Hawaii for future generations."
How Invasive Species Became a Problem
Hawaii is now regarded by conservationists as the endangered species capital of the world and the extinction capital of the United States, with more than 72 percent of the Nation's extirpated species.
The entry of invasive species into the Hawaiian Islands has a long history. The earliest noted case was in the 1800s when a local plantation owner introduced the mongoose to curb rat infestations. Unfortunately, the strategy failed because the mongoose is diurnal while the rat is nocturnal. Since then, the mongoose has been a problem species in Hawaii where it preys on the eggs and hatchlings of birds and sea turtles, small mammals, reptiles, insects, fruits, and plants. The rat has been historically problematic everywhere on Earth.
Much has been learned about control of invasive species since that early mistake and subsequent ones, such as the introduction of fountain grass. Often found along rights-of-way in Hawaii, fountain grass is a dangerous invasive when it is dry because it fuels wildfires. Abundant in Africa, Southwest Asia, and the Middle East, it is hardy in drought conditions and can survive wildfires (where native plants cannot), thus it can fuel subsequent conflagrations. Fountain grass also effectively out-competes native species for water and space.
Another invasive, albizia, is native to Indonesia, Papua New Guinea, New Britain, and the Solomon Islands. This tree grows rapidly and is prone to shedding large branches, a significant safety problem along highway rights-of-way.
The coqui (pronounced ko-kee) frog, a native of Puerto Rico, was introduced to Hawaii inadvertently as a hitchhiker on ornamental plants. The frog upsets the balance of native Hawaiian ecosystems by eating insects from down on the forest floor all the way to the treetops. Out of control on the Big Island of Hawaii, coqui infestations are estimated as high as 10,000 frogs per acre, and its 90-decibel mating call has driven down property values.
According to scientists with the Hawaii Department of Land and Natural Resources, biological evidence indicates that 200 to 300 species already in the islands have the potential to become problem pests in the future. At the same time, Hawaii remains at risk for new introductions, such as brown treesnake arrivals from Guam and red imported fire ants from the U.S. west coast.
Accidentally introduced to Guam after World War II, the brown treesnake is directly responsible for the extinction of 9 of 13 native forest birds on Guam. According to The Nature Conservancy, brown treesnakes in Guam bite people and pets, prey on chickens and eggs, feed on agriculturally beneficial insects, and short-circuit power supplies by climbing electrical lines. If the brown treesnake were to become established in Hawaii, its potential economic damage could reach an estimated $2.14 billion in tourism revenue losses, power outages, and medical treatments.
In January 2012, highway maintenance workers who had been trained by the statewide pest program were cutting grass along a State highway where they found and killed a juvenile bullsnake, which is a nonvenomous species native to North America. According to the Hawaii Department of Agriculture, the bullsnake can grow to a length of 6 feet (1.8 meters). Hawaii has no predators that would keep snakes in check, so they are considered an invasive threat. This incident brings home the concept that highway maintenance workers are the first line of defense against harmful pest species.
The red imported fire ant has cut a 308-million-acre (125-million-hectare) swath across the southeastern United States since the late 1930s, costing billions of dollars annually in damages to crops, wildlife, livestock, power distribution systems, traffic control signals, and irrigation systems. This ant can be dangerous to humans as its powerful stings can cause injury and even death. It is destructive to the environment because it feeds on young saplings, seeds, buds, and fruit. A 2007 paper, "Potential economic impact of introduction and spread of the red imported fire ant, Solenopsis invicta, in Hawaii," by researchers John Gutrich, Ellen VanGelder, and Lloyd Loope, suggests the cost to Hawaii would add up to more than $211 million a year. Projected expenditures over a 20-year period following introduction could total $2.5 billion.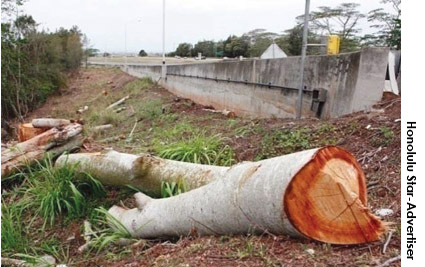 Educational Strategy
HDOT's strategy includes educational material to help managers, ground crews, contactors, and inspectors involved in roadside vegetation maintenance do a better job and more fully understand the problem of invasive species. The new Highway Manual for Sustainable Landscape Maintenance, an illustrated field reference, is HDOT's step-by-step, how-to instructional guide. The glove-box-sized manual establishes statewide standards for Highways Division employees, maintenance crews, and contractors on how to achieve sustainable management and control practices for invasive species. It also introduces new concepts, tools, and ideas for better managing roadside landscapes.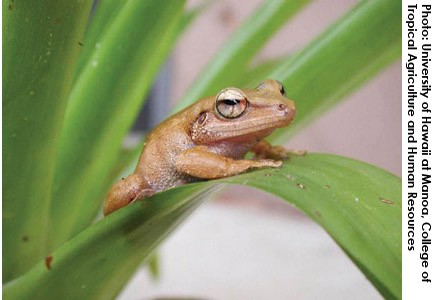 The manual outlines standards and guidelines for improving work efficiency through adoption of best management practices. Steps for the prevention, identification, and reporting of noxious and invasive species in the highway right-of-way are detailed. The manual also offers proactive approaches regarding how and why to control invasive plants before their seeds set; how to clean equipment, machinery, and vehicles at offsite stations; and how to plant native species.
Included in the Highway Manual for Sustainable Landscape Maintenance are sections that detail safety, mowing, pruning, invasive species management, fertilizer and pesticide application, irrigation, contractor qualifications, reporting, and inspecting. Appendices cover plant care for native Hawaiian species and noninvasive species.
Illustrations and photographs guide the reader through the topics. They draw attention to information on safety alerts, helpful tips, problem warnings, explanations of special terminology, reminders of particularly important information, and summaries of take-home messages.
Selected Illustrations from Hawaii's Maintenance Manual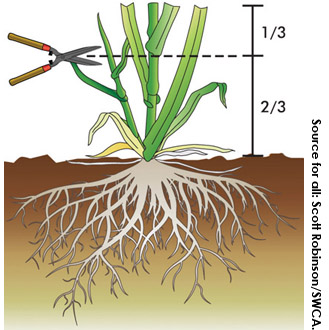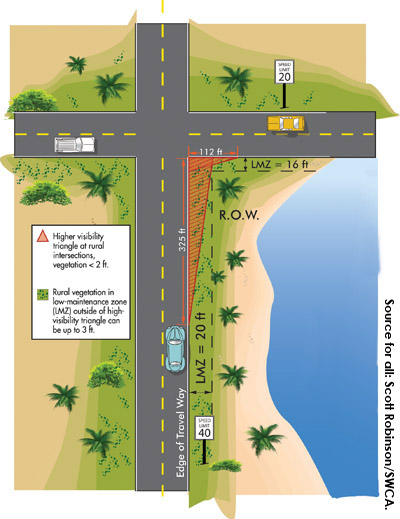 Training Workshops for Maintenance Crews
"Small changes combine to make big changes," says Jay Deputy, a lead HDOT workshop instructor, former education specialist in landscape horticulture and turf at the University of Hawaii's Department of Tropical Plant and Soil Sciences, and State administrator for the Certified Landscape Technician program. "Our pilot workshops emphasize the practice of adhering to proper safety standards for all tasks performed."
Because most landscape maintenance work is performed on road shoulders, clear and positive guidance to drivers and pedestrians is crucial. Workshop experts teach the fundamental principles of temporary control of local traffic, what it takes to build a plan, use of traffic control devices in ways that effectively communicate what is required of drivers, and ways to "command respect" from drivers and pedestrians to ensure safety for everyone.
To cover these topics, HDOT has introduced its manual to landscape crews and contractors on the islands of Oahu, Kauai, Maui, and the Big Island of Hawaii in 2.5-day workshops. Leading local experts on safety, temporary traffic control, mowing, pruning, invasive species, pesticides, fertilizers, irrigation, and inspection contributed to various sections of the manual and helped deliver the training.
"In my presentation, I use the example of fireweed seed in hydromulch mix because it is a better road-related story than most species," says Martin, with the Coordinating Group on Alien Pest Species. "Fireweed is native to Madagascar and was accidentally introduced to Hawaii as a contaminant in imported hydromulch seed mix. When eaten in large quantities, fireweed is toxic to livestock. Since its introduction, it has become widespread on Hawaii Island and parts of Maui, where cattle and horse ranches have been impacted. It was again spread in hydromulch seed mix along a roadside on Kauai in 1990, where it has since been eradicated. A 2004 road project on Oahu resulted in more fireweed, which was successfully eradicated. Despite an active seed-inspection program, these plants can and will continue to show up, and it is one of the many reasons why it is good to have HDOT as an active partner."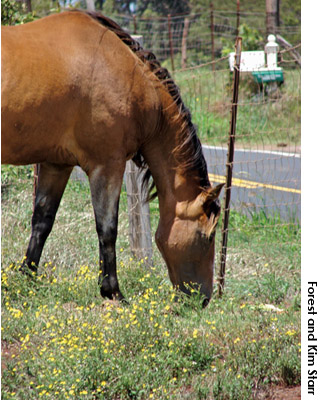 The workshops are usually held at HDOT base yards or urban garden centers that can accommodate outdoor training activities. The workshops include hands-on demonstrations, especially in mowing, pruning, pesticide and fertilizer application, and irrigation.
Steve Nimz, consulting arborist and landscape contractor, provides detailed information on tree pruning. Nimz is a proponent of the Shigo 90-3-90 principle, which maintains that 90 percent of the time, removing three branches can provide 90 percent of the clearance needed.
With a philosophy that "trees have dignity," he encourages approaching tree pruning with the eye of an artist who sees in his mind the finished work before making the first cut. He also says that without knowing how a tree grows, it is difficult to care for it properly.
Mark Leon, consulting arborist and landscape contractor, instructs in pruning and replacing plants. As a subcontractor for HDOT, Leon is an inspector for all landscaped areas. He reviews job components included in contracts and explains why observed infractions will result in payment deductions.
"I believe a person's work is a reflection of who that person is," Leon says. "I take a great deal of personal pride in what I do, especially as an inspector."
Herbicide application is a key component of vegetation management in the right-of-way. An integrated approach to management means that all methods are considered, and one strategy or a combination of approaches is chosen according to a specific right-of-way, results are continually examined, and modifications are applied judiciously.
Joe DeFrank, professor of weed science at the University of Hawaii and workshop pesticide instructor, adds, "The ability to use herbicides to selectively encourage the establishment and growth of the desired species and eliminate the others requires knowledge of herbicide performance, the proper time to introduce them, and skill in a variety of application modalities."
Workshops videotaped by DeFrank will be posted on the HDOT Web site, along with a downloadable version of the Highway Manual for Sustainable Landscape Maintenance. An instructor's guide, designed to assist instructors in helping participants in the training workshops grasp the main concepts, also has been produced.
Preserving Paradise
In a message endorsing the manual, Hawaii Governor Neil Abercrombie wrote, "This bold initiative by HDOT's Highways Division will encourage increased responsibility and enhanced stewardship of our unique environment. We can look forward to a roadside landscape that enriches the Hawaiian sense of place and nurtures a healthier Hawaii."
Caring for native Hawaiian species along the highway rights-of-way and controlling invasive species will protect and promote the biodiversity and beauty of the Hawaiian landscape. With the new groundswell of sustainable environmental stewardship, HDOT is on its way to making that happen.
---
Priscilla Pérez Billig is a freelance writer who focuses on environmental and natural resource topics. She is also the technical editor and writer for SWCA Environmental Consultants in Honolulu. She holds a master's degree in science journalism from Boston University.
For more information and for the Highway Manual for Sustainable Landscape Maintenance, see the HDOT Web site at www.hawaii.gov/dot. Also contact Priscilla Pérez Billig at 808-548-7922 or billig@hawaii.rr.com.