Behind the Scenes at TMCs
Pulling back the curtain on transportation management centers reveals vital hubs for overseeing operations and information sharing on the Nation's highway network.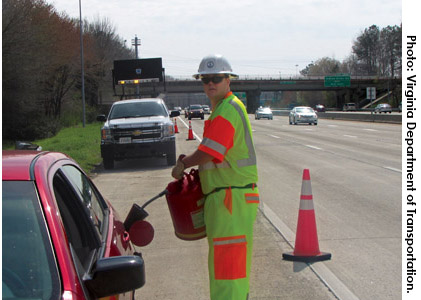 Imagine this scenario: You're driving on the interstate when your car suddenly loses power. You glance at the gas gauge. Empty. The realization quickly washes over you that you forgot to refuel at the last exit. Maddeningly your vehicle rolls to a complete stop in the middle travel lane. You try the ignition again, but it just will not start. As cars whiz by on your left and right, you can hear the squeal of tires braking behind you. A car has almost rear-ended you. You reach for your cell phone -- who to call? -- 911 . . . your insurance provider's roadside assistance . . . the State police?
As you consider which number to dial, you glance in your rear-view mirror and see the car that almost hit you pulling away and then a truck with yellow flashing lights approaching. The truck stops behind you and a man wearing a high-visibility, yellow-and-orange uniform hops out, trots up to your window, and asks if you need help. You respond that your car ran out of gas. He hurries back to the truck, then returns with a gas container and pours a gallon into your car. Just seconds later, you're safely on your way again.
Was this your lucky day? Well, not really. On many major metropolitan highways in the United States, cameras and detectors monitor nearly every movement. When a vehicle stops unexpectedly on the highway, roadside equipment detects slowing or stopped traffic and sends a signal to the control room of the nearest transportation management center (TMC), alerting an operator to take action. The operator looks at the traffic cameras to determine the cause for the alert and confirms the incident, then dispatches either police, emergency medical services, or the safety service patrol -- those good Samaritans in reflective safety gear -- to respond to the incident and restore traffic to its normal flow.
"With the growth of traffic congestion in this country, and since the advent of TMCs, the way we operate the Nation's roadway network has changed dramatically," says Robert Arnold, director of the Office of Transportation Management within the Federal Highway Administration's (FHWA) Office of Operations. "Gone are the days of build it and forget it."
Almost every State department of transportation (DOT) across the country operates a TMC. Some States even have more than one. In fact, a 2010 survey by the Research and Innovative Technology Administration found that there were 266 TMCs in the United States, with one in almost every major city. Many operate 24/7, while others provide travelers with real-time information during both the morning and evening peak hours. These centers are a critical tool to help road managers maintain traffic flow on the Nation's busiest roads and ensure the safety of the traveling public. Here's a glimpse into how they do it.
At the Nerve Center
When people think of a TMC, many might think of a wall of video monitors displaying real-time traffic feeds. That large video wall, present in almost all TMCs, represents the culmination of a range of technologies that provide the basis for monitoring traffic. Detectors, loops, sensors, and other technologies built into the roadway infrastructure, coupled with video and images captured by cameras installed along the network, provide the data gathered and sent to the TMC for analysis and response. Operators use the real-time data to make decisions aimed at minimizing the effects of crashes and changes in weather.
You can think of a TMC as the hub or nerve center of most freeway management systems. It is where data about the freeway system is collected and processed, fused with other operational and control data, synthesized to produce information, and distributed to stakeholders including other agencies, the media, and the traveling public.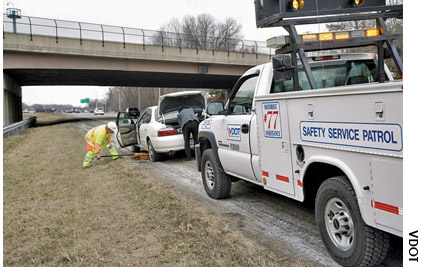 TMC staff uses the information to monitor the operation of the freeway and to initiate control strategies to improve the operation of the network. These strategies might include the following:
Turning on a ramp metering system to regulate traffic entering the freeway upstream.
Depending on the seriousness of the incident, making the decision to totally close access to the freeway.
Programing information into 511 systems and dynamic message signs to alert motorists about the incident.
Providing alternate routes to help motorists avoid delays and comparing the travel times of the alternate routes with expected delays on the affected freeway.
In addition, TMCs are where agencies, including DOTs, police, and emergency service providers, often coordinate their responses to traffic situations, incidents, and planned special events.
TMCs also manage the safety service patrols that provide basic roadside assistance services in response to disabled vehicles on the freeway in order to keep traffic flowing. When an incident occurs on the freeway, the patrols will set up traffic control and contact TMCs for additional support as needed. Some TMCs equip their patrols with automated vehicle locators to help with tracking and rerouting patrols where they are needed.
Transportation and More
The Illinois Department of Transportation's Traffic System Center was the first TMC in the United States. It opened in 1962 with a total of 25 detector stations to monitor traffic flow on a short, 5-mile (8-kilometer) section of Eisenhower Expressway. The center only operated from 5:30 a.m. to 7 a.m. Nowadays, the Nation's 266 TMCs monitor 11,607 miles (18,680 kilometers) of roadway network and operate 24/7.
A number of counties including Fairfax County, VA, and Montgomery County, MD, have TMCs, as do major metropolitan areas such as New York City and Houston, TX. Whether run by a State, county, or city transportation agency, TMCs often house more than just transportation agency staff. In many, other agencies are colocated to improve communications and response.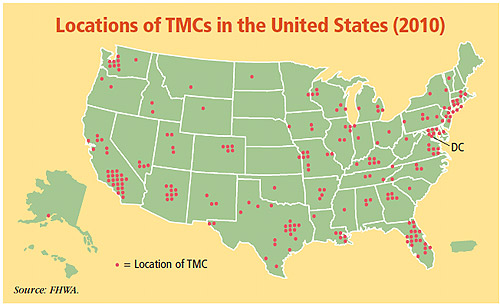 One such example is the McConnell Public Safety and Transportation Operations Center in Fairfax County, VA. A state-of-the-art facility, the McConnell Center houses not only the Virginia Department of Transportation's (VDOT) TMC, but also the county's 911 call center, the Virginia State Police, and the county's police, fire, and rescue departments.
"The partnership brings together county and State public safety communications, transportation, and emergency management agencies under one roof with the goal of facilitating local and regional collaboration," says Tracy H. Shelton, general manager of the McConnell Center. "Establishing this cooperative environment with routine operations sets the stage for interagency support when major emergency operations are underway."
Today, the role of a TMC often extends beyond the freeway network and the particular agencies responsible for its operation. Indeed, TMCs function as the key technical and institutional hubs for the various jurisdictions, modal interests, and service providers to focus on the common goal of optimizing the performance of the surface transportation system.
"In traffic management, whether it is day-to-day incidents or a large-scale natural or manmade disaster, real-time situational awareness is a key factor," says Hari K. Sripathi, VDOT's operations director for the northern region. "Being in the same building, operating from the same floor, gives us that ability to share the information seamlessly face to face or system to system."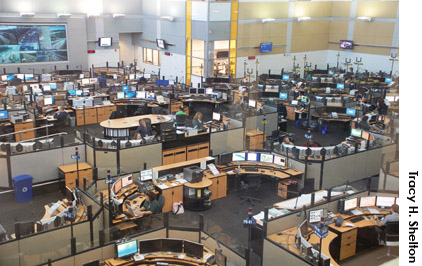 Sharing Real-Time Information
As the hub for information on roadway networks, TMCs receive raw data from a number of sources and then translate that data into real-time traveler information for a variety of audiences, including motorists and transportation system operators.
TMCs employ several tools to share information with motorists. Videos, images, and data from cameras on the interstate and, in some localities, on city streets feed into radio, television, and Internet reports featuring the latest traffic information. Before heading out on the roads, anyone with an Internet connection can log onto a DOT Web site -- and many news outlets' sites -- to check on current traffic conditions.
Sample Web Sites with Traffic Cameras
| Location | URL |
| --- | --- |
| Arizona | www.az511.gov/adot/files/cameras |
| Riverside and San Bernardino, CA | |
| Maryland | |
| Hudson Valley, NY | |
Dynamic message signs are another tool. These fixed overhead or portable signs enable TMCs to alert motorists who are already on the roads about incidents or weather affecting travel on highways. When an incident occurs, or when adverse weather such as snow or ice undermines travel conditions, TMC staff posts relevant warning messages on these signs.
Increasingly, road managers are using dynamic message signs to display travel times during nonincident periods as well. To date, 60 TMCs in the United States report having posted travel times on their dynamic message signs. Posting travel time messages not only provides useful information to motorists but also assists them in planning alternate routes. With knowledge of delays on the road ahead, some motorists might opt to choose an alternate route, diverting away from the congested highway. Thus, posting travel time messages can help provide critical additional capacity and assist in reducing congestion.
Other means for sharing real-time traveler information include messages on highway advisory radio and 511 traveler information telephone numbers and their associated Web sites. The simple 3-digit number, 511, to date is available in about 38 States, providing motorists with real-time travel conditions and other traveler information.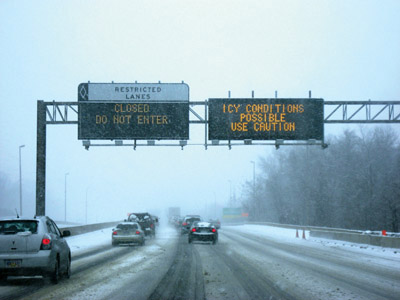 Interagency Coordination
In addition to communicating with the public, TMCs also can play a role in broader interagency information sharing. As described in a June 2010 FHWA publication, Information-Sharing Guidebook for Transportation Management Centers, Emergency Operations Centers, and Fusion Centers (FHWA-HOP- 09-003), the data TMCs collect can help support the missions of two other types of interagency organizations: emergency operations centers and fusion centers.
According to the guidebook, emergency operations centers facilitate coordinated responses and exist in some form in virtually every State and local jurisdiction in the country. Their primary roles include management of and response to emergencies of all kinds that threaten or result in significant impacts on public health and safety, infrastructure, commerce, or national security. Emergency operations centers typically are staffed with representatives from the relevant government agencies, including law enforcement, fire, emergency medical services, and infrastructure management authorities.
In northern Virginia, VDOT's Sripathi says that recent examples of the success of interagency collaboration, facilitated by colocation at the McConnell Center, include handling logistics involved with the presidential inauguration, Tropical Storm Lee, and major snowstorms in 2010 and 2011. "For day-to-day incidents, the ability of a VDOT supervisor to get updates face to face from the 911 or State police supervisor has proven to be extremely beneficial in managing traffic," Sripathi says. "I would strongly encourage other agencies to develop similar centers wherever they can."
Similarly, fusion centers are defined as collaborative efforts of two or more agencies that provide resources, expertise, and information to detect, prevent, investigate, and respond to criminal and terrorist activities. Some fusion centers address specific laws such as driver licensing, banking crimes, or specific elements of critical infrastructure. Others exist to synthesize information and focus on a wider set of public safety and national security challenges, such as terrorism, major criminal activities, public health risks, and natural hazards.
According to the FHWA guidebook, the potential benefits of centers sharing information are most apparent when addressing their common uses of various types of information about regional and local transportation networks. Shared information includes roadway configurations, incidents, and updates on operational status. The real-time information that TMCs collect could be useful to emergency operations and fusion centers during incidents, disasters, and other events for both operational and information purposes. One such example is in Virginia, where fusion center data is shared with VDOT's TMCs.
The Kentucky Intelligence Fusion Center in Frankfort, KY, for example, houses a variety of Federal, State, and local partners, including the functions of transportation, homeland security, police and corrections, and public health.
According to Jeff Bibb, director of the Division of Incident Management at the Kentucky Transportation Cabinet, one example of a benefit of having the State police in the same room as transportation operators is the speed with which Amber Alerts can be disseminated. Before the departments were colocated, it could take 35 to 40 minutes to get the messages out. But, for one recent alert, the transportation operators were able to post an alert on all of Kentucky's dynamic message signs within 13 minutes.
In addition, Bibb says, the U.S. Department of Homeland Security recently purchased additional television monitors for the fusion center and is working on a project to install cameras on critical infrastructure bridges that cross the Ohio River. "Because of the fusion center concept," Bibb says, "we were able to get these other technologies and equipment that we wouldn't have had otherwise."
A Day at a TMC
What follows is a snapshot of a typical day on the job for Mark Jones, an operator in a hypothetical TMC control room. Jones reports to work at 5 a.m. He is one of three operators assigned to the morning shift, which runs from 5 a.m. to 1:30 p.m. Today his assignment is to monitor the eastbound and westbound directions of a local highway within his TMC's jurisdiction.
Following standard procedures, Jones' first duty is to review the relevant TMC computer workstations to ensure that there are no active incidents or existing congestion on the highway. He also views the video feeds from 20-plus closed-circuit television cameras located along the highway. Next, he goes through a checklist of the control room equipment to ensure that everything is in proper working order and notifies the maintenance supervisor of any equipment that is malfunctioning. Then Jones checks for daily road closures and sends the relevant information to his agency's public affairs office, the news media, the school board, and emergency centers.
Just as he is settling down with a cup of coffee, he hears a beep from one of the workstations, and a camera image pops up on the monitor in front of him. He observes two cars stopped in the middle lane on the highway's eastbound direction. He zooms in to take a closer look and confirms that a crash has occurred. He immediately notifies the State police. Then, a safety service patrol driver calls on the radio to inform the TMC that he is on his way to the site of the crash. Due to the incident, Jones knows that traffic in the eastbound direction can quickly back up for miles, so he programs information about the incident into the highway's dynamic message signs to alert motorists to seek alternate routes and prepare for delays. He also turns on the highway's ramp metering system to regulate entering traffic.
Soon the phones start ringing. Everyone wants to know about the crash, so Jones provides updates as information becomes available. The crash is taking longer than expected to clear because there is a personal injury. In the meantime, Jones has his hands full with a variety of activities: monitoring the crash site via the traffic cameras and coordinating with the safety service patrol, adjusting the ramp meter rates based on the latest traffic volumes, updating the dynamic message signs, adjusting the signal timing on adjacent side streets that motorists might use for alternate routes, responding to media requests for updates, and posting relevant information about the incident on social media.
Eventually, the crash is cleared and traffic slowly returns to normal. Then the phone rings again. It's a contractor asking for permission to set up road work in the westbound direction. Jones checks the work zone schedules to ensure against conflicts before giving the thumbs up. Then a reporter from a radio news outlet calls to ask if there are any problems before she reports the traffic. After updating the reporter, Jones fields another call, this time from a safety service patrol driver who needs a tow truck sent to clear a disabled car on the shoulder of the eastbound lanes.
These activities go on throughout the morning and early afternoon until the operators for the next shift arrive. As Jones prepares to hand over the reins, he picks up his cup of coffee. He's been so busy the cup's still half full -- and cold. On the plus side, now that his shift is over, he can have lunch.
TMCs of Tomorrow
As technology continues to advance, TMCs will be responsible for collecting and processing massive amounts of data. In the future, TMC operations will need to adopt new ways to collect, process, and communicate roadway data. In addition to using existing tools like dynamic message signs, highway advisory radio, and 511 to provide traffic information to drivers, TMCs increasingly will look to newer technologies such as wirelessly connected vehicles to communicate directly with drivers.
"Connected vehicle research has the potential to transform travel as we know it through the use of leading-edge technologies," says Robert Rupert, team leader for the Transportation Information Management Team in FHWA Office of Operations. These technologies include advanced wireless communications, onboard computer processing, advanced vehicle sensors, global positioning system navigation, and smart infrastructure. These cutting-edge technologies will enable a connected vehicle to identify threats and hazards on the roadway and communicate this information over wireless networks in real time to provide alerts and warnings to other drivers.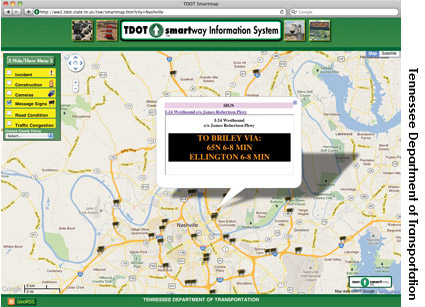 As these technologies evolve and are adopted into the mainstream, TMCs will be responsible for providing accurate information instantly. The connected technologies will facilitate providing instructions to drivers about to where to go, what to do, and where to turn. For example, TMCs might soon be able to provide traffic signal information to let drivers know how to adjust their speeds such that they might hit green lights throughout the length of a corridor.
Such technological advancements correspondingly will alter operations at TMCs, requiring new skill sets for their personnel. These new skills will be especially needed as TMCs become more connected to drivers on the road via wireless technologies and partners at emergency operations centers and fusion centers. As TMCs become the focal point for communicating transportation- related information to motorists, the media, and other partners, the TMC of the future will depend on employees skilled in both intelligent transportation systems and information technology to capitalize on the latest in those communications capabilities.
TMCs have come a long way over the last three decades and are ramping up to play an increasingly critical role in maintaining safety and mobility on the Nation's roadways.
Common Information Types Across Centers
Information Type

Transportation Information Examples

Application

Transportation Management Centers

Emergency Operations Centers

Fusion Centers

Operational

Traffic flows, video feeds, localized surface weather

Traffic control, snow/ice management tactics

Assessment of emergency situation and risks

Real-time threat, risk assessment

Recorded

Incident logs, video records, traffic records

Traffic safety assessment and planning

After-action assessment

Law enforcement, investigation

Physical Infrastructure

Maps, physical feature data

Work zone management, resource deployment

Data and framework for decisions, communications

Framework for threat, risk assessment
Source: FHWA, Information-Sharing Guidebook for Transportation Management Centers, Emergency Operations Centers, and Fusion Centers, (FHWA-HOP-09-003), June 2010.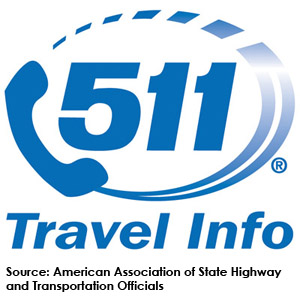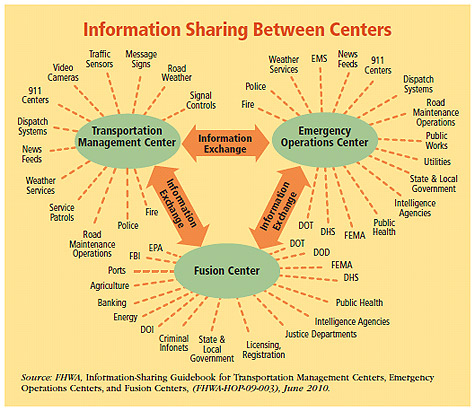 ---
Jimmy Chu is a transportation specialist on the Transportation Information Management Team in FHWA's Office of Operations. Before joining FHWA, he was manager of VDOT's Northern Virginia Traffic Operations Center. Chu received his B.S. in civil engineering from the University of Maryland.
Laurel Radow is the program manager for evacuations/emergencies and planned special events in FHWA's Office of Operations. Her current work includes developing a primer on cost management and recovery related to traffic incident management and designing a public outreach effort on traffic incident management. She received her B.A. in history from the University of Maryland.
For more information, visit www.ops.fhwa.dot.gov or contact Jimmy Chu at 202-366-3379 or jimmy.chu@dot.gov, or Laurel Radow at 202-366-2855 or laurel.radow@dot.gov.