Management and Administration
Along the Road is the place to look for information about current and upcoming activities, developments, trends, and items of general interest to the highway community. This information comes from U.S. Department of Transportation (USDOT) sources unless otherwise indicated. Your suggestions and input are welcome. Let's meet along the road.
Management and Administration
Traffic Fatality Rate Drops to Lowest Level Since 1949
Early projections by the National Highway Traffic Safety Administration (NHTSA) indicate that U.S. traffic fatalities in 2010 fell to the lowest level since recordkeeping began. The decrease in fatalities occurred despite an estimated increase of 20.5 billion vehicle miles traveled (VMT) nationwide in 2010.
The number of traffic fatalities fell 3 percent between 2009 and 2010, from 33,808 to 32,788. Since 2005, fatalities have dropped 25 percent, from a total of 43,510 fatalities in 2005. The same estimates also project that the fatality rate will be the lowest recorded since 1949, with 1.09 fatalities per 100 million vehicle miles traveled, down from the 1.13 fatality rate for 2009. Regionally, the greatest drop in fatalities occurred in the Pacific Northwest States of Alaska, Idaho, Montana, Oregon, and Washington, with a 12 percent drop. Arizona, California, and Hawaii had the next steepest decline, nearly 11 percent.
USDOT has taken a comprehensive approach to reducing roadway fatalities by promoting strong traffic safety laws while stepping up high-visibility enforcement. The Department also has worked to make roadways safer through vehicle safety programs and public awareness campaigns such as "Over the Limit. Under Arrest." to curb drunk driving and "Click It or Ticket" to increase seatbelt use.
USDOT officials, while pleased with the reduction in fatalities, are steadfast in their commitment to making U.S. roads as safe as possible. Officials say they will continue to promote initiatives to remind drivers to put safety first, including increasing seatbelt use and putting an end to drunk and distracted driving.
USDOT Funds Innovative Technologies To Reduce Congestion
In March 2011, USDOT awarded more than $9.5 million for 15 projects in 13 States and Puerto Rico that employ innovative construction technologies. The awards support projects that will improve safety, reduce congestion, and create high-quality, long-lasting highways and bridges.
Administered through the Federal Highway Administration's (FHWA) Highways for LIFE program, the money is intended to encourage use of proven technologies and practices that are not yet widely deployed within the particular State. The projects will use innovations such as prefabricated bridge elements, precast concrete pavement slabs, road safety audits (RSAs), and shoulder paving techniques proven to reduce crashes.
USDOT awarded the grants to projects focused in three areas: those that facilitate faster construction, those that assure longer life of pavements and structures, and those that cause less traffic disruption. For example, one project will replace a bridge deck with a prefabricated deck, greatly reducing construction time by eliminating lengthy steps required in traditional methods. Another project, involving reconstruction of an interchange, will use performance contracting and a two-step, best value design-build procurement process expected to cut construction time in half.
Technical News
Device Helps Predict Cold-Weather Cracking in Asphalt Binder
Cold temperatures can cause asphalt pavements without the proper binder to crack, leading to premature roadway deterioration and costly repairs. The results of a recent FHWA Highways for LIFE Technology Partnerships grant project confirmed the accuracy and usability of the Asphalt Binder Cracking Device to help pinpoint the temperature at which asphalt binder will crack.
The project evaluated the Asphalt Binder Cracking Device as a means to determine the susceptibility of various binders to thermal cracking using a three-study, interlaboratory approach. Led by the Ohio-based company that developed the device, 23 public and private laboratories conducted the tests. In the first study, the laboratories evaluated the performance of the Asphalt Binder Cracking Device. The second study involved comparing use of the device with Bending Beam Rheometer testing, another method for measuring low-temperature properties of asphalt binders. Lastly, a third study modified the Asphalt Binder Cracking Device testing procedure to improve its precision.
The results indicated that the precision estimates of the Asphalt Binder Cracking Device cracking temperature and those of the Bending Beam Rheometer critical temperature were comparable. The American Association of State Highway and Transportation Officials has voted to adopt the Asphalt Binder Cracking Device test method as a provisional standard, the first step toward final adoption as a standard. The test procedure will be included in a 2011 edition of AASHTO specifications.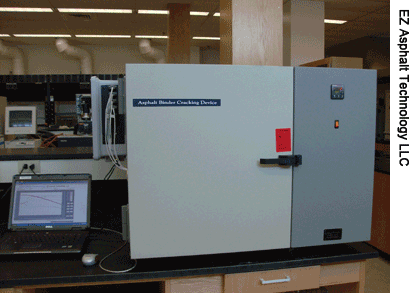 For more information, visit www.fhwa.dot.gov/hfl/partnerships/asphalt.cfm.
Public Information and Information Exchange
FHWA Launches New Bridge Safety Initiative
On March 21, 2011, FHWA announced an initiative to enhance oversight of how bridge owners are performing their bridge inspections and maintenance. The initiative uses 23 key inspection program areas derived from the National Bridge Inspection Standards that will help FHWA identify improvement opportunities in each State and provide for more consistency in oversight nationwide.
Prior to the initiative's launch, FHWA conducted a largely unstructured annual review with written summary reports of States' bridge inspection programs based on the outcome of assessments of key inspection areas. Under the new system, FHWA uses a data-driven, risk-based assessment of specific inspection areas, such as bridge load limits, qualifications of inspection personnel, and inspection frequency. The assessments are based on defined criteria for each of the 23 program areas. FHWA records the results of the oversight process in a database for documentation and reporting purposes. Because the new system is based on more objective data, it provides for more consistency in the inspection program and more targeted approaches to identifying problem areas.
Other steps FHWA has taken to improve bridge safety include double-checking data submitted by States; conducting workshops on bridge inspection, management, and preservation; developing bridge inspection training programs; and creating working groups for States, industry, and academia to share best practices. All these efforts support FHWA's goal of improving the safety of the Nation's bridges.
For more information, contact Thomas D. Everett at thomas.everett@dot.gov.
South Florida Event Encourages Students To Consider Transportation Jobs
The Florida Department of Transportation (FDOT) recently held its 9th annual South Florida Construction Career Days event in Davie, FL, to introduce students to jobs and educational opportunities in the construction industry. The event also seeks to improve the representation of women and minorities in construction and engineering jobs. Partnering with FHWA and more than 70 local contractors, consulting firms, and organizations, FDOT and Florida's Turnpike Enterprise hosted about 1,700 students representing 54 local secondary schools and technical programs.
During the event, students participated in various job-related activities, labs, and discussions. Participants had the opportunity to operate construction equipment such as a backhoe, bucket truck, concrete drum, front-end loader, and crane. In addition, students could try out Florida Highway Patrol safety simulators and inspect tow trucks and emergency vehicles. Students received instruction on work zone safety, structures and bridge design, concrete testing, site development, signalization, and filming public service announcements. Several institutes of higher learning were onsite to advise students on 4-year courses of study and job-specific curricula. Local businesses sponsored mock interviews and showed students how to write cover letters and résumés.
Hendry County Commissioner Karson Turner, who attended the event and observed students from his county participating in a variety of activities, says, "It's really important for kids to be exposed to events like this and to know that construction is a heck of a place to be right now."
For more information, contact Carey Shepherd at 850-553-2206 or carey.shepherd@dot.gov.
FDOT
Highway Traffic Reaches Highest Level Since 2007
FHWA's Traffic Volume Trends report shows that U.S. motorists drove 3 trillion miles in 2010, the most VMT since 2007 and the third highest ever recorded. The increase means more wear and tear on the highway system and underscores FHWA's focus on repairing and enhancing the Nation's roads and bridges. The increase also comes at a time when U.S. traffic fatalities have dropped to the lowest level in recorded history.
According to the December 2010 report, drivers in the United States drove 20.5 billion more miles in 2010 than in the previous year. In December alone, travel increased by 0.6 percent, or 1.4 billion VMT, compared to December 2009. Regionally, the South Gulf area, a bloc of eight States ranging from Texas to Kentucky, experienced the greatest increase in December 2010 with 46.6 billion VMT, an increase of 624 million miles traveled compared to the previous December.
Traffic Volume Trends is a monthly report based on hourly traffic count data reported by the States. FHWA releases the reports at www.fhwa.dot.gov/ohim/tvtw/tvtpage.cfm. Transportation officials use the data to make decisions about infrastructure investments.
Competition Generates New Wildlife Crossing Solutions
Collisions between wildlife and vehicles have increased by 50 percent in the past 15 years, costing the United States $8 billion annually. The ARC International Wildlife Crossing Infrastructure Design Competition recently took on the challenge of finding innovative solutions for safer wildlife crossings. Participants designed engineering and architectural solutions with the goals of ensuring the safety and mobility of motorists, while creating safer crossings for wildlife.
To provide singular site conditions for the designs, the competition asked competitors to propose design concepts specifically for a wildlife crossing at West Vail Pass on I-70 in Colorado, about 90 miles (145 kilometers) west of Denver. Selected from 25 potential candidates in 16 States, the location is on a critical transportation corridor and the only east-west interstate in Colorado. At the same time, the interstate can be a barrier to the movement of wildlife in the Rocky Mountain region. Designers had to account for many challenges, including snow and severe weather, high elevation and steep grades, a six-lane roadway, a bicycle path, high traffic volumes, and multiple species of wildlife.
The competition jury announced the winner at the Transportation Research Board's 90th Annual Meeting in January 2011. The winning design, developed by HNTB with Michael Van Valkenburgh Associates, Inc., of New York, features a concrete bridge that is 328 feet (100 meters) wide and spans 176 feet (53.6 meters) over the highway. The design calls for the bridge to be planted with a variety of vegetation types including a pine tree forest and meadow grasses to attract different species. The modular precast concrete design allows for partial construction offsite, shortening construction time and minimizing disruption to the traffic flow. There are no commitments currently to construct the structure.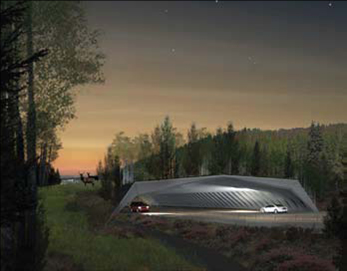 For more information on the competition and all design finalists, visit www.arc-competition.com.
PBIC Launches Web Site for Bike Commuters
In March 2011, the Pedestrian and Bicycle Information Center (PBIC) launched a new Web site containing resources and guidance on commuting by bicycle and organizing Bike to Work events. The "Bike to Work" site at www.biketoworkinfo.org provides resources for beginner bicycle commuters, advanced bicycle commuters, and other stakeholders who want to promote bicycle commuting. Resources include tips for riders, downloads for event organizers, facts for the news media, and information for employers and sponsors.
The home page includes a "Programs in Motion" section, which shares success stories from Bike to Work programs around the country. Visitors also can submit their own success stories using this section of the Web site. Also from the home page, event planners can select their event dates and create planning calendars. One of the main features of the site is the discussion forums, which enable bike commuters to network with one another by posting questions and responding to other posts. Forum discussions cover topics such as tips for planning Bike to Work events, commuting strategies, pointers, and resources. In addition, the site hosts an image library where site visitors can browse and submit images related to bicycling.
This site is funded by FHWA and maintained by the PBIC, which is housed within the University of North Carolina Highway Safety Research Center.
PBIC
Mexico to Host 24th World Road Congress
On September 26-30, 2011, Mexico City will host the 24th World Road Congress. Organized by the World Road Association (PIARC), the conference offers transportation professionals an opportunity to learn about the latest state-of-the-art technologies in the road infrastructure sector. For the first time in nearly two decades, the international event will take place in North America.
"The World Road Congress is a must-attend event for transportation professionals and practitioners," says FHWA Executive Director Jeffrey Paniati, who is also the United States' first delegate to PIARC and coordinator for PIARC's strategic theme Safety of the Road System. "The event provides an excellent venue to discuss technological advances and best practices showcasing innovation, progress, and new directions in all areas of road transportation — from road safety and administration to infrastructure, sustainability, and maintenance."
Past events have attracted more than 5,000 delegates from government agencies, corporate institutions, and international associations.
For more information, visit www.aipcrmexico2011.org.
PIARC