Researching Smarter through the Web
The National Highway Institute (NHI)
Transportation professionals rely on numerous sources, such as journals, reports, maps, and government regulations, to collect information. With the advent of the Internet, much of this information is available online. The sheer volume of material that can be downloaded off the Internet, however, can be overwhelming. Without proper training, professionals could waste valuable time and resources searching for information. Although some transportation libraries provide tutorial sessions or materials that teach users how to find information, these services often focus only on the contents of a specific library. Many professionals, instead, could benefit from instructional sessions that focus on the entire Internet as a resource for transportation information.
To meet this need, the Federal Highway Administration's National Highway Institute (NHI), in conjunction with several other agencies, has introduced a new course, Working Smarter: Using the World Wide Web for Transportation-Related Research (#310112C). The goal of the course is to provide practitioners with efficient and effective methods for finding and evaluating transportation related information on the Internet.
NHI delivers the course via interactive training sessions known as Web conferences, which enable transportation professionals in remote locations to participate without incurring travel costs. Participants attend the course by logging onto the Internet and then calling a toll-free telephone number. The instructor uses tutorials that include Microsoft® PowerPoint® slides, interactive quizzes, live Web sites, and a view of the instructor's computer desktop to show examples of various search tools.
After completing the course, participants will know how to search the Internet quickly to find transportation information and resources. They also will understand how to evaluate and interpret online information. Finally, attendees will be able to identify and use the information resources and services provided by libraries to augment and refine their own Web-based research.
Research engineers and other professionals could benefit from the course by improving their skills in accessing transportation information using the advanced search features found on most search engines and directories. In addition, NHI designed the course to be flexible so it can be adapted to subject-specific areas. Based on participant feedback, NHI is considering developing several smaller course modules covering advanced search techniques for transportation subject areas, including legal documentation, environment, pavements, and transportation planning.
NHI developed the course as a collaborative effort with the Bureau of Transportation Statistics' National Transportation Library and a consortium of academic libraries and State departments of transportation (DOTs) known as the Midwest Transportation Knowledge Network. Although developed specifically for the class, the course materials are general enough so that any transportation librarian could use them to support training efforts for clients. This flexibility can be especially helpful to libraries at State DOTs with small staffs, and the resources can be adapted easily to meet specific needs.
"Our goal is to help users become faster and better Web searchers," says Nelda Bravo, director of the National Transportation Library at the Bureau of Transportation Statistics. "Since taking the class, several participants have sent e-mails saying that the course helped strengthen their skills in finding and evaluating information on the Web, so I think we have accomplished our goal. And it could not have happened without the collaboration among the libraries and NHI."
To register, visit www.nhi.fhwa.dot.gov/resources/webconference/eventcalendar.aspx. For more information about Web conferencing at FHWA, contact Jennifer Pimentel at 703-235-0541, jennifer.pimentel@fhwa.dot.gov or Catherine Flaherty at 703-235-0541, catherine.flaherty@fhwa.dot.gov.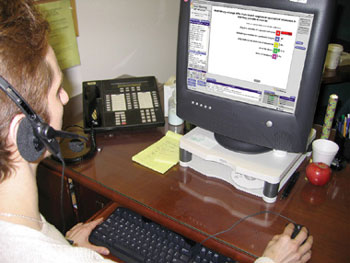 Course participants like this one can access some of NHI's offerings via Web conferences.