Policy and Legislation
Along the Road is the place to look for information about current and upcoming activities, developments, trends, and items of general interest to the highway community. This information comes from U.S. Department of Transportation (USDOT) sources unless otherwise indicated. Your suggestions and input are welcome. Let's meet along the road.
FCC Licensing Decision Will Help Advance Safe Transportation
U.S. Transportation Secretary Norman Y. Mineta welcomed a recent decision from the Federal Communications Commission (FCC) to license an exclusive radio spectrum for short-range use on roads. Dedicated Short Range Communication (DSRC), which operates at distances of less than 92 meters (100 yards), can facilitate communication between vehicles and the roadside or between vehicles that are close together.
Commonly used communication devices, like electronic toll tags, operate on a radio frequency used by many other devices, including cordless phones and garage door openers. Since the new spectrum is dedicated to transportation purposes only, the possibility of dangerous interference between signals has been virtually eliminated. This change makes it possible to use the technology to develop more advanced crash avoidance systems.
Possible applications for DSRC include "intelligent intersections," which would warn drivers of a potential crash before they enter an intersection. The Federal Highway Administration (FHWA) demonstrated the potential for this application in June 2003 at the Turner-Fairbank Highway Research Center in McLean, VA, as part of USDOT's national meeting on the Intelligent Vehicle Initiative.
Although FCC already had granted a petition from the Intelligent Transportation Society of America to allocate the spectrum to DSRC uses (with the stipulation that public safety uses would have priority), the agency had postponed decisions until recently on how and to whom the spectrum would be licensed. USDOT is working with manufacturers to make the technology available on the market by 2005.
For more information, visit www.its.dot.gov or www.fcc.gov.
Management and Administration
FHWA Launches Team to Improve Pavement Designs
FHWA recently launched a team of pavement professionals to educate and assist State highway agencies and industry partners in implementing the National Cooperative Highway Research Program's new tool, The Mechanistic-Empirical Design Guide for New and Rehabilitated Pavement Structures. The guide, scheduled for release in spring 2004, aims to improve the efficiency and reliability of pavement designs.
Using data based on a combination of scientific, mathematical, and experimental design approaches, the guide provides a realistic characterization of in service pavements and uniform guidelines for designing new flexible, rigid, and composite pavements. It also offers procedures for evaluating existing pavements and recommendations for rehabilitation treatments, subdrainage, and foundation improvements. In addition, the guide illustrates several pavement design options and explains cost and reliability analyses.
The implementation team brings together specialists from FHWA's Resource Center in Atlanta, GA, the Office of Pavement Technology in Washington, DC, and the Turner-Fairbank Highway Research Center in McLean, VA. After the initial 2 workshops, the team will hold 4 workshops across the Nation in 2004, including sessions in Chicago, IL (July); Mystic, CT (August); Kansas City, KS (September); and Phoenix, AZ (October).
For more information, visit www.fhwa.dot.gov/pavement/dgit.htm.
Federal Agencies to Coordinate Delivery Of Transportation Services
U.S. Transportation Secretary Norman Y. Mineta, U.S. Health and Human Services Secretary Tommy G. Thompson, U.S. Labor Secretary Elaine L. Chao, and U.S. Education Secretary Rod Paige recently announced a new Federal initiative that will make it easier for government agencies and nonprofit organizations to share transportation resources to enhance services without increasing costs. The initiative, known as United We Ride, includes technical assistance and self-assessments to improve the delivery of transportation services to older adults, people with disabilities, and low-income families.
United We Ride uses several programs to simplify the process of obtaining transportation assistance and increase coordination across agencies, ensuring that transportation resources are used efficiently. A technical service initiative called Help Along the Way, for example, provides experts to help States and communities assess current programs and improve policies and services to coordinate their transportation programs. A self-assessment tool will help States and communities identify successful practices and areas for improvement.
The recent National Leadership Forum on Human Service Transportation Coordination held in February 2004 in Washington, DC, brought together State leaders seeking to raise the visibility of issues related to transportation services and secure commitments to action. The forum also offered information on how States can obtain grants to help address gaps in their efforts to coordinate human service transportation, especially in infrastructure, statewide training, and planning and policy development.
For more information, visit http://www.unitedweride.gov/.
Technical News
Report Evaluates Preparedness for Hurricane Evacuations
FHWA recently released a report highlighting lessons learned from hurricane evacuations in nine southeastern States. A Study of the Impact of Nine Transportation Management Projects on Hurricane Evacuation Preparedness (Contract No. DTFH61-96-C-00098) highlights several best practices. An example is Louisiana's partnering with the U.S. Geological Survey (USGS) to add traffic information components to existing USGS HydroWatch stations, which collect information on water level, flow, precipitation, and wind speed.
The States featured in the report used FHWA funding to enhance the technical and public information components of their evacuation systems. Evacuation software systems which can provide hurricane data to emergency transportation information system sand traffic-monitoring detectors along key evacuation routes are just two of the improvements made using the FHWA grants.
The need to coordinate plans across State lines as shown in a case study of contraflow on I-59 between Louisiana and Mississippi was one of several lessons learned that surfaced during the study. Others include locating bottlenecks, developing decision-support tools, and educating the public about contraflow.
To view the report, visit www.its.dot.gov//JPODOCS/REPTS_TE//13940.html#_Toc54751355.
Public Information and Information Exchange
Mississippi Transforms Section of Interstate 55
The Mississippi DOT recently began a project that will more than double the number of lanes on I-55 between fast-growing DeSoto County and nearby Memphis, TN. Scheduled for completion by March 2007, the $40 million project will expand the road from two lanes in each direction to five lanes and will reconstruct the interchange at Mississippi S.R. 302, among other improvements. Work will begin at the S.R. 302 interchange and extend about 3.2 kilometers (2 miles) to the Tennessee State line.
The widening will relieve congestion in the northwest corridor, Mississippi DOT officials point out. Residents in DeSoto County, about 16 kilometers (10 miles) south of Memphis, use I-55 as their main commuter route. The highway also is popular with gaming enthusiasts traveling to Tunica, MS. Traffic is particularly heavy around the S.R. 302 interchange.
The contractor will be required to use the critical path method of scheduling, a relatively rare practice in Mississippi. This software-aided scheduling method requires contractors to identify a project's critical activities and then adopt strategies that will keep the project on track.
Mississippi DOT
FHWA Releases Report on Commuter Trends
FHWA recently released a new report tracking trends in demographics, worker characteristics, and commuting. Journey to Work Trends in the United States and its Major Metropolitan Areas, 1960-2000 (FHWA-EP-03-058) looks at several trends in relation to travel, including changes in household structure and growth in the population and workforce.
Using U.S. Census Bureau decennial population counts and sample data, and county-to-county worker flow and migration tables, the report analyzes the development and status of commuting in the United States over a 40-year period. Findings show that while average household size went from 3.3 in 1960 to 2.6 in 2000, the number of vehicles per household rose from just over 1.0 to about 1.7 during the same time period.
The use of private vehicles for travel to work also has increased. The census shows that in 2000 75 percent of commuters drove alone to work (75.7 percent), followed by carpooling (12.2 percent), transit (4.7 percent), working at home (3.3 percent), and walking (2.9 percent).
Finally, the report notes that commuting times are increasing. In 2000, 14 percent of workers traveled more than 45 minutes compared to 12 percent in 1990, and 29 percent commute less than 15 minutes, compared to 31 percent in 1990.
To view the full report, visit www.fhwa.dot.gov/ctpp/jtw/index.htm.
Personnel
FHWA's DiMillio Recognized by International Association for Foundation Drilling
In January 2004, ADSC: The International Association of Foundation Drilling honored FHWA's Albert F. DiMillio with the 2004 Outstanding Service Award. Dimillio, a geotechnical research engineer at the Turner-Fairbank Highway Research Center in McLean, VA, received the award during the 2004 Geo-Support Conference in Orlando, FL, an event that ADSC cosponsored with the Geo-Institute at the American Society of Civil Engineers.
DiMillio was cited for his work in advancing the art and science of drilled shaft foundations and anchored support systems. DiMillio also has received awards from the International Workshop for Micropiles, the Deep Foundations Institute, and the American Society of Civil Engineers.
DiMillio, who received degrees from The Citadel and the University of Rhode Island, has managed FHWA's geotechnical engineering research program since 1975.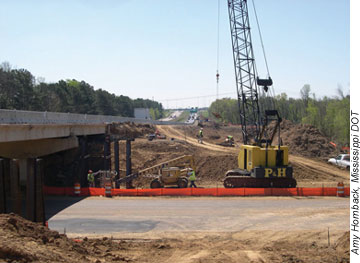 On I-55 between DeSoto County, MS, and Memphis, TN, workers temporarily widen an existing bridge on its southbound side so northbound traffic can pass through while new bridges are constructed.