Solutions From The Sunbelt
The southeastern States share strategies to protect wildlife and fragile habitats.
The southeastern United States is one of the fastest-growing regions in the country. According to a study conducted by the Southern Rural Development Center at Mississippi State University, population growth in the region averaged 20 percent over the decade from 1990 and 2000. Combining a temperate climate, relatively low living costs, a highly developed network of modern interstates and other highways, and freight rail lines that historically moved cotton and produce from farm to market, the South continues its legacy of growth; however, today the Southeast also is sprouting urban sprawl.
Providing the foundation for the remarkable growth in the eastern Sunbelt are some of the most resilient and fragile associations of living organisms on the planet. The plants and animals in these ecosystems represent some of the most biologically diverse species on Earth. Ample streams, rivers, wetlands, and terrestrial habitats support this biodiversity.
According to classifications by the U.S. Department of Interior's U.S. Geological Survey, the ecosystems in the South range from the spruce-fir forests of the highest points of the southern Appalachian Mountains to the tropical hardwood hammocks of southernmost Florida. In between these extremes lies a diversity of indigenous habitats: the old-growth deciduous and hemlock forests, cliffs, rocky stream gorges, and grassy and heath balds of the Appalachians; the sawgrass marshes, mangrove forests, and pine rocklands of south Florida; the carnivorous plant wetlands, baldcypress swamps, live oak maritime forests, longleaf pine savannas, and dunes of the coastal plain; the oak-hickory forests, bottomland forests, prairies, glades, and barrens of the piedmont and continental interior; and the springs and extensive cave systems of limestone areas.
The most saturated of these habitats represent nearly 80 percent of the Nation's dwindling wetlands. Such biodiversity may be nature's way of ensuring species survival through genetic variability, but in human nature lies the capacity to sustain—or subdue—millions of years of natural history with relatively minor actions.
With the blossoming human population, a growing network of transportation corridors is emerging on the Southeast's sand, peat, limestone, and red clay soils. Along with this growth, State departments of transportation (DOTs) are demonstrating the valuable role that they can play in protecting and enhancing wildlife habitats throughout the region. The southeastern States are planning, building, and retrofitting roads with measures to improve landscape connectivity, reduce roadkills, and protect human lives and property from animal-vehicle collisions.
Florida
In 1993, responding to the need for an interstate-level upgrade of Alligator Alley, a major east-west corridor across the Everglades, the Florida Department of Transportation (FDOT) and the Federal Highway Administration (FHWA) wrestled with finding a safe, effective, and economical solution to address significant highway mortality rates for the federally listed endangered Florida panther.
Populations of this close cousin of the western mountain lion have dwindled to a staggeringly low number. Perhaps the largest native predator in the eastern United States, the Florida panther is a subspecies that is commonly thought to represent the only known remnant of the eastern cougar that once inhabited much of the Southeast.
For the Alligator Alley highway, FDOT's solution was a series of constructed highway underpasses, coupled with extensive right-of-way fencing. The fences direct the big cats away from the roadside while still accommodating their need to move throughout large territories to hunt. FDOT also is making wildlife underpasses a more routine part of the State's highway and tollway systems.
Since installation of the underpasses, no Florida panthers have been killed on Alligator Alley. For additional information about wildlife underpasses, see the proceedings from the International Conference on Ecology and Transportation at www.itre.ncsu.edu/cte/icoet.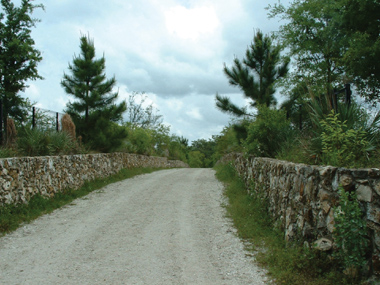 Not only does Florida stand out as a southeastern pioneer of habitat connectivity, but also the State was the host for the first International Conference on Wildlife Ecology and Transportation. Now in its 8th year, the biennial event has broadened its mission to become the International Conference on Ecology and Transportation—the only international, interagency event addressing the broad range of ecological issues related to surface transportation.
More recently, FDOT and 22 other agencies representing Florida and the Federal government signed a memorandum of understanding to make transportation decisions more efficient while protecting the human and natural environment. The new process streamlines planning by engaging all stakeholders earlier in a project, establishing interagency teams to coordinate reviews and ensure agency interaction throughout the life of a project, and identifying critical issues earlier to result in better transportation decisions for the environment and the public.
The State continues the tradition of protecting habitat connectivity that it began with Alligator Alley through numerous projects, including underpasses for black bears north of the Ocala National Forest, land-management strategies for the federally listed key deer, barrier walls with underpasses to reduce amphibian and reptile mortality along US 441 through the Paynes Prairie Preserve, and a greenway-trail overpass on I-75. Other initiatives and actions include creating "habitat banks" (conservation areas) for rare and listed wildlife such as the red-cockaded woodpecker and reducing oceanfront street lighting during the summer to protect sea turtles during their nesting and hatching season.
Alabama
To complement its statewide collection of successful wetlands mitigation banks (offsite land resources set aside to mitigate the impacts of transportation projects), the Alabama Department of Transportation (ALDOT) is in the process of establishing a habitat bank for the relocation and recovery of the gopher tortoise within the threatened western portion of its range. Occupying burrows deep in the sands of the Southeast's coastal plain, these reptiles have suffered decreases from hunting, habitat loss, and the reckless dumping of gasoline into their burrows to drive out the rattlesnakes that often share their dens.
In preparing to widen a portion of US 98 through gopher tortoise habitat west of the City of Mobile, ALDOT became the lead partner in an effort to restore several hundred acres of suitable habitat that will receive animals relocated from the project rights-of-way. In addition, ALDOT plans to deter the remaining tortoise population living near US 98 from entering the completed roadway by installing buried fencing.
Auburn University's Harbert Engineering Center also joined the team to facilitate technology transfer to advance applications that will help minimize animal-vehicle collisions throughout Alabama.
Georgia
Over the past decade, the Peach State successfully created several habitat banks and relocated the federally protected red-cockaded woodpecker and State-listed gopher tortoise. In addition, the Georgia Department of Transportation (GDOT) used highly visible red spheres—required by the Federal Aviation Administration for use on electrical transmission lines near runways and airports—to deter threatened woodstorks from becoming entangled in power lines above roadside foraging areas.
GDOT also is improving fish passage and protecting aquatic habitat for freshwater mussels with design and construction enhancements at road crossings over streams. Bridge extensions are increasingly commonplace as underpasses for wildlife movement. For a widening project along US 80 between Savannah and coastal Tybee Island, GDOT is considering the use of underpasses and curbing to protect the diamondback terrapin—an Atlantic coast turtle—while its population nests along the roadside shoulders.
North Carolina
Recently, the North Carolina Department of Transportation (NCDOT) and the North Carolina Department of Environment and Natural Resources embarked on a joint venture to create a new program to identify lands characteristic of the State's biodiversity from Mount Mitchell, the highest point in the eastern United States, to the rugged Outer Banks along the continental shelf of the Atlantic Ocean. The goal is to leverage mitigation from transportation projects to achieve broad protection and public ownership of these places.
Even before this project, NCDOT already was developing three underpasses for coastal black bears on a State-aid project. To reduce controversy on this project, NCDOT also committed to the construction of a more context-sensitive roadway and avoided possible impacts on several high-quality wetlands by incorporating bridges into the project. NCDOT also committed to funding 2 years of preconstruction monitoring and 2 years of followup studies to evaluate the success of these measures.
In the rapidly growing Raleigh-Durham area, NCDOT is proposing bridge extensions to improve wildlife mobility. At the same time, NCDOT is advancing studies on the use of existing underpass structures by whitetail deer to help the agency set more accommodating standards for underpass design.
Tennessee
In Unicoi County, TN, the Tennessee Department of Transportation upgraded US 23 to interstate standards in anticipation of incorporating the roadway into I-26. The economically important corridor connects Bristol, Johnson City, and Kingsport—Tennessee's northeastern Tri-Cities area—to Asheville and the North Carolina side of the Great Smoky Mountains National Park.
In 1996, FHWA recognized the carefully planned, designed, and constructed 24-kilometer (15-mile) section with an award of excellence in rural highway design. While providing economic, social, and aesthetic benefits to the surrounding communities and motoring public, the project preserved the natural integrity of the landscape and included two underpasses built to accommodate the movement of black bears and other native wildlife safely across the corridor.
Kentucky
Known worldwide for the horse farms on its rolling bluegrass hills, Kentucky also boasts biological diversity supported by the Ohio River that forms the State's northern and western borders, the Cumberland River in the southernmost part of the State, and a rolling karst terrain made famous by the subterranean caverns in southwestern Kentucky's Mammoth Cave National Park.
The Kentucky Transportation Cabinet (KYTC) has implemented several initiatives to address wildlife-vehicle collisions and habitat fragmentation, including traditional highway signage and fencing. The State also has made limited use of prismatic reflectors that bounce light from headlights at a 90-degree angle toward the side of the road to warn large animals away from roads and highways.
KYTC also has used bridge extensions for wildlife underpasses. In the western part of the State at Land Between The Lakes, KYTC is working with the U.S. Forest Service to incorporate underpass culverts to accommodate the foraging and migratory movements of large animals, including a reintroduced population of elk.
"Everybody wins in Kentucky when transportation changes embrace environmental stewardship and public involvement," says A. Olivia Michael, environmental program manager and right-of-way officer for FHWA's Kentucky Division. "Habitat awareness and conservation now are part of the context-sensitive design approach for transportation. We now have greater public ownership in our projects, as well as added safety benefits when we prevent animal collision incidents."
Kentucky is no stranger to installing culvert underpasses for cattle and farm equipment crossings. Currently, KYTC is investigating the possibility of constructing its first wildlife bridge overpasses for a portion of the proposed I-69 alignment and other existing interstates where animal-vehicle collisions
are common.
On another front, KYTC's operations and maintenance staff are controlling vegetation to prevent the colonization of invasive species. Also, KYTC is working with the U.S. Department of Interior's Fish and Wildlife Service (USFWS) to use roadside maintenance practices that favor the Eggert's sunflower, a regionally rare species.
Arkansas
Although Arkansas is located on the western side of the Mississippi River, culturally and ecologically it is tied to the Southeast and is one of the first southern States to embrace the concept of mitigation banking for wetland habitats. Arkansas continues to lead by example in partnering with Federal resource agencies to streamline decisionmaking processes for environmental-transportation projects, resulting in better use of public funds for transportation and resource conservation. Finally, the Arkansas Highway and Transportation Department has combined fencing and box culverts to create the State's first designated wildlife underpasses just north of Little Rock
Louisiana
Nicknamed a Sportsman's Paradise, Louisiana bayous and natural areas teem with wildlife. The Louisiana Department of Transportation and Development (LA DOTD) is engaged in several projects located in known habitat of the threatened Louisiana black bear, a subspecies of its more common North American cousin. LA DOTD is providing underpass crossings, while simultaneously working with resource agencies to ensure the value of the investment in these measures by protecting adjacent habitats.
In Pointe Coupee Parish, Louisiana will use global positioning systems to document the location of large cypress trees, like this one in a ponded swale, to determine a highway alignment that will minimize the impact on trees that could serve as dens for the federally protected Louisiana black bear.
On one 19-kilometer (12-mile) project, the St. Francisville Bridge over the Mississippi River, LA DOTD is including 10 culvert underpasses and nearly 5,486 meters (18,000 feet) of elevated roadway to cross wetlands, provide hydraulic passage, conserve habitat for the Louisiana black bear, and meet its mobility requirements. Additional conservation techniques during this project include (1) coordination with USFWS throughout construction, (2) special coordination during construction of the subsurface culvert in areas of potentially active black bear movement, and (3) education of construction personnel about the presence of Louisiana black bears and courses of action if sightings should occur.
Between New Orleans and Lafayette, another project—the Interstate 49 extension—proposes to upgrade an existing divided highway to interstate standards. Here, LA DOTD also is considering creating cost-effective black bear underpasses while leveraging the local community's interests and resource agency responsibilities to protect the integrity of the habitat that lies beyond the pavement. Securing the bears' ability to access their natural habitat in the swamps of the nearby Atchafalaya River is critical to the value of the public's investment in crossing structures.
In spring 2003, the U.S. Fish and Wildlife Service and Louisiana Department of Transportation and Development staff installed bear crossing signs along US 90 (future I–49) from Calumet to Berwick, LA, to alert motorists to the potential for bears crossing the road.
"People usually perceive highways as fragmenting habitat," says Michéle Deshotels, executive management officer for environmental policy and streamlining at LA DOTD, "but here in Louisiana, highways and railroads proved to be the sole source of one remnant habitat. Fifteen years ago, it was thought that all prairie was gone from Louisiana. It was a marvelous find to realize that fragments of real prairie remained intact in highway right-of-ways. Since then, we have been doing what we can, not only to preserve what we have, but also to help restore this habitat around our State. We are even in the process of putting up informative signage to mark some of the locations of prairie in our rights-of-way."
South Carolina
The South Carolina Department of Transportation (SCDOT) incorporated wildlife crossings into several projects. Most recently, SCDOT extended a bridge spanning wetlands on the Carolina Bays Parkway to facilitate constructing an upland wildlife crossing.
According to Patrick Tyndall, environmental coordinator for FHWA's South Carolina Division, extending the bridge was unnecessary from a hydraulic standpoint. "However," he says, "our partners at the USFWS and the South Carolina Department of Natural Resources (SCDNR) informed us that this area—known as the Socastee Swamp—serves as an important wildlife corridor. Therefore, through a mutual agreement, the bridge was extended to include an upland wildlife crossing."
SCDOT embraced the design-build concept (a single procurement for the design and construction of projects) in the mid-1990s to reduce the costs of constructing transportation projects. The first major design-build project was the Conway Bypass, a 45-kilometer (28-mile) new roadway near popular Myrtle Beach. SCDOT incorporated wildlife crossings for various animal species known to inhabit the area.
A major concern was the potential impact on a little-known population of black bears. SCDOT urgently needed information on this last remaining population of bears on South Carolina's coastal plain, both to develop meaningful strategies that would ensure their continued existence in the face of increasing development and to reduce the safety hazard of animal-vehicle collisions.
SCDOT determined that the most practical solution was to design bridges and culverts. Initial estimates indicated a need for nearly a dozen structures ranging from extra culverts to specially designed bridges—all at an added cost in the millions of dollars.
Representatives from SCDOT, SCDNR, Clemson University, and the design-build contractor met to modify the number and location of proposed underpass structures. As a result, the new plan eliminated seven 91-meter (300-foot)-long culverts and eight 38- to 46-meter (125- to 150-foot)-long bridges, resulting in a savings of more than $2 million.
With the cost savings, SCDOT and its contractor agreed to fund a black bear study. Recently completed by Clemson University, the study documents the movement, abundance, habitat utilization, and population dynamics of South Carolina's coastal black bear population. Data gathered during the study will enable more accurate placement of wildlife crossings on future projects and facilitate longer-term protection of black bears from vehicular conflicts.
"Rather than arbitrarily picking locations for wildlife crossings," Tyndall says, "SCDOT paid Clemson University to conduct a study of black bear movements to see where the crossings would be needed. In the end, this allowed wildlife crossings to be placed only where they truly are needed."
A New Outlook
Clearly, every State DOT in the region is responding to growth pressures as opportunities for investment in a better quality of life and improved conservation of public resources. The most conspicuous indicators of the southeastern transportation community's emerging environmental ethic are coming from the many collaborative approaches to developing transportation projects and resource stewardship initiatives.
Funding flexibility, enabled by Federal transportation legislation such as the Intermodal Surface Transportation Efficiency Act and the Transportation Equity Act for the 21st Century, is one key element. FHWA policies that reflect increasing expectations for States to do more with limited transportation resources are another key in advancing innovative solutions and collaborative interagency approaches that go beyond satisfying environmental outcomes. In addition, the charge to streamline the lengthy, and at times redundant, environmental regulatory processes has led local, State, and Federal transportation and resource agencies to understand that transportation decisions are tied intimately to environmental decisions.
This growing understanding continues to transform the South's attitude toward transportation and the environment. Not to be lost in the big picture of economic sustainability is the importance of quality-of-life issues that require clean air and clean water. Human communities are inescapably linked to the indigenous natural communities that are the foundation of the region's resources and ultimately determine the productivity of the land and its people.
---
Alex Levy, an Atlanta native, has served as an ecologist in FHWA's Resource Center for the last 3 years. Levy brings to FHWA more than a decade of public and private sector experience conducting field studies and coordinating ecological assessments for transportation, utility, and site developments. With a bachelor's degree in landscape architecture from the University of Georgia, Levy conducts site-analyses that result in better decisionmaking and context sensitivity for integrating the built and natural environments. Levy assists State DOTs, FHWA Division Offices, and resource agencies as they work to improve the quality of existing and future surface transportation for both two- and four-legged stakeholders.