Reviews on The Fast Track
A step-by-step guide to practices that States employ to streamline the environmental review process.
Three years ago, representatives from the Colorado Department of Transportation (CDOT) met with conservation agencies and organizations to discuss partnerships for contributing to species recovery and ecosystem conservation within the State's shortgrass prairie habitat. The U.S. Fish and Wildlife Service (FWS) and Colorado Division of Wildlife agreed that preservation of healthy ecosystems to sustain viable populations of endangered species in key areas would be of greater benefit than remediation in the transportation corridor, located next to high-speed traffic.
This cooperative spirit and willingness to consider creative solutions, starting with species habitat needs and ecoregional priorities rather than project-by-project regulatory check-offs, ultimately gave birth to an innovative 36-species, habitat-based impact analysis and a focused conservation investment. High-quality, short-grass prairie habitats will be purchased in advance of highway construction projects as a mitigation measure to preserve the identified species that depend upon them. The short-grass prairie habitat under priority consideration is located in areas spanning from the Colorado- Wyoming border south to the Comanche National Grasslands, the foothills of the Rocky Mountains, and the largest, multihabitat conservation site in far southeastern Colorado. The mitigation purchases will compensate for impacts caused by CDOT transportation improvements on the existing highway network located within short-grass prairie habitat for the next 20 years.
"It's challenging trying to balance the need to protect the environment while providing a safe transportation system for a growing State," says Tom Norton, executive director of CDOT. "However, CDOT is committed to doing just that. We recognize how important it is to preserve short-grass prairie and protect the wildlife dependent upon it."
The short-grass prairie initiative provides habitat mitigation prior to project development and construction for endangered and threatened species, therefore, reducing the time necessary for coordinating with the FWS. Reductions in coordination time will expedite the release of environmental documents and the issuance of the environmental permits necessary for project construction.
This Colorado conservation achievement provides an exceptional example of "environmental streamlining," which may be defined as "completing reviews and permitting in an efficient way, while ensuring that projects are environmentally sound." Since the enactment of the Transportation Equity Act for the 21st Century (TEA-21) in 1998, the Federal Highway Administration (FHWA) has focused on reducing the length of time to process environmental documents for major transportation projects while remaining effective environmental stewards.
Streamlining entails establishing realistic timeframes for transportation and environmental resource agencies to develop projects, and then working cooperatively to adhere to those timeframes. The coordination of multiple overlapping environmental reviews, analyses, and permitting actions is essential to achieving realistic timeframes.
A number of Federal agencies are charged with statutory oversight of specific environmental resources. In addition, most States and some local jurisdictions have their own environmental statutes and requirements that also must be addressed. The complexity of the processes involved in developing transportation projects, the multiple actions, and the varying requirements do not lend themselves to quick solutions. But to streamline the process, sponsors at the regional, State, and local levels need to coordinate their timeframes and solutions.
Experience in developing and implementing streamlining solutions indicates that the most effective practices occur at the project level. Every State DOT has adopted or initiated processes and procedural agreements or initiatives that clarify, amend, or reinvent the development process for transportation projects. Because of these efforts, State and local highway and transit agencies have achieved considerable direct and tangible results.
Streamlining Practices in Action
Sponsors of transportation projects employ a variety of streamlining practices to speed up costly and time-consuming environmental reviews. Successful practices need not be innovative per se: they simply must be effective and efficient. Many of the successful streamlining practices fall into one of six categories:
Integration of planning and project development processes
Use of context-sensitive designs and solutions
Development of programmatic agreements
Use of flexible mitigation
Expenditures on technology, training, and staff
Employment of alternative dispute resolution
A review of these practices provides a step-by-step guide to environmental streamlining.
Integrated Planning
An integrated, concurrent process requires early involvement in the planning phase by State and Federal resource agencies, enabling them to provide their input on the purpose of the transportation project, the need for it, and the screening of preliminary alternatives. An example of a broad-based, integrated process is Florida's efficient transportation decisionmaking, which brings agency interaction forward into the early stages of transportation planning, identifies avoidance and minimization strategies much earlier, and builds cost impacts for these strategies into the long-range transportation plan.
Other examples are Oregon's and Washington State's efforts to determine modal and location aspects for the National Environmental Policy Act (NEPA) process during the corridor planning stage. The Oregon DOT then conducts further environmental documentation and analysis when projects become funded and are developed for construction.
Indiana's streamlined environmental impact statement procedures allow the documentation developed by FHWA and the Federal Transit Administration in compliance with NEPA to serve as a substantial part of the documentation required by other permitting and funding agencies in accordance with applicable laws and regulations. Maryland focuses on more explicitly incorporating various agency coordination and regulatory requirements into a single unified process, thereby improving the overall timeliness of project decisions.
These State DOT efforts are among others that are making significant efforts to link the planning and NEPA processes. The intended outcome is to make planning and project development seamless, more connected, and more systematic.
Almost half of the State DOTs have focused on integrating planning and project development activities to eliminate duplication of effort between initial transportation planning and NEPA studies, resulting in more efficient decisions. A coordinated review process evaluates environmental issues concurrently, rather than sequentially.
"Tiering" is a specific approach for organizing decisionmaking concurrently for large transportation projects rather than sequentially. Tiering integrates the planning and NEPA processes in two phases: a first tier focused on broad, overall corridor issues, such as general location, mode choice, and areawide air quality and land use impacts; and a second tier focused on site-specific impacts, costs, and mitigation measures.
The Missouri DOT and FHWA's Missouri Division are using tiering to address the long-range environmental concerns for a 322-kilometer (200-mile) section of I-70. Says Director Henry Hungerbeeler of the Missouri DOT, "Interstate 70 is the most important corridor in the State; it connects our two largest cities and is crucial to the State's economy." The Missouri DOT anticipates that the I-70 tiering process will take approximately 4 years to complete, rather than the 6 to 7 years complex corridor studies typically take in Missouri. For more information, see www.improvei70.org.
Context-Sensitive Designs
Context-sensitive designs and solutions exemplify how partnerships with public and resource agencies can yield transportation projects that meet a variety of needs while promoting environmental stewardship. Context-sensitive solutions seek to integrate highways into the communities they serve by balancing preservation of community values, enhancement of the natural environment, safety, and mobility.
Guided by the Listen-Understand-Design-Build motto, Minnesota DOT (Mn/DOT) began its context-sensitive design efforts in 2000. Interdisciplinary teams of economic, environmental, and social experts develop projects that fit functionally, culturally, and environmentally within their location. In addition, Mn/DOT provides training in project management and context-sensitive design for its staff and those from resource agencies.
Connecticut, Kentucky, Maryland, Minnesota, and Utah served as pilot States to implement this new approach to transportation decisionmaking. They implemented new policies on transportation project development, staff training, conferences, research, and community outreach. The following principles may help States adopt context-sensitive solutions:
Develop projects through a collaborative process that actively engages communities and other stakeholders early and often.
Balance safety, mobility, and economic goals with the preservation of environmental, scenic, aesthetic, historic, and cultural values.
Build projects that add lasting value to communities and minimize disruption.
Implement a flexible design process that is sensitive to project goals, timelines, and the environment.
Exceed the expectations of designers and stakeholders.
Programmatic Agreements
Programmatic agreements are legal documents defining how each participating State and Federal agency will be involved in the review of projects. Most of the agreements address historic preservation, navigable waters and wetlands, endangered species, and public lands. In many cases, these agreements allow projects that fall within certain defined criteria to be reviewed according to previously negotiated procedures, avoiding lengthy coordination processes on uncomplicated projects.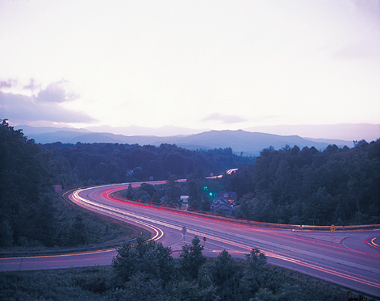 Historic preservation. At last count, 41 States have some level of delegated authority for historic resources, enabling many projects to be processed quickly and freeing State and Federal resources to focus on other issues. In Vermont, a programmatic agreement enables the Vermont Agency of Transportation (Vtrans) to complete almost all reviews required by Section 106 of the National Historic Preservation Act in-house. The Vermont State Manual of Standards and Guidelines documents the details of the programmatic agreement between FHWA, Vtrans, the Advisory Council on Historic Preservation, and the Vermont State Historic Preservation Officer.
"After 2 years of implementation, I can confidently state that the programmatic agreement has substantially reduced the time needed to permit projects," says D. Scott Newman, historic preservation officer with the Vermont Agency of Transportation. "And resource stewardship has improved through Vtrans' ownership of the review process. The Manual of Standards and Guidelines lays the groundwork for effective consideration of historic properties in the early stages of project development; this means far fewer expensive and time-consuming design changes late in the game."
Navigable waters and wetlands. At least 29 States have adopted agreements to merge NEPA and the Federal Clean Water Act's Section 404 permitting process, which regulates the discharge of dredged or fill material into waters of the United States, including wetlands. In an integrated process, the emphasis is on early coordination with the U.S. Army Corps of Engineers and the resource agencies that comment on the Section 404 permit, so that the NEPA documentation and decision-making process will align with the information and procedural needs of the U.S. Army Corps of Engineers. A well-executed merger process will result in projects that are permittable, and that proceed with fewer delays. It provides a clear, consistent, and efficient process that occurs within a predictable timeframe, provides a forum to exchange information, attracts committed participants, and results in the completion of an environmental impact statement that adequately considers both the environment and the delivery of transportation projects.
Michigan and New Jersey are the only two States in the Nation where the U.S. Army Corps of Engineers has delegated Section 404 wetlands permitting authority to a State agency. Few States have exercised this option because it is very resource-intensive. However, delegated authority enables the Michigan and New Jersey DOTs to customize the permitting program to their particular needs and focus on transportation approaches that might not be available under a strictly Federal permitting system.
In Michigan, the approach provides one-stop shopping for permits, whereby only one permit application is filed with the Michigan Department of Environmental Quality (MDEQ). The Michigan DOT funds 11 fulltime MDEQ-managed positions dedicated to servicing wetlands permitting actions for transportation projects. With increased staff, MDEQ can become involved early in transportation planning and project development. On-call MDEQ staff work directly in the field with Michigan DOT staff to delineate wetlands and review projects.
Endangered species. As mentioned earlier, Colorado took an innovative and holistic approach to protecting a prairie ecosystem while streamlining the consultation for Section 7 of the Endangered Species Act. CDOT entered into a memorandum of agreement (MOA) with FHWA, the U.S. Fish and Wildlife Service, the Colorado Department of Natural Resources, and The Nature Conservancy. The MOA outlines programmatic clearance processes for activities on the existing road network for the next 20 years, thereby avoiding rising land costs by purchasing mitigation land at today's prices.
Land purchased in advance of the need for mitigation is known as "conservation banking." Agencies meet their Endangered Species Act Section 7 responsibilities early, streamlining the regulatory process and reducing the risk of future delays on transportation projects. To compensate for unforeseen impacts and avoid reinitiation of Section 7 consultation in those cases, CDOT, FHWA, and the Fish and Wildlife Service overestimated the extent to which agency action could affect species and habitat. Examples of unforeseen situations include listing new species not anticipated by the agreement, or finding new information. Over the next few years, CDOT will preserve 6,075 to 12,150 hectares (15,000 to 30,000 acres), with a potential of up to 50,000 acres of prairie in the eastern third of the State, providing habitat for approximately 36 species, and CDOT's partners will manage those lands.
Section 4(f). Section 4(f) of the USDOT Act of 1966 protects publicly owned parks, recreation areas, wildlife refuges, and historic and archaeological sites that are eligible for the National Park Service's National Register of Historic Places. Section 4(f) applies to the use of these properties by transportation projects. The Nationwide Section 4(f) Programmatic Evaluations can be used when a project fits into a defined set of circumstances including a limited set of alternatives and impacts.
The Ohio Department of Transportation (ODOT) and FHWA have implemented a Section 4(f) programmatic agreement that allows ODOT to determine the applicability of the Nationwide Programmatic Section 4(f) Evaluations to projects processed under the ODOT categorical exclusion process. Categorical exclusions are actions that do not individually or cumulatively have a significant impact on the environment and therefore do not require the preparation of an environmental document.
After ODOT approves a programmatic Section 4(f) evaluation, the agency sends the evaluation to FHWA's Ohio Division and proceeds with the project without additional paperwork. FHWA, which retains its oversight and monitoring role, has 15 days from receipt of the evaluation to object. ODOT developed a Section 4(f) training manual and workshops for its district offices to help enforce compliance under the Section 4(f) programmatic agreement.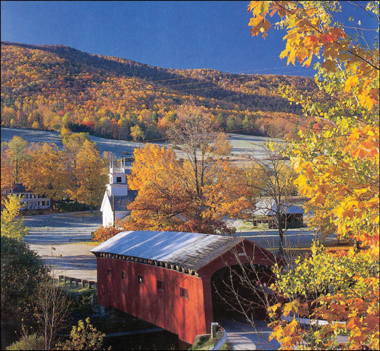 "The FHWA-ODOT Section 4(f) programmatic agreement is a major advancement in environmental streamlining," says David Snyder, environmental program coordinator with the FHWA Ohio Division Office. "This agreement gives ODOT the flexibility to move forward with project development activities while the Division is reviewing the [programmatic] section 4(f) evaluation."
Flexible Mitigation
Numerous States are developing and implementing flexible mitigation approaches, such as wetlands banking or compensation strategies that promote investment in environmentally sensitive geographic regions in lieu of using site-specific mitigation only. Many State DOTs are developing the flexible approaches in cooperation with resource agencies at the State and Federal levels, and in some cases State DOTs are working directly with nonprofit organizations such as The Nature Conservancy.
The North Carolina DOT developed a flexible mitigation program in partnership with the North Carolina Department of Environment and Natural Resources, the Wilmington District of the U.S. Army Corps of Engineers, and other State and Federal agencies. Through this program, environmental issues and needs, including potential impacts, are identified and considered early in the project development and design process.
The program will provide mitigation at the watershed level with functional replacement for unavoidable impacts prior to their occurrence. Upfront compensatory mitigation is developed years ahead for project impacts, enabling the permitting process to continue without delays.
Technology, Training, And Staff
State DOTs are maximizing financial and staff resources using various technologies, cross-training personnel, and establishing interagency personnel agreements. Technological applications are enabling DOTs to improve communication with cooperating agencies and stakeholders, and incorporate environmental considerations in business practices. Examples include online manuals, geographic information systems, electronic versions of environmental impact statements, and environmental management systems.
Cross-training addresses human resource challenges currently faced by many State DOTs, providing opportunities for consultants and staff from resource and transportation agencies to exchange information and experiences. Training topics include NEPA, the Federal-aid highway program, and transportation planning.
Interagency personnel agreements enable the DOTs to fund dedicated staff at State and Federal resource agencies to expedite environmental reviews. At last count, 34 States have agreements that fund more than 160 personnel.
In South Carolina where an accelerated State bond program necessitates efficient delivery of transportation services, interagency personnel agreements with the U.S. Fish and Wildlife Service and several State agencies have expedited environmental reviews. "South Carolina's funded positions have helped to reduce Section 401 permit times by 30 percent and State Historic Preservation Office review times from 30 to 7 days for many projects," says Wayne Hall, assistant environmental manager with the South Carolina DOT.
Alternative Dispute Resolution
State DOTs use facilitators to provide services such as conflict assessment, facilitation of interagency partnering agreements, design of conflict management processes, and mediation of disputes. For example, facilitators assisted with the Foothills South toll road project in Orange County, CA. After taking 28 months to achieve concurrence on a purpose and need statement, the involved agencies brought in facilitators to help develop the list of project alternatives, technical reports, and other environmental documents.
State DOTs can contract with facilitators using project funds through the Transportation Roster, which is a component of the larger National Roster of Environmental Dispute Resolution and Consensus Building Professionals, sponsored by the U.S. Institute for Environmental Conflict Resolution. The facilitators have experience in transportation cases and are familiar with NEPA, the alternative dispute resolution system, the objectives of environmental streamlining, and the transportation and environmental review processes.
Lessons Learned
These successful streamlining practices provide practitioners at all levels of the public and private sectors with a number of lessons learned.
One lesson is to adopt environmental stewardship as a core business value. State DOTs can move from a reactive and regulatory-driven role to a proactive and innovative position by adopting environmental stewardship as a core value.
Another lesson learned is that one size does not fit all. Tailored approaches rather than prescriptive requirements enable State DOTs to retain maximum flexibility while protecting and enhancing the environment.
A third lesson is to approach transportation decisionmaking using the NEPA umbrella concept. Integrating decisionmaking provides a holistic approach to preserving and protecting community values and the natural environment.
Fourth, engage stakeholders early and often. Many of the best management practices require early and continuous involvement of stakeholders. Effective stakeholder involvement can help reduce delays and save money by expediting decisionmaking.
Next, procure staff and financial resources. Many of the best management practices are dependent on staffing and financial situations that may be unavailable at this time to some States, given current budget realities.
Finally, learn by example. A variety of resources exist that provide best management practices, including the American Association of State Highway and Transportation Officials (AASHTO) "Center for Environmental Excellence" Web site at http://itre.ncsu.edu/AASHTO/stewardship, FHWA's environmental streamlining Web site at www.fhwa.dot.gov/environment/strmlng/index.htm, FHWA's context-sensitive design Web site at www.fhwa.dot.gov/csd/index.htm, and various national and regional conferences and workshops.
Use of innovative approaches, early lessons learned, and information exchanges have helped States identify and develop streamlined and tailored approaches for the transportation development and environmental review processes. The State-specific best management practices identified here are only a sampling and far from an inclusive list. All States are advancing environmental stewardship and streamlining practices successfully by working to overcome bottlenecks and deliver a sound and environmentally responsible transportation program in a timely manner.
---
Cassandra Callaway Allwell is a program and policy analyst at the USDOT's Volpe National Transportation Systems Center in Cambridge, MA. For the past 3 years, Allwell has provided strategic communications support for FHWA on environmental stewardship and streamlining efforts. She received a master's in regional planning from the University of North Carolina at Chapel Hill and a bachelor of science in economics from the University of Delaware.
For more information, see www.fhwa.dot.gov/environment/strmlng/index.htm or call Cassandra Callaway Allwell at 617-494-3997.