Protecting the Environment One Web Site at a Time
The phrase, "Think Globally, Act Locally," has been a popular environmental slogan for years. Since the development of the Internet, an updated version of this catchphrase might be "Think Globally, Act Technologically," as an increasing number of resources related to environmental stewardship and streamlining become available online. With a few clicks of the mouse, transportation professionals can access environmental information hosted on Web sites developed by the Federal Highway Administration (FHWA), the U.S. Department of Agriculture (USDA) Forest Service, the American Association of State Highway and Transportation Officials (AASHTO), and others. This issue's column shares highlights from a few of these resources.
The Crossroads of Animals And Transportation
When designing projects, engineers frequently must determine how to integrate transportation infrastructure with wildlife resources. Engineers and other professionals now can turn to three new Web sites to find creative solutions to the wildlife-transportation issue.
Available at www.wildlifecrossings.info/beta2.htm, the USDA Forest Service "Wildlife Crossings Toolkit" features a searchable database of case histories on mitigation measures, articles on decreasing wildlife mortality, links to related Web sites, and a glossary of engineering and biological terms. The USDA Forest Service and the San Dimas Technology and Development Center developed the toolkit with support from FHWA, the Western Transportation Institute, the Jack H. Berryman Institute for Wildlife Damage Management at the Utah State University, and the S.J. and Jessie E. Quinney Foundation.
The Center for Transportation and the Environment (CTE) "Wildlife, Fisheries, and Transportation Web Gateway" Web site at www.itre.ncsu.edu/cte/gateway/scantour_index.html features information collected in October 2001 during an international technology scan of Europe. FHWA, in cooperation with AASHTO and the National Cooperative Highway Research Program, sponsored the tour to learn how agencies across the Atlantic address wildlife-transportation issues. (See also "Scan of the Wild," Public Roads, November/December 2002.) While in Europe, the scan team collected numerous publications on wildlife habitat connectivity across European highways. The CTE recently compiled and posted a bibliography of the publications, along with the final report from the scan, links to related materials, and a video of the scan. The publications also are available from the CTE online research database, "Wildlife Ecology and Transportation" (www.itre.ncsu.edu/cte/wildlife.htm), which contains more than 1,200 records and links to relevant literature and Web sites.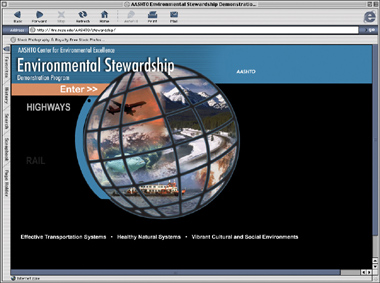 Finally, FHWA developed the "Keeping it Simple" Web site (www.fhwa.dot.gov/environment/wildlifeprotection), which highlights more than 100 ways for State departments of transportation (DOTs) to help protect wildlife. Methods include installing bird boxes, planting mangroves, and recycling construction debris to create new habitats. Users can search the site—which includes success stories from all 50 States—by State or category, such as roads, bridges, wetlands, or waterways.
Getting into the Act
Under the National Environmental Policy Act (NEPA) of 1969, FHWA is required to evaluate the potential impacts of proposed transportation facilities on sensitive social and environmental resources. To provide information on the NEPA process, FHWA created two Internet resources targeting project planners, managers, and other transportation professionals.
The first resource is the "NEPA: Project Development Process" Web site (http://www.environment.fhwa.dot.gov/projdev/index.asp), where users can access information on many NEPA-related topics, including the FHWA environmental policy, project development guidance, and public involvement. The Web site also has a section on compliance with Section 4(f) of the U.S. Department of Transportation Act of 1966, which prohibits the use of certain publicly owned lands and historic sites unless the projects meet certain qualifications. In addition, the Web site features links to other NEPA-related Internet resources.
Another resource is the FHWA "Re:NEPA" environmental exchange (http://nepa.fhwa.dot.gov/). Divided into topic areas such as environmental justice, NEPA documentation, and legal issues, this site serves as a collaborative tool for exchanging information on the NEPA process and transportation decisionmaking. Links to each topic area lead users to online reference sections for downloading papers and articles, electronic discussion areas for posting NEPA-related questions, works-in-progress sections where users can review drafts of reports and papers posted by other users, and membership directories containing contact information for each topic area. Users also can sign up to receive e-mail notifications about new postings in specific subject areas.
Sharing Ideas on Stewardship
To showcase the ongoing efforts of State DOTs to improve the environmental results of their programs and projects, the AASHTO Center for Environmental Excellence sponsors the AASHTO Environmental Stewardship Demonstration Program. By accessing www.stewardship.transportation.org, State DOTs can register examples of stewardship projects in their States, and other States can learn what their peers are doing to protect the environment through individual projects, at the programmatic level, or through institutional or organizational changes. Information available on the site includes project descriptions, evaluations of results, budget data, and contact information. Examples of projects currently featured include a study of environmental costs underway in Wisconsin and a new initiative in Utah focused on context-sensitive design solutions.
E-Newsletter
To share environmental information on a regular basis, FHWA has developed several electronic newsletters. For example, FHWA's Office of the Environment distributes the monthly "Successes in Streamlining" e-newsletter (www.fhwa.dot.gov/environment/strmlng/whatsnew.htm), which highlights current practices in environmental streamlining from around the country. Recent articles have discussed Web sites on environmental management developed by State DOTs and the use of integrated decisionmaking in project planning. To subscribe to "Successes in Streamlining," contact Sara McKinstry at 617-494-3581 or mckinstry@volpe.dot.gov.
The Office of the Environment also distributes "Greener Roadsides" (www.fhwa.dot.gov/environment/greenerroadsides/), a quarterly e-newsletter on managing roadside vegetation. Targeting transportation decisionmakers, the newsletter features articles on topics such as plant restoration, protection of native plants, and mitigation of damage to wetlands. To join the mailing list for "Greener Roadsides," e-mail Bonnie Harper-Lore at bonnie.harper-lore@fhwa.dot.gov.
These Web sites are just a few examples of the environmental Internet resources currently available to transportation professionals. Each day, the Internet continues to offer new sets of tools to help highway engineers, planners, designers, and decisionmakers enhance communities, save species, and protect and preserve the environment—all while providing safe mobility for motorists.
---
Keri Funderburg is a contributing editor for Public Roads.