New Life for Brownfields
Across the country, transportation projects play a critical role in revitalizing abandoned industrial properties.
What does a relocated road way in Oregon have in common with a riverfront path in Kansas City and freight movement in New Jersey? All three represented opportunities for transportation projects to help with the redevelopment of formerly contaminated industrial properties known as "brownfields." In each case, transportation played a major role in the successful use of these sites to promote economic development and community revitalization.
The proposed northern terminus of the Town of Kansas Pedestrian Bridge, shown in this illustration, features pedestrian and bicycle facilities, as well as parking. Illustration by BNIM Architects.
According to U.S. Department of Transportation (USDOT) Assistant Secretary for Transportation Policy Emil Frankel, "Transportation can foster the redevelopment of brownfields through ensuring access to redeveloped sites, considering transportation-related uses among the redevelopment possibilities, and fostering partnerships between Federal, State, and local transportation, economic development, and environmental interests. Redevelopment of brownfields can allow the use of existing infrastructure and services, thereby reducing the cost of new public investment."
A national effort is underway to encourage greater use of brownfields to meet many of the economic, environmental, and social challenges faced by cities and rural communities alike. The Bush Administration and the U.S. Environmental Protection Agency (EPA) have identified the cleanup and redevelopment of contaminated industrial sites as one of their environmental priorities. The results of recent research funded by the Federal Highway Administration (FHWA) reveal that transportation plays a critical role in promoting the cleanup, reuse, and redevelopment of brownfields.
Brownfields Defined
The Small Business Liability Relief and Brownfields Revitalization Act, signed into law on January 11, 2002, defines these sites as "real property, the expansion, redevelopment, or reuse of which may be complicated by the presence or potential presence of a hazardous substance, pollutant, or contaminant." The 2002 legislation provides EPA with funding for brownfield programs and initiatives.
EPA estimates that more than 500,000 of these sites exist nationwide, in large and small cities, rural communities, and on tribal lands. Brownfields range from sites already cleaned up to others that are contaminated lightly with pollutants that could be cleaned with reasonable effort and cost. Brownfields are not Superfund sites, which are usually much more heavily contaminated and require more effort and resources to clean up.
A brownfield property in Newark, NJ, offers proximity to this rail line and interstate highway.
Linking Transportation And Brownfields
Recognizing cleanup of these sites as a national priority, USDOT and FHWA support the EPA-led National Brownfields Redevelopment Initiative in a number of ways. In November 2002, USDOT articulated its commitment to revitalization of industrial sites through the Brownfields Federal Partnership Action Agenda, joining 21 other Federal agencies to formulate an agenda for delivering technical, financial, and other resources to communities to assess, clean up, and redevelop these sites.
Since 1998, FHWA has operated under a policy that permits the use of Federal-aid highway funds to support the transportation components of projects to redevelop brownfields, when appropriate. For example, Federal-aid funds may be used for site assessment and cleanup, or for providing better access to or from a site.
More recently, FHWA funded research to increase understanding of where and how transportation has functioned as a mechanism for redevelopment of brownfields. The results of this first-ever study indicate that transportation facilities have had a significant impact on redevelopment of these sites in a number of communities across the country. The research also shows that opportunities exist for transportation to play an even greater role in the increased use of brownfields for the revitalization of inner-city neighborhoods, protection and creation of green space, control of urban sprawl, and elevation of property values and community tax bases.
Trucks travel down North Marine Drive in Portland, OR, passing new commercial developments made possible by a new roadway alignment through brownfields.
FHWA Funds Research
Under the 2001 Minority Institutions of Higher Education Competitive Assistance Program, FHWA funded the research conducted by Clark-Atlanta University and the Georgia Institute of Technology. The study's purpose was to analyze brownfield redevelopments around the country where transportation played a major role in the success of the development or in plans for its future. The study describes these projects as brownfield-transportation redevelopments.
The goals of the research were to characterize the nature and role of transportation in brownfield redevelopments and identify opportunities for more successful integration of redevelopment and transportation improvements. The study also sought to clarify how USDOT and FHWA fostered such developments and how Federal transportation agencies can improve the process. An important research contribution was to identify the factors that promote and impede successful brownfield-transportation developments.
The study showed that a variety of transportation facilities were developed in association with brownfields, including new highway construction, roadway improvements and upgrades, bicycle and pedestrian pathways, and transit stations. Through 10 case studies, the FHWA study shows that States across the country are demonstrating the value of partnerships and financial leveraging to help accomplish community goals.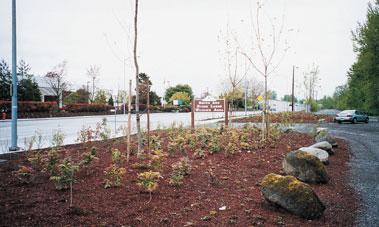 The North Marine Drive project not only spurred new commercial development on brownfield properties in the Portland area, but also improved access to the Smith and Bybee Lakes Wildlife Area.
Examples from The Field
Planned and ongoing projects in Kansas, Missouri, New Jersey, and Oregon offer illustrative examples of how States are using Federal-aid highway funds to redevelop brownfields while making improvements in the transportation system. The projects also demonstrate the commitment of communities to protecting the environment, while improving quality of life through economic enhancement and job creation.
The City of Portland is Oregon's oldest and largest industrial, commercial, and shipping center. Thanks in part to a project to relocate and improve North Marine Drive, Portland recently benefited from increased use of the city's only deepwater port and renewed development along the urban riverfront.
The Federal-aid Highway Program provided $14.6 million, or 58 percent, of the $25 million cost for completing the North Marine Drive Project, which involved the relocation of a road through contaminated land to provide access from Interstate 5 to the deepwater terminal. In addition to promoting land recycling and revitalization of the 1,133-hectare (2,800-acre) Rivergate Industrial District, the relocation of the roadway also protected nearby wetlands from encroachment.
According to Jeffrey Graham, operations engineer with the FHWA Oregon Division, the North Marine Drive Project was a capacity improvement that provides better access to the port. "In the past, it took trucks longer to get in and out," he says. "The new road, with additional wider lanes, improves the efficient operation of the port and helped the property become more desirable for development. The project also improved access to Kelly Point Park, at the confluence of the Willamette and Columbia Rivers, and Smith and Bybee Lakes, which offer recreational opportunities for the public."
As required with all transportation projects using Federal-aid highway funds, the local metropolitan planning organization (MPO) included the North Marine Drive Project in the region's Transportation Improvement Program. The project also was eligible for funding from both transportation and brownfield redevelopment-related sources. This project demonstrates how municipalities can locate transportation projects strategically to maximize available funding sources.
This segment of the Riverfront Heritage Trail, shown here at
Berkeley Park, offers a sweeping view of the Missouri River (right) and downtown Kansas City, MO (left). The trail helps link the city back to its history of relying on the river for transportation and commerce.
Riverfront in Kansas City
In Kansas City, there are plans to complete a bicycle and pedestrian trail along the Missouri River that will link the downtown business districts of Kansas City, KS, and Kansas City, MO, providing residents and visitors with access to cultural, commercial, and retail centers.
On what had been nine idle brownfield properties, the 15-kilometer (9-mile) Riverfront Heritage Trail will revitalize the urban riverfront, providing much-needed improvements that will expand transportation options for the citizens of both cities. At the same time, the trail will endeavor to meet various social, recreational, and economic development goals. The project also will be used as an educational resource, since it will provide access to a restored natural area where visitors and citizens can learn about wetlands and river ecology.
"The Riverfront Heritage Trail is a prime example of a project that has required extensive coordination, collaboration, and cooperation among a number of different authorities in Missouri and Kansas," says Dr. H. Darby Trotter, vice president of Faultless Starch Bon Ami Company, which is planning to build a major production facility on one of the brownfield sites. "Using the resources of the Missouri and the Kansas Rivers, it is a bi-State, bi-river project that acts as a lace tying the people of both States together in a common effort to reawaken the community to its unique historical roots, some of which will be demonstrated in artistic expressions. It is a critical amenity in the reconstruction of the urban core."
Funds from two FHWA programs will help finance design and construction of the trail. Transportation Enhancement (TE) funds provide approximately $6.1 million, and the Congestion Mitigation and Air Quality (CMAQ) Improvement Program adds about another $2 million to construct portions of the connector trail.
"The Riverfront Heritage Trail project has been very well received in the community," says Joe Remmers, project manager for Kansas City, MO, Public Works Engineering. "Some parts of the trail are completed, some are currently under construction, and more construction is planned for late fall 2003. In addition to the benefits it offers for the citizens of both Missouri and Kansas, the trail receives support from local industry and the private sector, which are among its strongest advocates."
New Jersey's urban core is home to many abandoned or
underutilized properties. This 5-hectare (12-acre) site is 1.6
kilometers (1 mile) from New Jersey's Meadowlands Sports Complex.
Freight Movement In New Jersey
New Jersey expects the movement of goods and cargo by ship, air, rail, and trucks to double within 10 years. Some predictions even indicate that freight movement within the State could be six times higher than current levels by the year 2040. To accommodate and capitalize on this anticipated growth, New Jersey is exploring opportunities for freight-related development on abandoned industrial sites.
New Jersey used funding from the Transportation and Community and System Preservation Pilot Program, which is an FHWA initiative that provides grants to States, local governments, and MPOs to plan and implement strategies that improve the efficiency of the transportation system. Other goals are to reduce the environmental impacts of transportation; lessen the need for future investments in public infrastructure; ensure efficient access to jobs, services, and centers of trade; and explore private sector investments and development patterns that support these goals.
In January 2003, the North Jersey Transportation Planning Authority (NJTPA) completed a study of brownfield sites in the northern part of the State with the goal of identifying opportunities for freight-related development. The study, which involved conducting market analyses, visiting sites, and developing cases studies on specific properties, revealed that more than 324 hectares (800 acres) of brownfields are available in northern New Jersey.
"We view brownfields as tremendous economic assets, rather than liabilities," says John Hummer, manager of freight initiatives and special projects at the North Jersey Transportation Planning Authority. "New Jersey is one of the most congested States in the country, and space is at a premium. To maximize the efficiency of shipping, warehousing activities should be located in the industrial core near transportation hubs, with easy access to the airport, rail terminals, and highways. Developing warehousing and shipping activities on brownfields reclaims logistically valuable real estate, reduces vehicle-miles traveled for trucks, and creates jobs for an urban workforce."
The anticipated increase in freight activity and related support services is expected to bolster the State and local economy significantly. NJTPA expects that using brownfields for planned transportation improvements will reduce some of the challenges that freight expansion may create, such as roadway congestion, disruptions in suburban and rural life, and increased air emissions.
Research Results
The FHWA research results show that transportation plays multiple roles in brownfield redevelopment, putting underutilized or unproductive land to better use, increasing the property's attractiveness and appeal for future development, and leveraging limited resources needed for cleanup and development. Considering brownfields while planning transportation projects increases the potential of those sites for redevelopment. Also, redevelopment of brownfields presents opportunities to meet needed transportation goals in pursuit of economic objectives and other community values.
The research differentiates between brownfield-driven transportation improvements and transportation-driven brownfield improvements. In brownfield-driven improvements, the emphasis is on developing brownfields, and transportation improvements are secondary, pursued in support of the redevelopment. In transportation-driven improvements, the initial focus is on improving some transportation element, which results in improvements in the brownfield site.
Other research findings indicate that States have leveraged a variety of Federal transportation funds for planning and redevelopment activities, including site cleanup. In addition to FHWA's CMAQ and TE programs, States also have used funds from the Federal Transit Administration New Starts and Livable Communities programs for transit-related projects on brownfield sites.
The study revealed that using transportation projects as a means of revitalizing brownfields offers many benefits. In addition to economic development, benefits include environmental remediation, infrastructure renewal, historic preservation, development of a tax base, and job creation. The findings also suggest that certain elements are key to brownfield-transportation redevelopment, including the need to leverage multiple financial resources, the development of public-private partnerships, stakeholder input, and the necessity for a champion to spearhead the project.
Finally, the research showed that opportunities exist for improving access to USDOT and FHWA funds and resources for brownfield redevelopment. Communities could benefit from clearer guidance on the types of funding available, the administrative procedures for accessing them, and ways that they have been used in the past for transportation projects on brownfield sites. Toward that end, FHWA and the Federal Transit Administration in a jointly funded project are gathering new information to revise and update existing guidance on brownfields.
FHWA research indicates the need for further studies that will clarify some of the issues and concerns surrounding brownfield-transportation redevelopment. The current study focused primarily on transportation development on specific brownfield sites. A followup study is underway that focuses on the broader, more regional benefits that result from using transportation projects to redevelop brownfields.
Poor access is a key obstacle to the development of many
brownfield sites. Access to this large site is limited to a single
suboptimal underpass of a busy New Jersey Transit commuter
rail line.
---
Constance M. (Connie) Hill, Ph.D. is an environmental protection specialist in FHWA's Office of Natural Environment. A member of the Water and Ecosystems Team, Hill is FHWA's specialist in brownfields and hazardous wastes. She serves as her office's research program coordinator and representative on FHWA's Recycling Team. She began her career with FHWA in 1997. She holds a B.S. in geology from Virginia State University, Petersburg, VA, and an M.S. in geology and Ph.D. in urban and environmental studies from Rensselaer Polytechnic Institute, Troy, NY.
For more information, contact Connie Hill at 804-775-3378 or connie.hill@fhwa.dot.gov