Executing The Executive Order
Federal agencies today are collaborating more effectively on environmental reviews of major transportation projects, thanks to a new Presidential mandate.
Executive orders (EOs) are one of the ways that U.S. presidents provide direction to Federal agencies. Unlike a law or a regulation, EOs do not carry the full force of law. Generally they are not enforceable in court, because they deal with issues of how the executive branch operates internally rather than imposing requirements on citizens, corporations, or non-Federal governments. Nevertheless, Executive orders can be a visible and effective way for presidents to communicate expectations to Federal agencies, especially on subjects that require the cooperation of more than one agency.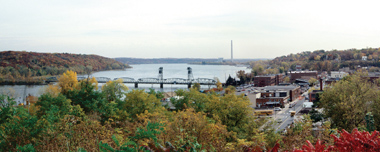 Since George Washington issued the first EO, presidents have issued EOs on a wide variety of subjects. For example, both the Louisiana Purchase and the Emancipation Proclamation were accomplished by EOs.
On September 18, 2002, President George W. Bush signed Executive Order 13274. Titled "Environmental Stewardship and Transportation Infrastructure Project Reviews," the order directed Federal agencies to collaborate more effectively to advance major transportation projects that undergo environmental reviews and to promote appropriate environmental stewardship by transportation agencies.
In the EO, President Bush states: "The development and implementation of transportation infrastructure projects in an efficient and environmentally sound manner is essential to the well-being of the American people and a strong American economy. Executive departments and agencies . . . shall take appropriate actions, to the extent consistent with applicable law and available resources, to promote environmental stewardship in the Nation's transportation system and expedite environmental reviews of high-priority transportation infrastructure projects."
The EO establishes an interagency task force and directs the Secretary of Transportation to designate a list of priority projects for the group's oversight. The order also instructs the task force to cooperate in developing improved processes for environmental reviews and encourages the Secretary of Transportation to work with Federal agencies and State and local governments to implement stewardship measures throughout the transportation system.
Interagency Task Force
Under the terms of the EO, U.S. Secretary of Transportation Norman Y. Mineta chairs a task force made up of executives from the other Federal agencies most involved in environmental reviews for transportation projects.
"Too many transportation projects become mired for too long in the complex web of clearances required by Federal and State law," says Secretary Mineta. "This initiative is intended to make our transportation investments more efficient, helping ease congestion and reduce pollution. The President's commitment to environmental stewardship is a key element of this measure. The interagency task force established from this EO will promote common sense streamlining and responsible environmental stewardship in transportation projects."
The EO directs the task force to meet quarterly to monitor progress in advancing priority projects, improving review processes, and working together on environmental stewardship initiatives. Each year the task force must submit a report of its progress through the Council on Environmental Quality to the President.
Priority Projects
Secretary Mineta is authorized under the EO to select projects to receive priority treatment by the agencies that are the members of the task force. On October 31, 2002, he selected seven projects and then added another six in February 2003. The selections represent highway, airport, and transit projects that are important to the Nation, have strong local support, and entail difficult environmental issues involving a number of Federal agencies. Working through contentious environmental concerns in an expeditious way is one of the goals of the EO.
By focusing the attention of field and headquarters officials from the agencies that are involved, the EO is a catalyst for identifying areas of disagreement and creating an urgency to resolve concerns that otherwise might persist over long periods of time. In leading the interagency task force, Secretary Mineta has communicated clearly that the EO will not be used as a way to advance environmentally unsound projects. Instead, the order will help ensure that projects are environmentally sound and receive needed Federal environmental approvals on schedule.
"President Bush asked his cabinet to help States cut through Federal bureaucratic inertia to help them complete sound transportation projects more quickly and at less cost," says Secretary Mineta. "We will not, however, sacrifice environmental standards in this effort."
The priority projects designated to date involve a variety of environmental issues. How to deal with the cumulative and indirect effects of transportation projects is an issue with several of the selected projects. Agencies express differing views about the extent to which environmental studies should predict the likely effects of transportation projects on promoting land development and the resulting environmental impacts. What transportation agencies should do to mitigate environmental impacts also is a point of debate. By identifying recurring issues that affect a number of projects, the task force provides a forum for developing interagency policies that reduce the likelihood of disagreements among frontline field staff.
Task Force Agencies
Advisory Council on Historic Preservation
Council on Environmental Quality
U.S. Department of Agriculture
U.S. Department of Defense
U.S. Department of the Interior
U.S. Environmental Protection Agency
U.S. Department of Transportation
Lessons Learned
Experience to date with the priority projects points to a number of lessons that can be applied to other projects. Among them are the benefits of elevating disputes rapidly to higher-level officials and engaging neutral facilitators in certain situations. Using priority projects as a laboratory to test innovative processes is a way to learn through experience and transfer that knowledge to other projects.
Although advancing environmentally sound priority projects is worthwhile in itself, a greater benefit comes when the issues raised and lessons learned can serve as a springboard for systematic improvement of policies and practices.
Improved Policies and Procedures
Major transportation projects can involve compliance with dozens of Federal environmental laws. Each of these laws has its own regulations, policies, and administrative procedures that govern the coordination and decisionmaking process required under specified circumstances. Although the administering agencies attempt to collaborate to establish policies and procedures, the results do not always fit together in a well-integrated fashion. Integrating the various processes is one of the objectives of the EO. Process improvements will result in a streamlined review without compromising environmental compliance.
To date, the task force has focused on three major areas for early attention: the integration of transportation planning and environment; the analysis of indirect and cumulative effects on environmental resources; and the development and review of purpose and need statements for transportation projects.
For each of these three areas, the task force is examining what policies or guidance are needed for process improvements to ensure that Federal agency coordination and decisionmaking is better integrated.
Particularly promising are streamlined procedures for complying with routine situations. By agreeing on processes that provide predictable time frames for transportation agencies and predictable mitigation for environmental and cultural resource agencies, the task force agencies are freeing limited staff from the need to review every routine project. By doing so, they can concentrate staff resources instead on the unusual or difficult projects. Because most transportation projects are small and routine, the accumulated time and staff hours saved by the transportation and resource agencies can be significant.
Environmental Stewardship
As the title of the EO indicates, it is not just about expediting the delivery of transportation projects, but also about promoting sound practices in environmental stewardship by transportation agencies.
"The President's decision to issue this Executive order," says FHWA Administrator Mary E. Peters, "provides us all with a new opportunity to engage our colleagues in other Federal agencies and in State, local, and tribal governments in enhancing how we do business so that transportation improvements are environmentally responsible and delivered in a timely fashion."
One major effort to promote environmental stewardship among the transportation community is the Center for Environmental Excellence established by the American Association of State Highway and Transportation Officials (AASHTO), with the assistance of FHWA. (See "Centering on Environmental Excellence," on page 32.)
Advancing environmental stewardship in the transportation arena also requires the assistance of environmental agencies and nongovernmental organizations to identify appropriate opportunities to do good things for the environment. The EO task force provides an ideal forum for turning environmental stewardship ideas into reality. By providing visibility for stewardship efforts underway by transportation agencies, the task force is helping the member agencies promote the benefits of stewardship, create support among frontline staff, and build interagency partnerships that can accomplish much more than individual agencies can achieve by themselves.
Environmental stewardship is making solid headway within the transportation community. It is increasingly being viewed as being both the right thing to do and the smart thing to do.
"As a public agency, protecting the environment is part of our job," says AASHTO President James Codell. "This means developing transportation programs and projects that truly consider the environment, both human and natural. Most of all, it means doing the right thing every day to make the world a better place for today and tomorrow."
In its "vital few" priorities, FHWA established an ambitious stewardship objective for itself and is looking to the task force for help in meeting that goal. One strategy used by FHWA is promoting context-sensitive design as an environmental stewardship practice. In addition, the agency is fostering integrated approaches, an effort aimed at improving coordination of transportation and environmental planning and project development processes to produce win-win outcomes.
Finally, the agency has set its sights on promoting 30 exemplary initiatives for ecosystems around the country over the next 5 years. Examples include North Carolina's ecosystem enhancement program and western wildlife corridors.
Priority Projects*
California, Los Angeles World Airports Master Plan/EIS (FAA)
California, Riverside County Community and Environmental Transportation Acceptability Project (FHWA)
Indiana-Kentucky, Ohio River Bridges (FHWA)
Kentucky, I–66 (FHWA)
Maryland, Intercounty Connector (FHWA)
Minnesota-Wisconsin, St. Croix River Bridge (FHWA)
Montana, US 93 Corridor (FHWA)
Nebraska, I–80 Upgrade (FHWA)
New Hampshire, I–93 (FHWA)
New York, Lower Manhattan Recovery Effort (FTA)
Pennsylvania, Philadelphia Airport (FAA)
Texas, I–69 (FHWA)
Vermont, Chittendon Circumferential (FHWA)
*FAA: Federal Aviation Administration
*FHWA: Federal Highway Administration
*FTA: Federal Transit Administration
Ecosystem Enhancement In North Carolina
Faced with an ambitious transportation program that would require environmental mitigation on most projects, the North Carolina Department of Transportation (NCDOT) adopted a big-picture approach as an alternative to project-by-project postage stamp-sized mitigation sites. The big-picture approach, called the Ecosystem Enhancement Program, looks to make strategic investments in large-scale mitigation sites long before that mitigation is needed for a specific highway project.
This approach enables the mitigation dollar to be spent where it has the greatest benefit, and it gives the mitigation sites time to mature and flourish and demonstrate their ecological value before they are used to compensate for project impacts. By removing some of the mitigation guesswork, NCDOT is counting on quicker approvals from environmental agencies.
"Because the EEP [Ecosystem Enhancement Program] will allow us to identify suitable mitigation sites in advance of construction, we will save time and reduce costs throughout the environmental planning process," says NCDOT Secretary Lyndo Tippett. "This will allow us to be better stewards of taxpayer dollars, and at the same time, improve efficiency."
To ensure that the environmental agencies are on board, NCDOT and FHWA worked with them to detail how the process will operate. Federal and State agencies that issue permits, primarily the U.S. Army Corps of Engineers and the State's Department of Environment and Natural Resources, are full partners in this process of reinvention.
Focusing on evaluations at the watershed and ecosystem levels, this North Carolina effort is an exciting initiative in environmental stewardship, one that the EO task force will promote elsewhere in the country.
Law

Clean Water Act

(Section 404)

Waters and

wetlands

U.S. Army Corps

of Engineers

National Marine Fisheries Service

U.S. Department of Transportation

U.S. Environmental Protection Agency

U.S. Fish and Wildlife Service

Endangered

Species Act

(Section 7)

Threatened and

endangered species

U.S. Fish and

Wildlife Service

National Marine

Fisheries Service

U.S. Army Corps of Engineers

U.S. Department of Transportation

U.S. Environmental Protection Agency

USDA Forest Service

National Historic

Preservation Act

(Section 106)

Historic and

archaeological

properties

Advisory Council

on Historic

Preservation

U.S. Department of Transportation

U.S. National Park Service

Department of

Transportation Act

(Section 303 aka

Section 4(f))

Parks, recreation areas,

refuges, historic

or archaeological

properties

U.S. Department

of Transportation

U.S. Department of the Interior

USDA Forest Service
Wildlife Corridors Out West
Western States are big! Ecosystems there encompass thousands of square miles, millions of acres, and diverse landscapes. Examples are the Mission Range and Flathead Valley in Montana, which interface to provide essential seasonal habitat for grizzly bear, lynx, mule deer, and elk.
The characteristic wildlife in these large ecosystems often migrate long distances to meet the requirements they have for different habitats at different times of the year. Elk and deer go to their summer and winter ranges, grizzlies and black bears find one area in the spring for foraging and another in the fall for berry feeding. Migratory fish, such as salmon, cover thousands of miles moving from freshwater to saltwater and back again.
Compared to wildlife in the eastern States, western wildlife populations are found at low densities. To maintain their health and numbers, western wildlife populations need the ability to move readily between ecosystems that are far apart.
Highways can form barriers to such movements, even for the largest of species, including elk and large carnivores such as grizzly bears. Wide-ranging species affected by barriers also include salmon as they migrate from the sea into rivers under bridges and through culverts on highway corridors.
Many western State DOTs have initiated research and construction programs to enhance wildlife movements and protect wildlife travel corridors. Wyoming currently is supporting research to determine the best fix for crossings at Nugget Canyon on US 89, where thousands of mule deer cross the road every spring and fall on their way from summer to winter range.
The Washington DOT is working with the National Oceanic and Atmospheric Administration's National Marine Fisheries Service to remove fish barriers that affect the migrations of endangered salmon.
The Montana DOT worked with the Salish-Kootenai Confederated Tribes to design crossings that will enhance wildlife corridors across Highway 93 between Missoula and Kalispell, from the Mission Range over the expanse of the Flathead Valley.
Idaho, with the aid of the U.S. Department of Agriculture Forest Service, designed an upgrade of US 95, a Congressional high-priority corridor, to include three large culverts in a critical habitat linkage area. The culverts will facilitate movements of deer, elk, and grizzlies between seasonal habitats.
Almost every other western State has multiple projects to protect habitat and maintain essential wildlife corridors. But highways are only one part of the corridor question. Wildlife structures on highways are just one point on an often long chain of habitat that can be broken in many places.
Commercial, residential, and agricultural development on adjacent landscapes also can affect the sustainability of wildlife travel corridors. To ensure that the efforts by transportation agencies to facilitate wildlife movements are effective, cooperation by adjoining landowners is critical. Whether the landowners are public agencies or private individuals, they can help maintain the integrity of the travel corridors.
Environmental Streamlining and Stewardship
In the final analysis, President Bush's decision to issue EO 13274 is a commitment to the environment and a commitment to deliver needed transportation improvements in a timely fashion. According to FHWA Administrator Peters, a healthy natural and human environment and mobility of people and goods are things that U.S. citizens expect their government to provide.
"Environmental stewardship and environmental streamlining go together, hand-in-glove," says Administrator Peters. "We can improve processes to make them more efficient and with less duplication, while being respectful stewards of the environment. We can expedite projects and protect the environment. This is what Congress and much of the Nation wants us to do . . . there is enormous frustration with congestion and a desire to have good projects sooner."
For decades, Federal agencies have worked together to address both of these expectations, but the decisionmaking authority is so dispersed that executive attention is needed in all agencies to make these goals happen. The increased visibility provided by this EO has had a substantial impact already. From all indications, the increased interagency cooperation engendered by the EO is expected to harvest an abundance of innovation in the coming years.
As paraphrased from the opening sections of the National Environmental Policy Act, the goal is to cultivate a truly productive harmony between man and the environment, for the benefit of this generation and future generations.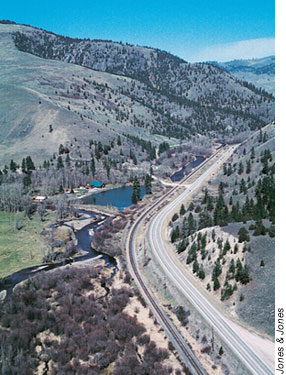 ---
Frederick Skaer is currently the director for the Office of Project Development and Environmental Review, Office of Planning, Environment, and Realty at the Federal Highway Administration. Skaer has been with FHWA since 1974, during which time he has served in three field divisions and at headquarters in a variety of planning, environmental, and engineering positions. Skaer is a civil engineering graduate of Brown University and holds a master's of public administration from The George Washington University.
For more information on the EO Interagency Transportation Infrastructure Streamlining Task Force, contact Fred Skaer at fred.skaer@fhwa.dot.gov.