Peering Into The Crystal Ball
Looking back at the past and understanding the trends that are emerging today can provide clues to the future of transportation.
Last year marked the centennial of the Federal Aid Road Act of 1916 and the 50th anniversary of the U.S. Department of Transportation. Looking back over those 100 years, the transportation system of today bears little resemblance to that of 1916. Looking forward, a reasonable assumption is that past transformations suggest the magnitude of change that is likely to occur over the next 50 years.
Roadways, pathways, rails, and air travel will perhaps be worlds apart from today's transportation system and differ in ways that are difficult to imagine. In many respects, however, the seeds of coming changes are visible in the trends that are emerging now. Identifying and interpreting those emerging trends can help transportation policymakers and decisionmakers plan for the future. For example, the Federal Highway Administration's Office of Transportation Policy Studies uses data, expertise, and models to look back at the past, understand the here and now, and forecast which trends are shaping transportation's future and in what ways.
"Helping transportation decisionmakers determine how emerging trends will factor into future transportation needs is central to FHWA's mission," explains Mary Beth Zimmerman, director of the FHWA Office of Transportation Policy Studies.
With the pace of change in technology today, the identification of emerging trends can be challenging--especially pinpointing those that influence some aspect of transportation and are likely to have lasting impacts. Sometimes the implications of change are obvious. Other times, changes are more subtle or seemingly unrelated. Identifying the trends that matter is the first step.
Analyzing data is central to identifying and interpreting trends. Data series, which permit the examination of data over time, are even more critical to identifying emerging trends. Looking at both the influencers (inputs) and the travel indicators (outputs) helps to identify trends and the size and direction of those trends. For example, demographics and climate change are among the inputs, while vehicle ownership and miles driven are among the outputs.
"Understanding and interpreting emerging trends is necessary to assess the magnitude and direction of the change, as well as its permanency, cause, and potential impacts on transportation," says Associate Administrator David Howard of the FHWA Office of Policy and Governmental Affairs. "Often this involves complex analysis and modeling. Other times it is as simple as looking at the data in the context of what is already known."
Looking Back
Travel occurs for many reasons. People travel to and from work, to doctors, on vacation, and to school. Goods ship to and from warehouses, ports, farms, factories, and retail stores. Against this backdrop of the movement of people and goods across the United States, change is also taking place in the population, economy, land use, and technology.
Important travel measures, such as trip rates, mode share, travel party size, and average trip distance, do not change significantly from year to year, for the most part. During some periods, however, changes of a greater magnitude have created significant alterations in how, when, and why people travel. Sometimes these transformations have been spurred by system improvements, but other times change is driven by economic and social factors.
The construction of the Nation's highway system offers an example of a major shift in travel demand caused by system improvements. Major changes occurred as surface transportation in the United States expanded from dirt roads with few route options to a modern system of connected streets, highways, and, in the 1950s and 1960s, interstates.
For an example of the impact of social changes, consider the rise in vehicle miles traveled (VMT) during the 1970s and 1980s as the employment rate among women soared to unprecedented levels. More recently, social, demographic, and technological factors are creating rapid changes in certain aspects of transportation, including its funding, modal options, and system management.
The rise in VMT is an example of a trend influenced by economic factors. Since World War II, vehicle travel has been growing steadily and consistently, except for brief interruptions due to major wars, recessions, or oil crises. A significant decline occurred in November 2007 because of the Great Recession. The permanency of this trend was at first unclear, and many experts forecast a new, lasting downward trend in vehicle travel. Because VMT is strongly related to personal income, how much of the decline was due to recessionary influences is unclear, versus how much represented a real shift in car dependency. The answer has perhaps revealed itself in the data from 2016. VMT rebounded that year, surpassing its 2007 peak, and is currently growing toward new record highs.
One trend that could have significant implications for policy, planning, and funding allocations is the increasing urbanization of the U.S. population. The rise in urban living is an example of a trend that is largely misinterpreted. Using the census definition of a metropolitan statistical area (MSA), the population of the United States is becoming more urbanized. However, the growth of the MSA population does not necessarily equate to growth in urban population. The MSA census areas include urban cores, but they also contain suburban counties and small towns.
Overall, the United States is still trending toward suburbanization, with nearly half of the population living in suburban neighborhoods. But the suburbs often lack robust transportation alternatives such as transit, carpool programs, and bicycle lanes. As a consequence, suburban households are more dependent on automobiles. A study by Matthew Kahn in 2000, published as The Environmental Impact of Suburbanization, found that suburban households drove 31 percent more than their urban counterparts.
Census data indicate that the growth in suburban populations includes a sizable increase in low-income populations in the suburbs. Because of the growing number of the poor in suburban and small metropolitan areas, the future may bring an increased demand for alternative travel modes outside the central cities. Hence, because migration to post-war suburbs has had such a profound effect on increasing automotive use and dependence, understanding the expected trends in future urbanization and suburbanization is crucial.
Vehicle-Miles Traveled on All U.S. Roads: 1971 to 2015
Thinking About The Here and Now
To understand current and emerging trends and what they might mean for the future of transportation, FHWA engages stakeholders from industry, government, and academia through workshops, meetings, and visioning sessions. These discussions bring new perspectives, ideas, and hypotheses to the forefront and enable FHWA to conduct research that is informed and relevant.
A recent visioning session on the future of rural transportation revealed new perspectives related to the impacts of global climate change on transportation. The impact of climate change is often considered with respect to increases in severe weather events and coastal flooding. But in rural agricultural communities, climate change is affecting the locations of agricultural production.
For example, some farmers in North Dakota are shifting from growing wheat to corn in response to the changing climate. North Dakota has long been a leading supplier of durum wheat, which is used to make pastas and for which the demand remains strong. Similarly, although ethanol production has driven expansion of the corn market, changes in the growing season driven by climate change are also becoming a factor in corn production. Shifting markets create shifts in transportation demand for moving agricultural products to market. The U.S. agricultural market makes up 22 percent of all transport tonnage. Shifting production and changing commodities require new and changing transportation infrastructure to move agricultural goods nationally and globally.
In addition, long-term projections suggest that crop production in current Midwestern locations is likely to decline as a result of climate change, which may lead farmers to move production northward to offset those impacts. These types of emerging trends have broad implications for the future needs for freight transportation, as regional commodities change and supply chains shift over time.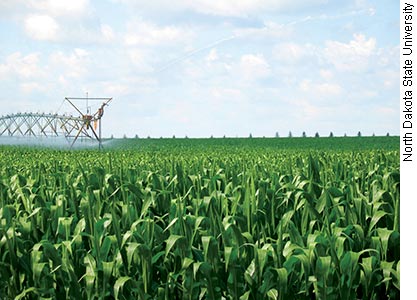 Another emerging trend in the forefront of national discussions on transportation policy is the sharing economy, which involves renting and borrowing goods and services, rather than owning them. Shared mobility--the shared use of a vehicle, bicycle, or other mode--is an innovative transportation strategy that enables users to have short-term access to transportation on an as-needed basis. Advances in social networking, mobile technologies, and centralized pickup locations enable users to access a car, bike, or even a Segway on demand.
The use and availability of shared modes of travel is growing rapidly. Car sharing, or short-term auto use, is a major segment of the shared mobility industry. As of July 2015, there were 22car-sharing operators in the United States, with more than 1.1million members and over 19,000 shared vehicles. Shared mobility systems provide a number of benefits to users, including lower user cost, more transportation options, and increased mobility. This new model of transportation access may have transformative implications for future travelers: for example, increased access to essential economic centers for disadvantaged populations such as the poor, elderly, or disabled. In addition, shared mobility may provide low-cost mobility and access solutions for areas such as suburban and rural communities lacking robust transit alternatives.
Looking Forward
Analyzing past trends and engaging in policy discussions on today's transportation system create the foundation for research on emerging trends, helping to identify and explain what is occurring and why. When looking forward, the FHWA Office of Transportation Policy Studies examines how emerging trends may affect the transportation system of the future. Two important tools in envisioning transportation futures are scenario planning and modeling.
Traditionally, the transportation community has used the scenario planning technique as a tool to help minimize ambiguity in visualizing the future. Policy research on connected and automated vehicles offers an example of the use of scenario planning. These technologies are moving rapidly toward deployment and commercialization, and both have the potential to cause profound changes to transportation systems.
Currently, FHWA is preparing to conduct a scenario planning study on the deployment of connected and automated vehicles. The FHWA study will produce future scenario outcomes, a high-level assessment of those potential outcomes, and an illustration of how agencies can use this form of planning to develop their own, more localized scenarios visualizing the future of connected and automated vehicles. The study, Transportation Scenario Planning for Connected and Automated Vehicles, also will provide appropriate frameworks for decisionmaking, so that transportation practitioners can take sensible immediate actions in anticipation of transformational changes that are likely to occur over long time horizons. The study is scheduled to start in January 2017, with results available in mid-2018. For more information, contact Max Azizi (max.azizi@dot.gov).
To model the impacts of future trends, the Office of Transportation Policy Studies works with various forecasting models. For example, the office uses FHWA's Highway Economic Requirements System (HERS) to project the overall conditions and performance of the Nation's highways at alternative potential levels of investment over a 20-year period.
Among the performance measures used is the average cost per mile traveled in vehicle operating expense, travel time, and crashes. Projecting these costs entails detailed modeling and assumptions that are often influenced by emerging trends.
For example, the assumptions on future growth in vehicle fuel efficiency are based on projections by the U.S. Energy Information Administration (Annual Energy Outlook series) that incorporate expected impacts of fuel economy regulations, oil prices, and technological trends.
The Highway Economic Requirements System also incorporates projections for growth in traffic volumes by vehicle type (light versus heavy duty) based on a forecasting model developed for FHWA by the Volpe National Transportation Systems Center. These projections are necessarily speculative because future economic trends and the extent to which short-term changes represent long-term trends are uncertain. The assumptions about VMT growth strongly influence the HERS estimates of the funding levels needed to achieve specific national targets for highway conditions and performance. FHWA regularly examines the sensitivity of these estimates to changes in these and other assumptions.
What's the Takeaway Message?
Over the last century, the characteristics of the movement of goods and people in the United States have changed dramatically. Internal and external factors, such as changing population, economics, technology, and climate all influence demand on the transportation system. Policy research is essential for informing decisionmakers on key opportunities and challenges so that the transportation system can continue to evolve with the needs of the times and, as a result, remain one of the best systems in the world. The transportation system has facilitated economic growth and prosperity, the expansion of towns and cities, and increased mobility for the traveling public.
Projected Growth in Vehicle Miles Traveled
Vehicle Class
Compound Annual Growth Rates
2014–2034
(20 Years)
2014–2044
(30 Years)
Light-Duty Vehicles
0.81%
0.47%
Single-Unit Trucks
1.73%
1.50%
Combination Trucks
2.08%
1.87%
Total
0.92%
0.61%
Source: FHWA, Spring 2016.
"If the past is any indication of the future, the transportation system will continue to evolve as people, industry, and needs change," says FHWA Associate Administrator Michael F. Trentacoste, Office of Research, Development, and Technology. "Identifying and understanding emerging trends provides the opportunity to anticipate and plan for future transportation needs--and will continue to be animportant function for FHWA."
---
Heather Marie Rose manages the Transportation Futures Team for the FHWA Office of Transportation Policy Studies, where she leads transportation policy research and analysis in the context of emerging social, demographic, technological, and economic trends. She holds a master's degree in political science from the University of Florida and a bachelor's in political science from the University of Central Florida.
For more information, see www.fhwa.dot.gov/policy/otps or contact Erica Interrante at 202–366–5048 or erica.interrante@dot.gov.