Making Every Place Count
Workshops hosted by USDOT found context-sensitive solutions to reconnect communities previously divided by highway infrastructure.

In the mid-20th century, State departments of transportation constructed thousands of miles of interstates and other roads under President DwightD. Eisenhower's Federal-aid Highway Program. Today, it is clear that this massive expansion of infrastructure at times bifurcated and bypassed communities, creating physical barriers between residents and essential social and economic opportunities.
Citizens of some communities are affected by poor land use planning and insufficient redundancy in local roads that provide alternative routes. As a result, they are cut off from jobs, schools, medical care, grocery stores, public transit, and other services and opportunities essential for well-being and full participation in society.For these residents, increased distance and travel time to services pose a significant inconvenience, and the vehicle-centric environment in which they live presents a host of threats to the safety of pedestrians and bicyclists. Such limitations to mobility particularly affect vulnerable populations, including the young, older adults, and persons with disabilities.
To address the present-day consequences of this history, U.S. Secretary of Transportation Anthony Foxx and the U.S. Department of Transportation created an initiative called Ladders of Opportunity. This initiative encourages investment in transportation policies and projects that improve connectivity, provide access to economic opportunity for traditionally underserved populations, and create workforce development programs to grow and support the U.S. middle class. In leading the Ladders of Opportunity initiative, USDOT has acknowledged that "there is a regrettable legacy of aligning and designing transportation projects that separated Americans along economic and even racial lines."
The timing of the initiative is crucial. Because much of the Nation's infrastructure is in need of repair or replacement, restorative improvements provide opportunities for considerations of inclusivity and accessibility in upcoming projects and policies.
Citing the Long Street Bridge in Columbus, OH, as an example of restorative design, Secretary Foxx said the project restored connection between the King-Lincoln District, a neighborhood that was cut off from the city's center and economic opportunity in the 1960s by construction of an interstate highway. "This effort to reconnect and revitalize a community divided by past transportation policies," Foxx said, "is a compelling example of how transportation can create or eliminate opportunity gaps in our Nation."
Recognizing the potential of transportation infrastructure to transform and revitalize neighborhoods, Secretary Foxx and USDOT also created the Every Place Counts Design Challenge. This challenge is a component of the Ladders of Opportunity initiative and is intended to help communities redesign transportation infrastructure that poses physical barriers and enhance access to essential services.
Design Sessions In Four Cities
In May 2016, USDOT solicited proposals from local and tribal governments for projects to improve or replace existing transportation infrastructure that adversely affects their communities. The Every Place Counts Design Challenge offered technical assistance in the form of 2-day charrettes--place-based, intensive brainstorming workshops to discuss residents' needs and develop innovative, restorative, and context-sensitive designs. The charrettes covered topics ranging from design, architecture, and engineering strategies to funding programs and the Federal processes for transportation planning, programming, and the National Environmental Policy Act reviews.
In response to its solicitation, USDOT received 34 proposals. In the interest of geographic diversity, USDOT selected four awardees from various regions of the country: Nashville, TN; Philadelphia, PA; Spokane, WA; and St. Paul-Minneapolis, MN (Ramsey County). During July 2016, USDOT held a charrette in each city.
Secretary Foxx has said, "We need to make sure our infrastructure design is as inclusive as it can be."
Accordingly, the four selected cities convened community teams to participate in the charrettes. The teams included elected officials, planners, transportation and design professionals, and a cross section of community residents.Additional attendees included representatives from the Federal Highway Administration, State departments of transportation, public works departments, and local academic institutions, as well as mayors,land and business owners, developers,artists, and activists. Also in attendance to facilitate and contribute expertise were USDOT contracted staff from the Congress for the New Urbanism, a national nonprofit organization that plans and promotes vibrant, walkable cities and encourages highways-to-boulevards projects, and the Toole Design Group, a planning and landscape architecture firm with a focus on bicycle and pedestrian infrastructure.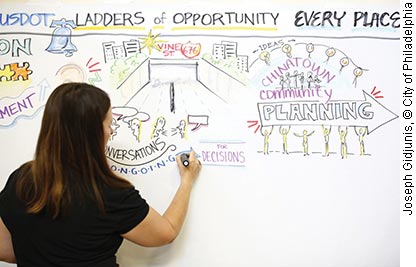 The first day of each city's charrette included a group tour of the area affected by the infrastructure challenge in question, presentations by facilitators about strategies and designs used in other communities to resolve similar challenges, and group discussion. On the second day, stakeholders described the needs they perceived in their communities and worked together to problem-solve and propose solutions. The contractors then created visuals based on participants' comments and reflected the collaborative designs back to the group.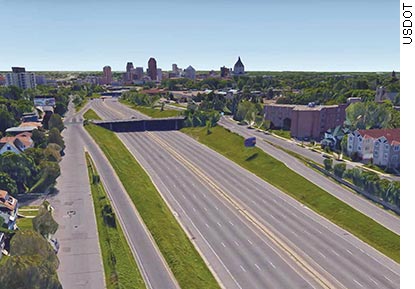 "A lot of times we [USDOT leaders] get caught up at the policy level," says David Howard, associate administrator for policy and governmental affairs at FHWA, reflecting on the meaning of the design sessions. Howard attended charrettes in Minneapolis and Philadelphia. "It's time for us to go out to the street level. I think out there, you start to see how some of these issues came to be, how complex they are, and what it will take for them to heal."
Nashville, Philadelphia, Spokane, and St. Paul-Minneapolis are as different in the transportation solutions they seek as they are in community character. Therefore, each charrette was a tailored event in which participants voiced frustrations and hopes specific to their cities' histories. The following synopses outline the challenges and potential solutions explored in each city.
Nashville
The construction of I–40 in Nashville divided a thriving middle-class African-American community, which affected access to businesses, a world-class local music scene, and three nearby historically black colleges and universities. Residents expressed concern that planned improvements to the I–40 corridor could hasten gentrification. Participants at the well-attended charrette also expressed a desire to explore design solutions while safeguarding the community from demographic shifts and ensuring that residents could continue to afford living in the area if the proposed neighborhood improvements resulted in increases in property values.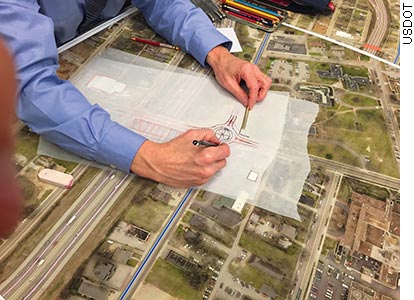 One attendee, describing residents' preference for balancing infrastructure improvements with the continuity and integrity of Nashville's character, said, "This community is not interested in placemaking--we're interested in 'placekeeping.' Let's open ourselves to the possibilities that arise from meeting the needs of the community, from supporting cohesiveness. We can 'do transportation,' but in a way that's more."
The participants at the Nashville charrette developed designs for a number of potential improvements to their community, including new bicycle lanes and transit routes, increased parking, context-sensitive infill opportunities, conversions of interchanges to roundabouts, and reconnections of local roads in the Jefferson Street Corridor to downtown Nashville by capping (building a roof-like structure atop a sunken highway) a portion of I–40 near Dr. D.B. Todd Jr. Boulevard. The corridor is a central connection to the city's black higher educational system, as well as one of the city's historic music districts, where many venues and businesses closed following the construction of I–40.
Philadelphia
I–676 is a depressed limited-access highway through center city Philadelphia. When it was being constructed, I–676 was heralded a cutting-edge project that included multiple bridges and plantings. Following Secretary Foxx's attendance at the Philadelphia charrette, he described the repercussions of constructing the highway: "Three communities ... bore the brunt of the damage as many homes, businesses, schools, places of worship, and other places of cultural and community significance were razed to make way for the expressway. Presently, the Vine [Street] Expressway is a six-lane corridor not easily navigated [over or around] on foot or in vehicle, and represents a very real, physical barrier for those [who] must traverse it daily."
The city of Philadelphia stated in its application for the Every Place Counts Design Challenge that, because of the expense of capping (or even partially capping) the Vine Street Expressway, creative design solutions are necessary to incorporate the corridor affordably into the city grid and reconnect blighted neighborhoods to area schools, hospitals, and other services.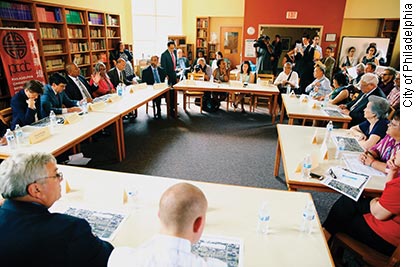 Charrette participants collaborated to develop numerous designs, including the conversion of underused parcels into green space or mixed-use developments, improved pedestrian crossings, stormwater planters, bike lanes and a bike-share station, as well as other solutions.
Spokane
In Spokane, planners already were designing several restorative projects, including a limited-access freeway and a bicycle corridor, when the city applied to the Every Place Counts Design Challenge to seek USDOT assistance to maximize the positive effects of the projects. In its application, the city wrote that the charrettes could "elevate the community visioning process" during efforts to improve connectivity along I–90, the construction of which had bifurcated the working-class neighborhood of East Central, and also along the new North Spokane Corridor.
Charrette participants, including residents, city officials, and representatives from the U.S. Department of Agriculture, the U.S. Environmental Protection Agency, and the National Endowment for the Arts, followed through on the application's promise by envisioning and developing several bold designs. One design includes a land bridge over I–90 and the conversion of the North Spokane Corridor into a boulevard.
St. Paul-Minneapolis
Charrette participants in St.Paul-Minneapolis contributed substantial knowledge about planning and design processes to the conversation with visiting experts about possible solutions to the problems created by I–94. The construction of I–94 divided the Twin Cities' Rondo neighborhood, the area's largest African-American community. The area has since become highly diverse: the homes of African-American, Asian-American, and Native American families now line the highway.
A group tour of I–94 during the charrette made clear to visiting USDOT officials and planners that the neighborhoods surrounding the interstate contend with a car-centric environment that lacks safe pedestrian crossways. Existing crossways are sparse and uninviting, but the area along the highway is punctuated by vacant lots that residents envision as potential green space. Charrette participants also sought multimodal solutions to reconnect communities around I–94, expressing particular interest in bicycle and pedestrian crossings. In addition, participants proposed the replacement of intersections with roundabouts, land bridges, and, with assistance from the USDOT contractors, developed designs for several new parks.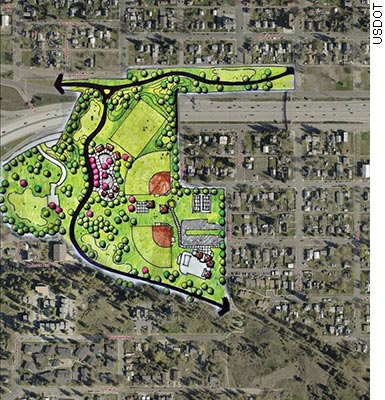 Like the Nashville stakeholders, the St. Paul-Minneapolis group valued local history and proposed a context-sensitive design for commemorative plazas featuring the neighborhoods affected by I–94. Highlights of the charrette included speeches by St. Paul and Minneapolis mayors Chris Coleman and Betsy Hodges, respectively, who acknowledged the social and cultural effects of infrastructure challenges in the Twin Cities and emphasized government responsibility to the people, especially underserved populations.
Looking Ahead
Not all of the designs developed during the charrettes are financially feasible in the near term, and solutions preferred by residents sometimes conflicted with the purpose of the interstate network as essential to the Nation's economy and defense. Nevertheless, the workshops succeeded in bringing together diverse stakeholders, honoring the needs expressed by community members and engaging in a collaborative effort among parties that often operate independently.
"It's been a good opportunity to develop partnerships," commented one charrette participant. "And it's been a good opportunity to pause for a minute and consider our community."
The Every Place Counts Design Challenge serves as a first step in USDOT's efforts to develop a model for new, more inclusive public engagement practices. The new model may include strategies such as incorporating public engagement earlier in project life cycles and providing greater opportunities for residents of areas affected by transportation projects to offer substantive input about project design.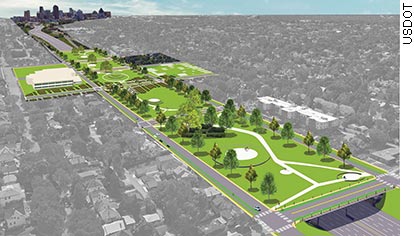 Later in 2017, USDOT will release a report documenting and drawing on the four workshops. The report will include best practices, regional case studies, design guidelines, and consensus-building strategies for addressing community infrastructure impediments through urban design. Also, the Federal Highway Administration will incorporate the lessons learned through the Every Place Counts Design Challenge into its Every Day Counts (EDC-4) Community Connections initiative, which focuses on the value of transportation in community revitalization. FHWA's EDC-4 will provide technical assistance, training, and resources to facilitate the discussion of highway retrofitting, rehabilitation, or removal options to improve connections between urban cores and neighboring communities.
"There won't be fast solutions," says FHWA Associate Administrator Howard. "But I think and hope that all the stakeholders that were involved will fight hard to deliver. We're trying to address some of the trust issues, not just the infrastructure issues, that have come up over the past decades. We're trying to heal the dynamic between the government and the public by developing better engagement strategies. The charrettes are over, but this isn't the end; it's the beginning."
---
Camille Bonham is a transportation specialist with FHWA's Office of Planning, Environment, and Realty. She studied international development and fine art at Grinnell College, and she is currently earning a master's degree in urban and regional planning from Georgetown University.
Corbin Davis is a community planner with FHWA's Office of Planning, Environment, and Realty. Davis received a master's degree in urban and environmental planning from the University of Virginia and a bachelor's degree in geographic science from James Madison University.
For more information, see www.transportation.gov/opportunity/challenge. Or, contact Camille Bonham at 202–366–6798 or camille.bonham@dot.gov, or Corbin Davis at 202–366–6072 or corbin.davis@dot.gov.