FHWA'S "Innovations Factory" Commands Presidential Attention
President Barack Obama's visit to the Turner-Fairbank Highway Research Center highlighted 100 years of breakthrough research. The President at the wheel of TFHRC's highway simulator made national news.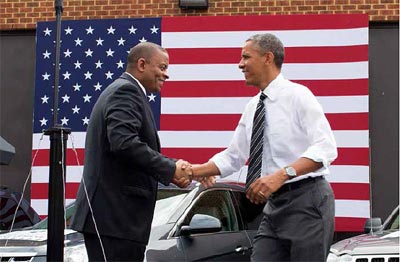 Virginia's hot and muggy weather on July 15, 2014, did nothing to dampen the excitement of nearly 200 Federal Highway Administration (FHWA) employees and contractors who gathered outside the Turner-Fairbank Highway Research Center (TFHRC) in McLean to see and hear President Barack Obama and U.S. Transportation Secretary Anthony Foxx.
The historic day marked the first presidential visit to TFHRC, a world-renowned facility responsible for over half of FHWA's $115 million annual research budget.
"[It] was an unbelievable opportunity to demonstrate to the President and the Nation the extraordinary work being done at the center," says Michael Trentacoste, FHWA's associate administrator for research, development, and technology, who directs the facility. "I would also characterize the visit as a 'fun' event. It's important for staff to have fun at their jobs, and I think it was fun for the President too."
While at TFHRC, the President underscored the need for Congress to pass a bill addressing the impending Highway Trust Fund shortfall. He also highlighted the continuing need for research on highway safety.
"We need to invest in America's infrastructure," Obama said. "You guys are helping to show us how to do it in a really smart way. We need to invest in American innovation and research and development . . . all these things would make a difference in people's day-to-today lives."
Before the speech, Trentacoste gave the President a tour of the facility, which is home to more than 24 indoor and outdoor laboratories where researchers are developing innovations in highway safety and other improvements to transportation operations. FHWA's ongoing commitment to research and innovative technology, which began a century ago, continues to change the way roads and bridges are designed, built, operated, and maintained.
"He was very personable and picked up quickly on our excitement for what we do," says Trentacoste. "I've been blessed working at USDOT [the U.S. Department of Transportation] for over 35 years, and I've met all the U.S. transportation secretaries since Brock Adams--but meeting the President is certainly a capstone event."
Driving the Simulator
David Yang, leader of the human factors team in FHWA's Office of Safety Research and Development (R&D), showed the President FHWA's highway driving simulator--a popular feature at the center--and the only one of its kind in the world.
The simulator consists of a full automobile chassis surrounded by a cylindrical projection screen onto which three projectors render a seamless 200-degree field of view that shows high-quality computer-generated roadway scenes. Its six degree-of-freedom motion-based system provides pitch and surge (for acceleration and braking), lateral, roll, yaw (for curve and turning forces), and heave (for bumps), which are all synchronized with the onscreen imagery. The simulator's sound system provides engine, wind, and even tire noises.
"FHWA's state-of-the-art simulator is one tool we use in our human factors research to better understand driver behavior and test innovative roadway designs and operation scenarios," says Monique Evans, director of FHWA's Office of Safety Research and Development.
The President quipped that it was the first time that he had driven a car, relatively speaking, in 6 years.
"This is so exciting," the President told onlooking reporters, while buckling his seatbelt. "I haven't been on the road in a long time." Later, in his speech, he described the experience as "sort of like 'Knight Rider,'" in reference to a popular television series in which a crime fighter drives an artificially intelligent supercar.
He added, "As the father of a daughter who just turned 16, any new technology that makes driving safer is important to me. And new technology that makes driving smarter is good for the economy."
Next on the Tour
Taylor Lochrane, a research engineer with the TFHRC team that analyzes transportation operations, briefed President Obama on the center's ongoing research into vehicle-to-vehicle and vehicle-to-infrastructure integration. Lochrane also showed the President the technologies that researchers are installing in FHWA's vehicle fleet in order to test applications that could improve safety, mobility, and environmental efficiency. These technologies are leading to a future filled with driverless vehicles and safer, more efficient highways.
"It was an amazing opportunity to discuss with him the value of the research we do, specifically the areas of connected vehicles and connected automation," Lochrane says. "We talked about the new technologies being tested, and we laughed about where the spare tire would go--because, with all the gadgets we put in the test vehicle, we had to remove the spare. I really enjoyed my conversation with him. It was a once-in-a-lifetime experience."
Director of FHWA Operations R&D Joe Peters, who gave the President a tour of the facility's Saxton Transportation Operations Laboratory, agrees. "The President and I discussed traffic congestion problems, and the fact that we can't build our way out of them. Because congestion costs our country over $120 billion a year, I told him we had to use the roads we have more efficiently and turn to new telecommunications technologies, such as those being developed in USDOT's connected vehicle program," says Peters. "The President was intrigued by our work."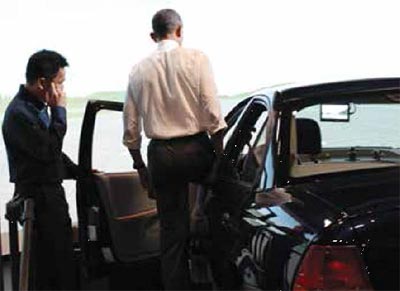 Evans adds, "We are so focused on solving problems, creating new knowledge, and developing new technologies that we often neglect to regularly toot our horn about our achievements. Simply meeting the President has been on my bucket list for several years, but I never imagined being able to tell him how the products of our research and technology efforts are improving safety--or to get a hug from him afterward! It was unquestionably one of the highlights of my career."
Before the President left, he was promised a sample of another highly prized TFHRC product: honey. For nearly 6 years, TFHRC has been home to 100,000 honeybees, which support President Obama's efforts to prevent "colony collapse." At the President's direction, beehives also were added to the south lawn of the White House in 2010.
"If the President knew he was that close to thousands of bees," says Matt Gaillardetz, TFHRC's network systems manager and resident beekeeper, "he certainly didn't show it."
A Century of Highway Research
The tour demonstrated that the value of the research conducted at TFHRC continues to be important. Engineers, scientists, and others around the world use TFHRC to advance research for USDOT, State and local governments, industry, associations, and others, including the National Academy of Sciences and the National Transportation Safety Board. Currently, more than 300 Federal employees and dozens of contractors, guests from international partners, graduate students, and postdoctoral professionals use the facility.
For better than a century, moreover, TFHRC and its forebears have conducted innovative studies into road use and construction.
At the start, the U.S. Department of Agriculture's (USDA) Department of Chemistry formed a Road Material Laboratory in December 1900 to support testing needed by the Office of Public Road Inquiries, FHWA's earliest ancestor. In the years that followed, the automobile was supplanting the horse and buggy as the Nation's vehicle of choice. As the country's nascent automobile industry grew, so did the demand for research to help establish an organized network of high-quality roads. (For more on the history of transportation research and innovation, see "How the Uncommon Became the Commonplace," on page 18.)
Throughout the country, bad roads were the norm. Part of the reason was that local officials lacked the training needed to build and maintain roads properly, but also there was a lack of research and road-building literature. According to an editorial in The Washington Post in 1919, "The result was a crazy quilt of roads, beginning nowhere and ending in much the same general location, built to conform to no particular standard and generally serving no particular aim."
The advent of heavy commercial trucks soon proved problematic for roads built to accommodate buggies, wagons, and lightweight cars like the Model T. In 1920, the USDA's renamed Bureau of Public Roads (BPR) constructed a roadway at its Arlington experimental farm to test a variety of pavement materials and construction techniques.
Subsequent research expanded into traffic operations and laws.
"Regulating traffic is in a far from satisfactory condition, taking the country as a whole," said Herbert S. Fairbank, a senior highway engineer with BPR in 1922. "Each of the States has adopted its own regulations without much regard for the regulations of adjoining States, with the result that when a motorist passes from one State to another, he must learn almost an entirely new code."
One of the reasons for this lack of uniformity, he added, is that there had not been enough experimental research conducted upon which to base regulations, such as speed limits, road strength, wheel load, and even tire width.
By the late 1920s, a great boom in roadway construction had begun, resulting in nearly two dozen highways crisscrossing the Nation. Awareness of the value of highway research was increasing.
Leading the Way on Roads
Throughout history, public leaders have taken a strong interest in roads and highways--from Julius Caesar and Napoleon to President Thomas Jefferson, who funded the National Road--the Nation's first highway--in 1806. Here are some other examples.
President Harding is shown here at a podium on the Ellipse south of the White House in June 1923, where he dedicated the Zero Milestone.
President Warren G. Harding. When President Harding dedicated the Zero Milestone at the White House on June 4, 1923, it was to serve as the central point for measuring all distances in the United States, like the Golden Milestone in ancient Rome. In 1919, a temporary marker was dedicated at this spot for the kickoff of the U.S. Army's first motor vehicle convoy across the country. A young officer, Dwight D. Eisenhower, missed the ceremony but joined the convoy in nearby Frederick, MD. The experience left a lasting impression on him, which proved vital to the country when President Eisenhower signed the Federal-Aid Highway Act of 1956 into law.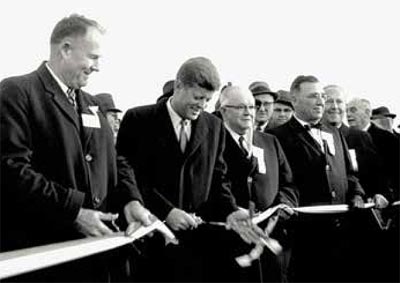 In this photograph from November 1963, President Kennedy is cutting the ribbon to open the Northeastern Expressway connecting Delaware and Maryland.
President John F. Kennedy. The Northeastern Expressway (also called the Delaware-Maryland Turnpike, and now part of I–95) opened on November 14, 1963, with President Kennedy cutting the ribbon before a crowd of 10,000. The new road, the President said, "symbolizes the effort we have made to achieve the most modern interstate highway system in the world." It was the only time a President has participated in an interstate opening. Eight days later, he was assassinated. In his honor, officials renamed the turnpike the John F. Kennedy Memorial Highway in 1964.

Early on a May morning in 1965, President Johnson is seeing off a bus tour to promote his America the Beautiful campaign.
President Lyndon B. Johnson. President Johnson was on hand on May 11, 1965, to wish his wife and others well on their Landscapes and Landmarks bus tour to promote his own America the Beautiful campaign before the opening of the White House Conference on Natural Beauty 2 weeks later. The bus tour began at 8:30 a.m., prompting the President to grumble about the early hour before telling them, "Y'all have a good time." The experience contributed to the passage of the Highway Beautification Act 5 months later.
A New Center for Research
To accommodate the growing need for road studies, Congress authorized the purchase of 581 acres (235 hectares) in McLean, VA, in 1938, freeing up the existing Arlington experimental farm for construction of the Pentagon and Reagan National Airport. Construction of two buildings at the site selected by Congress for BPR's new research facility began with a mechanical shop and a heating plant soon after. But construction was stopped in 1941 to make resources available for the war effort. It wasn't until the early 1950s that the first buildings, then known as the Langley Research Station, were ready for occupancy.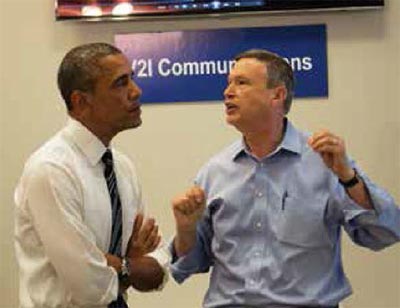 In 1964, the facility was renamed for Herbert S. Fairbank, a highway research pioneer in the 1920s who became BPR's deputy commissioner for research and played a role in the birth of the interstate system. Plans to expand the facility took root in 1967, and construction of a new building began in 1980. That building was named for Francis C. Turner, who served as BPR's director and later as Federal Highway Administrator.
When the $6.5 million three-story Turner building opened in 1983, it expanded the research facility by 80,000 square feet (7,440 square meters) of offices and service space. The new building provided conference areas, a human factors laboratory, and additional lab space to accommodate research into pavement components, road and bridge structures, hydraulics, experimental vehicles, and highway noise.
The facility's structures laboratory--now more than 30 years old--remains a marvel of engineering innovation. Its floor, composed of a four-celled structural box girder, is fully instrumented to help researchers study internal stresses of test specimens placed under heavy loads. At maximum, the lab can exert up to 2 million pounds (907,185 kilograms) of force on bridge elements, which enables researchers to test years' worth of stress and fatigue in only days or weeks.
Recent and Ongoing Innovation
TFHRC's work, which began in the early 20th century with the study of farm roads, grew over the decades to research, development, and testing of a dizzying array of technical innovations, such as new pavement materials, bridge and highway designs, retroreflective materials that make signs and pavement markings brighter, robotic bridge inspectors, crash-testing of roadside safety hardware, and technologies that enable vehicles to "talk" to each other and surrounding roadway infrastructure. The research at TFHRC stands to be as important to the roads of this century as it was to the last.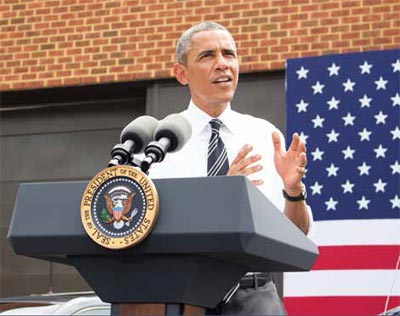 "From developing infrastructure capable of meeting future energy demands to improving safety and mobility through connected vehicle technology," says Trentacoste, "FHWA research is trying to stay ahead of technological advances and to anticipate the highway challenges of tomorrow."
Among the studies currently underway, TFHRC engineers are researching productive roadways to help advance domestic energy production, storage, and distribution.
"Imagine using the public right-of-way, traffic signals, or even the road surface itself as a source of energy," says Trentacoste. "Our Exploratory Advanced Research (EAR) program is doing just that," he adds, through a roadway wind/solar hybrid power generation and distribution system. Another project, one of many funded through the Small Business Innovation Research grants program, is exploring the potential use of roads themselves to collect and store solar energy.
"The future is now," he says, "and we are addressing current roadway issues as well as emerging challenges in a variety of areas."
In addition to breakthrough concepts in materials science, motorist behavior, and travel choices, researchers at TFHRC are putting cutting-edge science to use in keeping roads safer and making them more durable. The center's research even includes nanotechnology, which may one day lead to more effective bridge maintenance.
The Future of Highway Research
The President's visit centered on TFHRC's work on connected vehicle technology, which may help advance the reality of driverless cars and improve safety and mobility for millions of travelers.
"The realization of connected vehicles, and connected automated [driverless] vehicles, in our country," says Peters, "would be the equivalent of a moon shot that will revolutionize our transportation system as we know it. It could make our Nation much more productive, increase our mobility, create jobs, save lives . . . and save fuel while sustaining our environment."
With more than 600,000 bridges and nearly 9 million lane-miles (14.5 million kilometers), the U.S. system of roads, bridges, and interstates is often called the backbone of the world's most powerful economy. There is more than a grain of truth to that. The United States depends on a reliable network of roads to move people and goods across the country efficiently and safely, and research will help to keep it that way in the years ahead.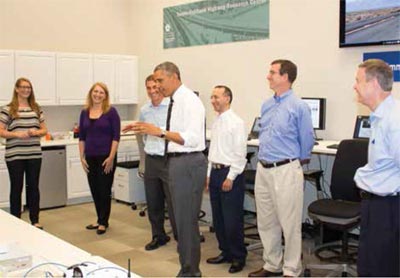 Despite the highway system's age and the increased volume and weight of traffic, the network must continue to promote public safety and facilitate commerce by making trips to work and other destinations faster and safer.
In 2012, more than 33,000 people died in crashes on U.S. highways. Although fatalities have declined annually, FHWA research is continuing to pursue innovations that support USDOT's goal of zero deaths and serious injuries on U.S. roads. To this end, despite the last century's multitude of technological advances, the agency's research mission remains fundamentally the same: innovation.
"One of the principal objectives of the 1893 Office of Road Inquiry, the forerunner of FHWA, was to foster research in highway design, highway materials, and other such matters that needed attention in that era," Turner told the U.S. Senate Committee on Public Works in 1970. "The need for new ideas and new concepts for bringing about better highway transportation has by no means diminished during the ensuing years. The Nation has looked to the Federal Government to provide leadership in matters of highway research.
"This has been accomplished over the years, not by spectacular developments, but by steady dedicated effort . . ."
During President Obama's recent visit, he echoed those thoughts. "The cutting-edge research that all of you are doing here helps save lives and save money, and leads to new jobs and new technologies and new industries," the President said. "And that's why America has to invest more in the kind of job-creating research and development that you're doing right here."
Trentacoste agrees. "Our research and technology are transforming today's big ideas into the innovations our Nation needs," he says. "TFHRC is what it has always been--an innovations factory."
---
Doug Hecox is a spokesman with FHWA's Office of Public Affairs. He has a journalism degree from the University of Wyoming, teaches journalism and public relations writing at American University, and has authored two books.
Debra S. Elston is director of FHWA's Office of Corporate Research, Technology, and Innovation Management. She provides leadership and direction for the coordination, collaboration, and communication of the Agency's research and technology program. Elston has a degree in business administration from MidAmerica Nazarene University.
For more information, contact Doug Hecox at 202–366–0660 or doug.hecox@dot.gov, or Debra Elston at 202–493–3181 or debra.elston@dot.gov.