Technical News
Along the Road is the place to look for information about current and upcoming activities, developments, trends, and items of general interest to the highway community. This information comes from U.S. Department of Transportation (USDOT) sources unless otherwise indicated. Your suggestions and input are welcome. Let's meet along the road.
New Report Evaluates Effectiveness Of Red-Light Cameras
During the 6-year period from 1997 to 2002, nearly 6,000 people died in red-light running (RLR) crashes in the United States. Another 1.2 million people were injured. An emerging method for enforcing compliance with red lights is red-light cameras (RLCs), which detect vehicles that pass over pavement sensors after a traffic signal has turned red. The sensors are connected to computers in high-speed cameras, which take two photographs of the violation. The first photo shows the front of the vehicle when it enters the intersection, and the second captures a shot of the vehicle in the intersection. Law enforcement officials then review the photographs, and in many localities mail a citation to the registered owner of the vehicle. To evaluate the safety and economic effectiveness of RLC systems, the Federal Highway Administration (FHWA) recently completed a research study, Safety Evaluation of Red-Light Cameras (FHWA-HRT-05-048).
The FHWA researchers compiled data from several jurisdictions, including El Cajon, San Diego, and San Francisco, CA; Howard County, Montgomery County, and Baltimore, MD; and Charlotte, NC. The researchers analyzed the total number of right-angle and rear-end crashes at 132 signalized intersections in those jurisdictions, both before and after the installation of RLCs. In addition, they analyzed crashes at 296 unsignalized intersections to serve as a comparison group.
The results showed that RLCs reduced the total number of right-angle crashes by nearly 25 percent and decreased the number of injuries resulting from right-angle crashes by 16 percent. The total number of rear-end crashes, however, increased by 15 percent, and the number of injuries resulting from rear-end crashes increased by 24 percent. The study included an economic cost analysis to determine whether the increase in rear-end crashes at intersections with RLCs negates the economic benefits of fewer right-angle crashes. The combined results from the seven jurisdictions indicated a positive aggregate economic benefit of approximately $39,000 to $50,000 per site per year. Therefore, the increase in rear-end crashes does not appear to negate the benefits derived from the decrease in right-angle crashes.
The study also revealed that the use of RLC technology is especially advantageous when placed at locations with a high ratio of right-angle to rear-end crashes. Public awareness and appropriate signage also improve the effectiveness of RLC programs.
The final report is available at www.fhwa.dot.gov/publications/research/safety/05048/index.cfm. To obtain hard copies, contact the FHWA Report Center at report.center@dot.gov.
Policy and Legislation
New Rules Regulate Work and Sleep Schedules For Commercial Truck Drivers
USDOT's Federal Motor Carrier Safety Administration (FMCSA) issued a new hours-of-service (HOS) rule that details the length of time commercial drivers can operate trucks before they are required to take a break. The new rule, effective in October 2005, is the product of years of research meant to keep drivers healthy and make highways safer, officials said.
Announced on August 19, 2005, the rule replaces HOS regulations that were last updated in 2003. Parts of the rule, including the maximum driving time and minimum rest limits, remain the same. However, it now includes changes affecting short-haul operators and longer distance drivers who use in-cab sleeper berths for their rest.
As in the 2003 regulations, the new rule prohibits truckers from driving more than 11 hours in a row, working longer than 14 hours in a shift, and driving more than 60 hours over a 7-day period or 70 hours over an 8-day period, FMCSA Administrator Annette M. Sandberg said. In addition, the rule requires truckers to rest for at least 10 hours between shifts and provides a 34-hour period to recover from cumulative fatigue.
The most important change under the new rule allows short-haul operators not required to hold a commercial drivers license, such as landscape crews and delivery drivers who work within a 240-kilometer (150-mile) radius of their starting point, to extend their work day twice a week. They also will no longer have to maintain logbooks. The change was prompted by safety data that show short-haul drivers make up more than half the commercial fleet, yet are involved in less than 7 percent of the Nation's fatigue-related fatal truck crashes, Administrator Sandberg said.
Administrator Sandberg pledged to work with States and the trucking community for the first 3 months that the rule is in effect, allowing them time to update educational materials, train employees, and reprogram driving schedules. During this transition period, FMCSA and State law enforcement officials will monitor carriers for egregious violations and pursue enforcement action where necessary.
For more information or to review the new HOS rule, please go to www.fmcsa.dot.gov.
FHWA Helps Evaluate State Pavement Preservation Programs
To help State highway agencies develop and enhance their pavement preservation programs, the FHWA Office of Asset Management recently launched a Pavement Preservation Technical Assistance Program. The National Center for Pavement Preservation (NCPP) at Michigan State University in Okemos, MI, under contract to FHWA, will facilitate an assessment team consisting of a representative from either FHWA headquarters or one of the Technical Service Centers, the local FHWA division office, and the local State departments of transportation (DOTs). This team will evaluate each State's procedures, policies, and programs for preserving pavements. The goal is to help States assess their progress and identify best practices, and then provide recommendations on how to enhance their programs.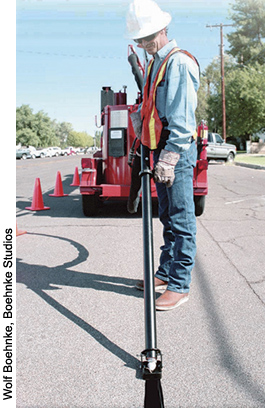 A worker is sealing cracks in this roadway.
Pavement preservation is a proactive, long-term network strategy to improve pavement performance using a variety of tools consisting of cost-effective, thin-surface treatments that extend the life of a road, such as crack and joint sealing, chip seals, slurry seals, microsurfacing, and thin and ultrathin hot-mix asphalt overlays for flexible pavements and partial- and full-depth repairs, dowel-bar retrofits, and surface grinding of rigid pavements. To be effective, these treatments must be selected carefully and applied before the pavement sustains any structural damage.
For each review, NCPP staff will spend approximately 80 hours assessing the State DOT's program and interviewing key personnel involved in developing, implementing, and managing the pavement maintenance, evaluation, and preservation efforts. The assessment team will tailor its review to the highway agency's existing programs, policies, specifications, and organizational structure to identify sound engineering practices and pinpoint those that could be refined or improved to provide a more effective program. At the end of each review, the assessment team will meet with the participants to discuss observations and make recommendations.
FHWA and NCPP will use information gathered during the reviews to create a database of preservation practices and trends. The database will serve as a long-term tool for sharing best practices and assessing the success of preservation programs throughout the United States. This tool also will help FHWA and NCPP examine variables that can adversely affect pavement preservation treatments, such as application timing, environmental factors, and traffic loads. In addition, the database may be useful in determining the degree to which various treatments will increase a pavement's service life.
For more information, contact Tom Deddens at 202-366-1557 or tom.deddens@fhwa.dot.gov.
Public Information and Information Exchange
Library of Access Management Resources Available on Two-Disc Set
With traffic congestion growing and fewer new arterials being built, the need to manage roadway access effectively is increasingly important. Access management is the systematic control of the location, spacing, design, and operation of driveways, median openings, interchanges, and street connections to direct where motorists enter and exit roadways. It also encompasses design treatments of medians and auxiliary lanes, and the appropriate spacing of traffic signals. By managing roadway access, government agencies can reduce traffic congestion, increase safety, extend the lives of major roadways, and support alternative transportation modes such as bicycling.
To help transportation specialists obtain the latest resources on access management, FHWA is offering free copies of the new Access Management DVD/CD-ROM Library. The two-disc set, which includes one DVD and one CD, is a 28,000-page compendium of all the resources presented at the six National Access Management Conferences held since 1993. FHWA, which helps fund the biennial meetings, compiled the DVD/CD library after the most recent conference in August 2004 in Kansas City, MO, and is distributing the set in partnership with the conference host, the Transportation Research Board (TRB) Committee ADA70 on Access Management.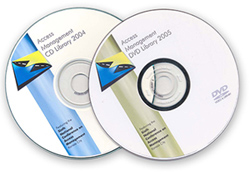 The Access Management DVD/CD-ROM Library features a 28,000-page compendium of all the resources presented at the six National Access Management Conferences held since 1993.
Among the other resources on the DVD and CD are the proceedings from the Sixth National Conference on Access Management in 2004, including 11 audiovisual presentations delivered at the conference. The set also contains brochures, handbooks, and reports, including eight National Cooperative Highway Research Program reports on access management topics.
The DVD also features the proceedings from the first five TRB access management conferences and eight short videos on access management topics produced by FHWA, the Missouri and Florida DOTs, and other organizations. Both discs feature interactive search menus that enable users to look for resources by title, author, and subject.
For information on the Seventh National Conference on Access Management, scheduled for August 13-16, 2006, in Park City, UT, visit www.accessmanagement.gov. For more information on the Access Management DVD/CD-ROM Library and the 2003 TRB Access Management Manual, contact Neil Spiller at 202-366-2188 or neil.spiller@fhwa.dot.gov.
Personnel
Peters Joins Consulting Firm HDR
Former FHWA Administrator Mary E. Peters has joined the consulting firm HDR as national director for transportation policy and consulting. She will be based in HDR's Phoenix office where she will be responsible for building a management consulting practice and formulating public policy initiatives for the firm's transportation program.
Secretary Mineta Names Jacqueline Glassman As Deputy Administrator of NHTSA
In August 2005, U.S. Secretary of Transportation Norman Y. Mineta announced that Jacqueline Glassman will serve as the deputy administrator of the Department's National Highway Traffic Safety Administration (NHTSA).
In her new post, Glassman will help administer the agency responsible for preventing injury and death from motor vehicles on the Nation's highways. She will leave her current position as NHTSA's chief counsel to take the new job.
For more information, visit www.nhtsa.dot.gov.
James D. Cooper, Internationally Respected Bridge Engineer
James D. Cooper, an internationally recognized expert and leader in the field of bridge engineering, passed away on November 23, 2005. As FHWA's Director of the Office of Bridge Technology, he worked to improve the condition of the Nation's bridges and their life-cycle performance by ensuring that advanced technologies were developed and implemented into practice. During his career, Cooper authored numerous research and practice papers on bridge and earthquake engineering, and was involved with scientific and professional societies.
Following his 2003 retirement, Cooper consulted with bridge engineering clients, and continued to serve as a director and steering committee member of several prestigious bridge engineering organizations and societies. He earned the highly prestigious Charles Martin Duke award, which the American Society of Civil Engineers presented to him in 2004 for his lifelong contributions and achievements in the field of lifeline earthquake engineering.