Improving Freight Transportation
Industry leaders help define the role of a State-level coordinator.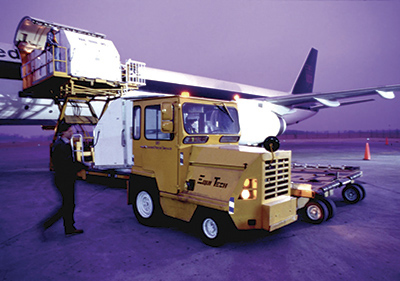 (Above) Air cargo is a fast-growing sector of the U.S. freight industry. An important role of a State-level freight coordinator will involve promoting and facilitating freight issues across multiple modes of transportation. Here, a plane is being loaded with cargo. Photo: American Trucking Associations Foundation.
Freight haulers face increasing challenges moving goods across the Nation's highways. According to the Federal Highway Administration (FHWA), the volume of freight traffic on the U.S. road system will increase 70 percent by 2020. Though this increase represents a positive trend and reflects a healthy national economy, it does present significant challenges for the freight transportation industry and State departments of transportation (DOTs) across the country.
No one has to peer into a crystal ball to realize that roadblocks lie ahead if the transportation system's highway capacity continues to lag behind the growth in freight movement. Data from FHWA's Highway Statistics series indicate that truck vehicle-miles logged on U.S. highways nearly doubled between 1980 and 2003, while roadway lane-miles increased by only 5 percent. As demand for freight service increases, so does concern about how an even greater number of trucks on the road will affect congestion, safety, and the environment.
Fortunately, some State DOTs and metropolitan planning organizations (MPOs) already are taking steps to manage freight growth by seeking to understand the dynamics of freight movement in their jurisdictions. And their efforts are paving the way for solutions to ease short- and long-term problems.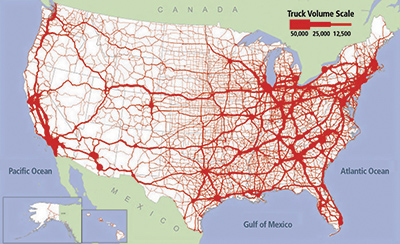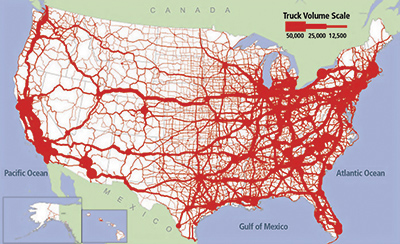 By 2020, the volume of freight traffic on the U.S. road system will increase by 70 percent compared to 1998 levels, according to FHWA's 1998 Freight Analysis Framework, a database that integrates information from various sources to estimate freight transportation activity domestically and at major international gateways. The heavy red areas on the maps show where the increased volume will have the greatest impact. Source: FHWA, Freight Analysis Framework, 2002.
As heavy volumes continue to strain roadways around the country, freight movement issues must be a top priority in planning and operations decisionmaking. Moving forward, the challenge will be to bring all levels of Government, the driving public, and private organizations into the fold to help solve problems and keep shippers and carriers moving goods safely and efficiently. Recognizing the important role that Federal, State, local, and industry stakeholders will play in balancing freight and passenger transportation needs, the FHWA Office of Freight Management and Operations (HOFM) conducted extensive outreach, including a survey, to representatives from these groups between 2000 and 2002. The goal was to gain their insights on freight transportation issues and determine how best to prioritize and fund freight-related transportation projects.
Responses by participants to the survey emphasized the need for better coordination and cooperation between the public and private sectors. Innovative mechanisms for financing projects, better research data, and improved data analysis also ranked highly in participants' minds. In the realm of human resources, the respondents highlighted a need for transportation professionals to have greater access to knowledge of data sources and freight trends and issues. They also cited a need for new skills, such as freight forecasting techniques using different data sources and analytical tools and creating Freight Advisory Committees to develop cooperation between the public and private sector on freight issues. Finally, one key finding proved almost universal among respondents: State DOT and MPO officials clearly voiced a common belief that one or several specially designated people need to serve as focal points for freight interests at the State level.
The Surveys Say . . .
Based on survey results from State DOT and FHWA division office personnel, the following steps are critical in addressing the rapidly increasing volume of freight traffic on the Nation's roadways and establishing State-level freight coordinator positions to develop and implement necessary solutions:
Setting transportation priorities, promoting the issues, educating members of the public and private sectors, and improving the knowledge of freight professionals
Connecting with the private sector through transportation councils or other institutional means, such as advisory boards
Connecting jurisdictions to improve communications and planning between States
Integrating transportation efforts between institutions
Integrating transportation modes
Improving data analysis and planning
Creating a better understanding of funding and financing issues
Improving understanding of the planning process
Thinking globally and locally to solve transportation problems
On the Road to Coordination
Research and prior surveys have shown that the potential to advance freight-related transportation projects is significantly improved if public- and private-sector collaboration is fostered and projects are coordinated by an office or a person dedicated to this activity at the State level. Collaboration is key to identifying and implementing complex regional solutions to freight transportation problems. A coordinator also can advance freight capacity-building programs for the State.
Identifying the Need
States must understand their freight transportation issues before they can address them. The Minnesota Department of Transportation (Mn/DOT) is in the early stages of this process, according to Cecil Selness, director of Mn/DOT's Office of Freight and Commercial Vehicle Operations.
"The freight office in Minnesota has just completed the first State freight plan in which we identify the challenges of accommodating a 70-percent increase in freight traffic on the basic transportation system that is already in place," says Selness. "We are seeking to better understand the essential transportation needs that must be in place to support the businesses and industries that make our State's economy prosper. Because our resources are very limited, we are learning to focus those resources where they can be most effective."
While Mn/DOT looks toward improved freight movement in the near future, the Maine Department of Transportation's (MaineDOT) Office of Freight Transportation (OFT) is reaping the benefits of changes implemented nearly 9 years ago. Organized in 1996, OFT is responsible for developing policies, programs, and projects that strive to transform the State's freight transportation network into a cohesive system. The office combines various pre-existing MaineDOT functions in rail, port, and truck regulatory management into one office.
Since its inception, OFT has delivered many dividends, most notably a coordinated management and communications center that deals with the State's present and future freight transportation needs. Within that structure, the director participates in top management discussions along with directors of more traditional planning and maintenance offices. Likewise, OFT personnel interact with other MaineDOT units, other Federal and Maine State Government agencies, and private-sector stakeholders. In addition, OFT proposes and coordinates projects that promote freight transportation efficiency. The result is an ongoing exchange of information among all parties.
"Without OFT, those initiatives would have been nearly impossible to accomplish," says Tim Bolton, a policy development specialist with OFT. "Our goal is to move goods through the State safely and efficiently, and this organizational structure has allowed us to coordinate a multimodal approach toward achieving that goal," he says. "We have coordinated several freight studies for the department, as well as for the Northeast Association of State Transportation Officials. Our office also is involved with ITS [intelligent transportation systems] development in commercial vehicle operations, and we coordinate a freight advisory council of private-sector freight stakeholders. These initiatives would have been far more difficult without an organized freight transportation office arrangement."
For more information about the Minnesota Statewide Freight Plan, visit www.dot.state.mn.us/ofrw/freight.html. For more about the MaineDOT's Office of Freight Transportation, visit www.maine.gov/mdot/freight/freight-home.php.
Many States are taking the initiative to establish State-level freight coordinators. FHWA and the American Association of State Highway and Transportation Officials (AASHTO) agreed on the need to tap into existing capabilities, inform others, and build consensus on the role of State-level freight coordinators.
With the understanding that the needs of each State differ, FHWA and AASHTO set out to create a position description for a State-level freight coordinator. The effort involved two key components. The first involved conducting a survey of State DOTs and FHWA division offices to learn their perspectives on freight transportation priorities and needs. The second entailed holding a national conference for State DOTs, FHWA, and private-sector representatives to further identify and define the roles, responsibilities, and skills necessary for a State-level freight coordinator. The conference also sought to resolve the institutional issues that would prevent coordinators from operating with maximum effectiveness. A sample position description for a State freight coordinator is posted at www.ops.fhwa.dot.gov/freight/fpd/.
Focusing on Freight Perspectives and Needs
In February 2005, FHWA surveyed its division offices, while AASHTO surveyed State DOTs. The following were among the questions posed to participants:
How high a priority is freight transportation in your State?
What hot freight issues do you foresee in the next 5 to 10 years?
What are the roles and responsibilities of a State-level freight coordinator?
What organizational and institutional changes are needed to improve planning for freight transportation?
The results of this survey, shared with FHWA and State DOT staffs through two Web conferences, indicate that the two groups concur on some issues but differ on others. For example, although more than 40 percent of State DOT respondents said freight transportation was an extremely important priority in their States, the majority of FHWA respondents were neutral on this question, considering freight neither a high nor low priority.
The FHWA division offices and State DOTs agreed, however, that the State-level coordinator function requires a core set of skills, roles, and responsibilities to advance freight-related transportation projects. Both groups also agreed that one of the more important roles and responsibilities is developing partnerships and cooperating with other stakeholders. This includes coordination among transportation modes, between the public and private sectors, within institutions, and among jurisdictions. Likewise, both surveys showed that the following institutional barriers affect the implementation of freight initiatives:
Limited management support for freight projects
Competing priorities that push freight to the back burner
Lack of coordination with the private sector
In addition, FHWA and State DOT staff agreed that educating stakeholders, including the public, about key issues is crucial to developing solutions to freight transportation issues.
A Meeting of Like Minds
Following the Web casts, State DOT officials, FHWA division office staff and headquarters personnel, and private-sector representatives gathered in Columbus, OH, on April 26-27, 2005. Their plan was to identify and define the roles and responsibilities of a State-level freight transportation coordinator, the skill sets and resources required for the position, and the organizational and institutional issues that will need to be addressed to advance freight transportation projects effectively. In addition, participants had the opportunity to listen to a panel of private-sector representatives who shared their thoughts on the duties of the coordinator position.
As the conference progressed, participants identified two roles that a coordinator must assume. One involves having a thorough working knowledge of the freight industry, related policies, and emerging trends. Attendees agreed that a coordinator must have a grassroots connection to freight stakeholders and the ability to understand, analyze, and transform data into useful information. The other role involves working at a higher level as a spokesperson for freight in the State and serving as an advocate for transportation improvements that benefit freight movement. These two roles were termed "coordinator" and "champion," respectively.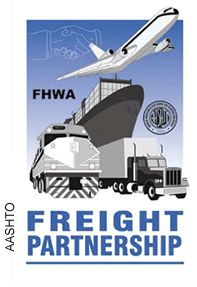 The logo for the AASHTO-FHWA Freight Partnership Conference.
Although there is a continuum of activity between the two roles, they are separate functions. Certain roles, responsibilities, and skill sets may apply to one role or the other, or both. However, a coordinator most likely will need a champion at a higher level who can help influence decisions and bring about changes within the State.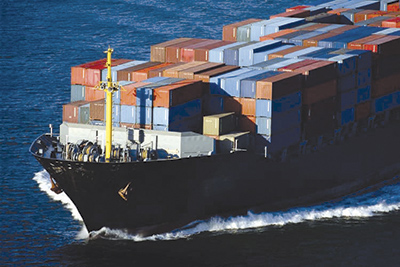 Introduced in 1956, overseas container shipping (shown here) is the leading component of increased global trade. Shipments to the United States doubled over the past 10 years and are expected to double again every 10 to 15 years. Once they reach port, many of those containers will travel along U.S. roadways to reach their inland destinations, adding to the growing volume of freight traffic on the Nation's highways.
Throughout the conference, attendees participated in a constructive give-and-take that served to form a common understanding of the requirements. David Ganovski, director of the Maryland DOT's Office of Freight Logistics, summed up the meeting's many benefits. "This conference definitely exceeded our premeeting expectations," Ganovski says. "The well-facilitated, 'out-of-the-box' brainstorming sessions, including high-level industry shipper representatives, significantly added to the 2-day session. Although more refinements are required, this effort directionally defined what a State freight coordinator should be. Succinctly, the results call for this position to be a champion, advocate, and facilitator of freight issues."
Shaping Roles and Responsibilities
Together, the surveys and conference highlighted a half dozen roles and responsibilities of the State-level freight coordinator. In their order of importance, the six key functions are as follows:
Fostering cross-state, cross-agency, cross-sector, and cross-modal partnerships. These partnerships are necessary to achieve joint planning and operations for efficient freight transportation and to obtain needed funding for projects. When developing the partnerships, the coordinator will need to think regionally and corridorwide. The coordinator also will need to review current partnerships to see where gaps exist and identify solutions to help bridge those gaps.
Acting as single point of contact (POC) to all stakeholders. This role entails coordinating with all relevant stakeholders and creating a forum in which all parties can come together to work on freight transportation improvements. This would involve participation in multijurisdictional activities.
Serving as an advocate for the State's freight interests. This will require an understanding of the various audiences involved in freight projects and how to best reach those audiences to promote freight interests. It also will require an awareness of all freight projects in the State and those in other areas that involve multijurisdictional coordination. The coordinator will need to track progress to understand when issues occur, how they are resolved, and what changes need to be made within the State to better support project development and implementation.
Determining the State's freight vision and goals. The vision and goals need to connect freight movement needs with other State interests such as economic development, land use, and environmental compliance.
Educating all stakeholders on the importance of freight. This includes educating the public and private sectors about freight movement through the State and its relationship with their interests. FHWA and State DOT respondents also agreed that FHWA should develop and provide educational opportunities such as workshops and training courses for State DOTs and MPOs. In addition, they said that FHWA should continue to provide the tools and resources to educate stakeholders. The coordinator will be a vital link to FHWA to identify necessary training.
Identifying data sources and providing technical data. The coordinator will be the primary point of contact for freight data within the State and will need to understand what data is required to support decisionmaking that involves freight-related transportation projects. The coordinator will be the connection point for integrating local (State and MPO) data with larger national or regional databases on freight movement.
Skill Set for Coordinators
Roles and Responsibilities: Combined Voting Results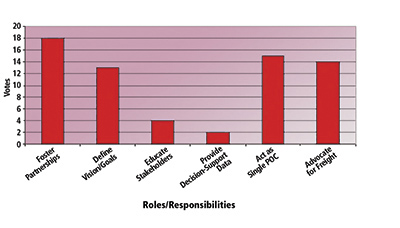 Roles and Responsibilities: Voting by Affiliation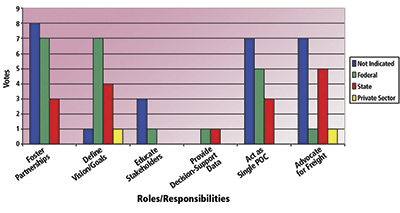 These two figures show how participants at the freight mobility conference in Columbus, OH, ranked the importance of the roles and responsibilities of a State-level freight coordinator. Above (top) are the voting results representing the general consensus of all attendees. Directly above, the results are broken down by group affiliation. Source: The AASHTO-FHWA Freight Transportation Partnership-Synthesis Report.
After defining the coordinator's roles and responsibilities, survey respondents and conference attendees identified a core set of skills needed by freight transportation professionals and offices to advance freight-related projects. Listed according to top priority, these skills include the following:
Knowledge and understanding of the freight industry and freight movement to deal effectively with private-sector logistics, the goods movement industry, infrastructure for the various modes, and Federal, State, and local government roles in freight movement
Organizational knowledge and expertise to bring all stakeholders together and facilitate a dialogue that identifies mutual interests, shares ideas, and advances continued collaboration
Persuasive communication capabilities to articulate needs and influence stakeholders to advance freight interests and improvements
Public speaking and interpersonal communication capabilities to build relationships and speak to people at all different levels, from State Governors to the public, in a language that resonates with them
Understanding of transportation programming, project development, and design and funding processes and mechanisms to comprehend all elements of freight transportation projects from development through design and implementation; understanding of current funding and financing options
Negotiation capabilities to facilitate agreement between potentially disparate interests and enable them to work together for the advancement of freight transportation within the State
Visionary thinking to help set State goals for freight that encompass present dynamics and improvements for the future
Capability to analyze and interpret data and then draw meaningful conclusions to provide decisionmakers with useful information; the ability to identify missing data and recommend strategies to bridge those gaps
Project management expertise to track freight projects within the State and monitor plans and timelines
Educational expertise to understand options and opportunities to educate freight professions, such as universities, FHWA's Freight Professional Development Program, National Highway Institute, and AASHTO's professional development series
This rather exhaustive list encompasses the breadth of skills necessary to perform the roles and responsibilities outlined for the freight coordinator position. It is important to keep in mind, however, that these skill sets are scalable, as are the roles and responsibilities, depending on the level of freight activity in the State. In States with a high level of freight activity, or in States that wish to attract the economic development that comes with freight activity, these functions may be performed by an office rather than by a single freight coordinator.
Organizational and Institutional Issues
On the second day of the conference, State DOT and MPO personnel and FHWA division office representatives met separately to discuss organizational and institutional issues related to their respective administrative and operational environments. Specifically, they discussed the changes necessary to enable coordinators to assume the roles and responsibilities that were identified during the conference's first day.
The State DOT and MPO representatives identified several issues that hampered the effective development and implementation of projects to improve freight transportation, such as shortages of dedicated funding for freight projects, difficulty in getting the right stakeholders to the table and keeping them there, scarcity of data regarding freight issues, insufficient multistate and multiregional coordination, limited recognition of freight in the political process, and lack of understanding of freight transportation's role in economic development.
Required Skills: Combined Voting Results
Required Skills: Voting by Affiliation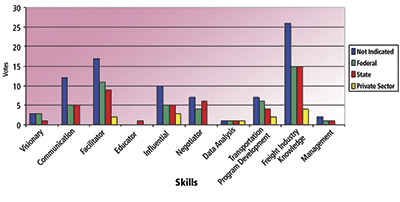 These graphs summarize how conference participants ranked the importance of skills required by a State-level freight coordinator. The top graph represents the general consensus of all attendees, and the lower graph breaks down the voting by group affiliation. Source: The AASHTO-FHWA Freight Transportation Partnership-Synthesis Report.
To address these barriers, the State DOT and MPO representatives recommended a number of changes, including integrating freight awareness into all planning, developing and implementing a national freight transportation policy, and creating three types of corridors--those with national, multistate, and regional significance--and identifying common issues for those corridors at the national and State levels. In addition, representatives agreed that solutions that provide positive results in one State should be analyzed so that other States can apply those benefits.
Another needed change is to provide a mechanism for overcoming highway-specific funding processes. A flexible funding source is necessary to expedite freight projects that do not fall into highway project guidelines. Other State DOT and MPO recommendations included addressing freight issues proactively and using economic benefit analyses to illustrate the positive results of action and the consequences of inaction.
Meanwhile, during their session the FHWA division office participants identified the following challenges: (1) integrating the modal activities of USDOT and FHWA to promote freight planning; (2) emphasizing that organizations--from the top down--must buy into the belief that freight is a transportation planning priority; (3) promoting the importance of national-level freight goals and objectives; (4) advocating that the FHWA division-level freight coordinator needs the same training and skills that were identified for State-level freight coordinators, and recognizing that the coordinator must want to do the job; and (5) increasing knowledge and appreciation of other modes among FHWA staff.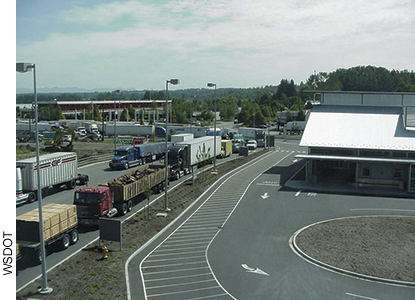 Along with a healthy domestic economy, international trade, which accounted for 25 percent of the Nation's economy in 2004, has contributed to the dramatic growth in freight moving along U.S. highways. During that year, nearly 6.9 million trucks crossed the U.S.-Canadian border, creating delays and congestion such as in the photograph above.
The FHWA representatives recommended the following changes to address these challenges: (1) urging USDOT to develop a national-level freight policy with other stakeholders; (2) encouraging parties to integrate all modes at the State and regional levels through the FHWA State freight coordinator, establishing a freight point of contact through each modal administration, and inviting other modes to attend advanced planning workshops to discuss their modes; (3) engaging FHWA division administrators in understanding and resolving freight issues; (4) providing ongoing data on national freight growth to help inform how this issue can be addressed; (5) encouraging FHWA to develop a set of core competencies for State freight coordinators; and (6) considering creating rotational opportunities for FHWA personnel to improve their understanding of freight issues.
One change that both the State DOT and FHWA division office representatives suggested was establishing a national-level freight transportation policy. Although a policy cannot overcome all institutional issues, it can reinforce the importance of efficient freight movement and help elevate freight transportation needs to a more visible level.
"The Columbus conference was an excellent opportunity to talk about how the States and FHWA should address freight needs that are going to continue to grow rapidly over the next 20 years," says Cecil Selness, director of the Minnesota Department of Transportation's Office of Freight and Commercial Vehicle Operations. "Every State has a little different situation but realizes that the health of its economy and its economic growth require [efficient] access for its businesses to their customers and suppliers." Selness adds, "More and more, we find ourselves in an international environment where the quality of transportation beyond our borders is essential to our success. We are seeing the need to work together and for the Federal Government to have a coherent national [freight] transportation policy."
Ready Resources
The survey and conference highlighted four essential resources needed to plan and execute freight initiatives effectively:
Funding. Money to fund projects may be obtained through traditional and innovative financing mechanisms.
Training and Educational Opportunities. These opportunities are needed to create a group of future freight transportation professionals.
Internal and External Support. Buy-in from senior management within State DOTs and FHWA division offices is essential, as is support from industry and the private sector.
Data and Information. Useful freight data are needed, including freight flow data and the analytical tools to understand the information. Additional freight research is necessary, along with a knowledge base of successful practices, lessons learned, and existing multimodal issues.
Educationally Speaking
The FHWA Freight Professional Development (FPD) Program educates professionals through training, technical assistance, and a Web-based resource library. By working with the academic community, the program encourages changes in degree programs in transportation planning and logistics that better enable public- and private-sector transportation professionals to understand each other's roles and responsibilities.
The program provides technical assistance to States and MPOs through efforts such as the "Talking Freight" Web-based videoconference series, a no-cost way for freight transportation professionals to broaden their knowledge and develop skills. Information on the monthly seminars is available at http://talkingopsandfreight.webex.com.
The FHWA "Freight Planning Peer Exchange Listserv" at www.fhwa.dot.gov/freightplanning/ provides a forum to share information on freight with more than 500 subscribers from the public and private sectors. In addition, the new Freight Peer-to-Peer Program puts freight experts in touch with practitioners who need assistance. This program includes a database of freight experts in various disciplines and offers travel assistance to support the peer exchange.
For more information on the FPD Program, visit www.ops.fhwa.dot.gov/freight/fpd/.
Although some resources, such as buy-in from senior management, will need to come from changes and actions at the institutional level, others can be provided through existing education and training. A gap analysis will need to be completed to compare what additional resources are needed to augment current resources and training. The FHWA Freight Professional Development Program, for example, already provides seminars, courses, workshops, and informational materials. The seminar Freight Data Made Simple addresses the major types of freight data, their sources, and limitations. It also discusses the use of freight data in the transportation planning process, including their use in forecasting, and highlights examples of national, State, and local applications. Further, the seminar identifies key resources and references to help guide State and metropolitan planners in their freight planning efforts.
Stateside Report
Many State DOTs already have implemented aspects of the suggested freight coordinator guidelines within their existing freight offices. In fact, some States, including Washington and Oregon, shared some of their lessons learned with participants at the freight conference in Columbus, OH.
Through its Office of Freight Strategy and Policy, the Washington State Department of Transportation (WSDOT) is working to improve freight transportation through enhanced data collection and by working with the private sector to better understand customer needs.
"WSDOT is committed to fact-based decisionmaking," says Barbara Ivanov, director of the WSDOT Freight Strategy and Policy Office. "The primary task of the [WSDOT] Freight Strategy and Policy Office is to provide quality freight information to our State's leaders so we can make better decisions today than we did yesterday, and better decisions tomorrow than we did today."
In addition, the WSDOT freight office stresses the importance of communicating and working with the private sector to understand and resolve freight transportation issues. Ivanov says that improving the State's freight system starts with clearly defining customers' problems.
"Although the WSDOT Freight Strategy and Policy Office has two managers, and our current staff has been in place for just 18 months," she explains, "we've completed more than 200 one-on-one interviews with high-volume shippers and carriers across the State. We're constantly in the field with customers to determine their requirements of the State's freight system, observe freight system flow at their plants, ask detailed questions at industry association meetings, and listen to their issues. There are a thousand demands on their time, and we do everything possible to make giving us information convenient and easy."
Meanwhile, in fall 2004, the Oregon Department of Transportation (ODOT) established a Freight Mobility Section with the mission to raise the visibility and effectiveness of planning and delivering freight infrastructure and policy improvements in all modes across the State. The section's purpose is to promote, coordinate, and facilitate freight issues. It coordinates public-private, State-local, and State-Federal decisions on freight transportation infrastructure and activities on a statewide and State-to-State basis. The office is responsible for encouraging all ODOT divisions to integrate freight mobility considerations into their day-to-day business practices. Training and education on freight issues are provided to all levels of ODOT staff.
"We staff the statewide Oregon Freight Advisory Committee (OFAC)," says Julie Rodwell, freight mobility section manager at ODOT. "This committee, which reports directly to the Oregon Transportation Commission (OTC), is composed of high-level industry and government representatives and has been making freight policy recommendations to the OTC, the governor, and to the [State] legislature since 1998."
According to Rodwell, the Freight Mobility Section, working through the OFAC, not only provides a central focus for freight-related activities and information within ODOT, but also collaborates with other freight stakeholders in Oregon, such as local freight advisory committees, area committees on transportation, metropolitan planning organizations, the public, and other State and Federal agencies.
Rodwell's group also is playing a growing educational role. For example, the annual Oregon Planning Institute meeting held September 15-16, 2005, at the University of Oregon, now has a freight planning session each year thanks to the efforts of the Freight Mobility Section. In October 2005, the section sponsored a 3-day National Highway Institute course on freight planning. The group also is providing stakeholders with data on freight issues, such as commodity flow data developed by subareas of the State to assist with freight planning.
For information about the WSDOT Freight Strategy and Policy Office, visit www.wsdot.wa.gov/freight. For more information about ODOT's Freight Mobility Section, visit http://egov.oregon.gov/ODOT/TD/FREIGHT or contact the office at 503-986-3520.
Similarly, the workshop Engaging the Private Sector in Freight Planning teaches participants how to establish a relationship with the private sector. Another existing resource is the recently implemented Freight Peer-to-Peer Program, which is meant to help States share knowledge and best practices. More information about these existing resources is available on the "Freight Professional Development" Web site at www.ops.fhwa.dot.gov/freight/fpd/.
Insights from the Private Sector
To supplement the information gathered from Federal and State personnel, a panel of representatives from the private sector also provided their perspectives on the roles, responsibilities, and skills required for the freight coordinator position. The panel, consisting of representatives from Limited Brands; Owens Corning; Pacer Cartage; Edwards & Drew, Inc.; Jacobson Distribution; ODW Logistics; and BNSF Railway, stressed the importance of collaborating with the private sector, as well as all freight stakeholders, and understanding supply chain logistics.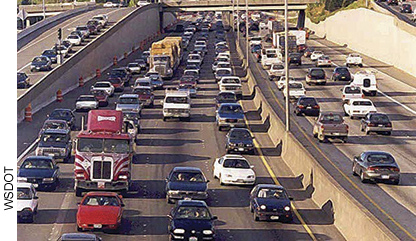 By 2020, more trucks carrying more tons of freight will combine with an increasing human population to strain the U.S. highway system, which is already struggling to keep pace. Consequently, congestion like that shown here will spread to more major urban areas and intercity links.
According to John A. Gentle, chairman of the National Industrial Transportation League Highway Transportation Committee and global leader of transportation affairs for Owens Corning, the freight coordinator should not be a political appointment. "The most desirable characteristic is a seasoned person who has an indepth and practical understanding of how the supply chains operate," he says. The panelists also highlighted the need for the coordinator to understand and integrate State and national perspectives on freight transportation into planning decisions. "The freight coordinator is a strategist, a goal setter, someone who plans for the future," says David Holsclaw, regional operations manager of Jacobson Distribution.
The private-sector participants also indicated that they rely on the public sector to serve as educators, informing the public about the importance of freight and educating upcoming transportation professionals about freight transportation and logistics. "There is a need to educate the public on the importance of freight," says John Joseph, senior transportation manager with Limited Brands. "This is a very tough thing to do, and sometimes it takes situations like the congestion in southern California for people to wake up and see that we have a major problem on our hands."
Members of the private-sector panel further noted that solving freight transportation issues is not the sole responsibility of the public sector. They stated their willingness to work with the public sector, namely the freight coordinators, to help nurture the partnerships needed to resolve freight issues. As one panel member put it: "We can be available. In this conference, there has been a lot of talk about education and awareness. There is a willingness on our part to help solve the problem. We don't want to say that this is the Government's entire problem. We can help with education and invite and embrace the coordinator into some of our dialogs and discussions."
The I-10 Corridor: The Road More Traveled
As the Nation's southernmost, coast-to-coast Interstate, I-10 travels 3,959 kilometers (2,460 miles) across California, Arizona, New Mexico, Texas, Louisiana, Mississippi, Alabama, and Florida. With more than $1 trillion in trade annually moving along this roadway, the corridor is of significance not only in those States, but also on a national level.
Approximately 5 years ago, the State transportation agencies that I-10 crosses joined together to conduct a comprehensive evaluation of the overall corridor system. Their goal was to assess the need for and feasibility of new options to facilitate goods movement along the corridor. The Federal Highway Administration also played a role in this study, by joining the eight State DOTs as a funding partner, as well as by attending the meetings of the Technical Advisory Committee (TAC).
In a presentation given during a December 2005 Talking Freight Seminar, Dilara Rodriguez of Caltrans, who serves as the technical project manager for the study, as well as chair of the TAC, noted that there was a great degree of willing cooperation among the State DOTs.
"What was unique about this effort is that the State DOTs came on their own," Rodriguez says. "They were not prompted by any private sector entities or even Federal entities to begin this partnership. We sat together and said we have a common issue. We decided to look at our needs and what can we do as eight States together, to move freight along the I-10."
The study began in 2001 and focused on pinpointing I-10's problems and identifying strategic solutions to meet the ongoing growth in freight movement along the route. A Memorandum of Understanding (MOU) was developed, and a Steering Committee and a TAC, with officials from each State, were formed to oversee the study. With the understanding that freight movement differs within their borders, each State had the opportunity to choose which elements (that is, border crossings, rail systems, intermodal connectors, etc.) along the corridor would be analyzed in the study.
Upon its completion in 2003, the study yielded results that included options for improving I-10 in specific locations, along with overall solutions such as utilizing technology to enhance truck movement, communicating with motorists, and speeding up emergency response times. The partnership is now assessing the results and beginning to implement the recommended solutions. It also is focused on short-term, State-specific operational solutions, which should be in place by 2008. Mid- to long-term solutions will be implemented between 2008 and 2025 and include more strategic, corridorwide solutions, many involving the use of innovative technologies, such as intelligent transportation systems.
More information about the I-10 National Freight Study is available at www.i10freightstudy.org.
Taking the Next Step
The conference enabled a diversified group of individuals to participate in defining the key elements of the State-level freight coordinator position and went a long way toward identifying issues and scoping potential solutions to advance freight transportation planning and operations. At the conclusion, attendees were asked to identify followup activities to help FHWA and AASHTO move forward. Here are highlights from their responses:
Develop a national USDOT freight policy.
Establish a formal way for States to work together on regional and interregional projects.
Identify legal flexibility within existing funding mechanisms.
Establish a freight committee in AASHTO.
Promote the importance of freight within State DOTs and Federal leadership.
Educate shippers through the National Industrial Transportation League.
A New Way to CREATE
The Chicago Regional Environmental and Transportation Efficiency (CREATE) Program is a shining example of how public and private partnerships can work. For this program, the State of Illinois and the city of Chicago joined with passenger and freight railroads serving the region to identify a set of critically needed improvements to the Chicago region's rail and highway transportation infrastructure.
Partners in this project are the Illinois Department of Transportation, the Chicago Department of Transportation, and members of the Association of American Railroads, including BNSF Railway, Canadian Pacific Railway, Canadian National Railway, CSX Transportation, Norfolk Southern Corporation, Union Pacific Railroad, and Metra.
With freight demand in Chicago expected to double in the next 20 years, CREATE will develop options to provide increased rail infrastructure and capacity. CREATE will invest $1.5 billion to improve rail freight flow and will bring public benefits in the form of new jobs, economic development, air quality improvements, reductions in shipping costs, improved passenger rail service, and reductions in highway usage for freight movements.
According to Division Administrator Norman Stoner with the FHWA Illinois Division Office, "Within the CREATE program there is much promise and great expectations for remarkable improvements in the way freight moves through the Chicago region and on to the Nation. FHWA's role has been and continues to be one of preparing the way so that CREATE does fulfill its promise and realize its expectations." CREATE is funded by public and private contributions. In addition, the six railroad partners will provide $212 million, an amount equal to the potential economic benefits of the improvements to the rail industry. The remaining funds will come from Federal, State, and local governments. The CREATE improvements will be implemented over the next 6 to 10 years.
For more information, visit www.createprogram.org.
FHWA and AASHTO intend to vet the results of the survey and conference with FHWA division administrators and State DOT chief executive officers to solicit their input and buy-in. The FHWA Freight Council and AASHTO have formed subcommittees to act on a number of the next steps and develop a template position description for the State-level freight coordinator. To help develop the template, FHWA and AASHTO will compare position descriptions used by State DOTs to operating practices already in place in freight offices. Aspects of these descriptions, along with the results of the conference, will be used to create the template.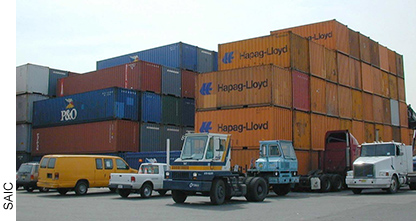 These shipping containers are stacked up, waiting to be loaded for transportation to their final destination.
FHWA and AASHTO will continue to collaborate in support of activities that advance the freight coordinator effort as well as freight transportation overall. Now that the survey and conference are complete, the goals are to continue working toward better integration of freight projects into the planning process and to ensure that America's freight keeps on trucking.
---
Joanne Sedor is a transportation specialist in FHWA's Office of Freight Management and Operations. As a member of the Freight Policy and Communications teams, she analyzes freight issues and trends and writes about them in publications. Prior to joining the Freight Office in 2001, Sedor was a senior analyst and project manager at the Congressional Office of Technology Assessment.
For more information, contact Carol Keenan at 202-366-6693 or carol.keenan@fhwa.dot.gov, or visit http://ops.fhwa.dot.gov/freight/.