An Olympic Event: Handling Transportation During The Olympics
Utah is a state with a population of 2.2 million people. In February 2002, thousands of visitors from around the world are expected to descend upon the state for the 2002 Winter Olympic Games. Taking on such an Olympic event is a monumental task to say the least —especially when it comes to transportation. The Utah Department of Transportation (UDOT) and its partners are facing this challenge head on with a comprehensive plan aimed at ensuring that the Olympic spectators and athletes, as well as the residents of Utah, experience a transportation system that is safe and highly efficient.
With approximately 9,500 kilometers (5,855 miles) of state roads, UDOT gathered as much information as possible about the impact the Olympic Games will have on the state's freeway system. The information was crucial in planning for this international event. Lessons learned from other Olympic Games around the world helped UDOT to prepare for the Olympic Games and to create an effective travel demand management (TDM) program to handle the anticipated, increased traffic during the Games.
UDOT's goals are to get athletes and spectators to Olympic venues in an efficient and timely manner and to reduce background traffic by 20 percent. A traffic analysis for the Olympic Games showed that, in order to reduce congestion and delays, many of Utah's highways and major roads required various reconstruction or improvement. One of our partners, the Federal Highway Administration (FHWA), played a critical role in planning and expediting the Olympic transportation plan.
Under federal law, states and cities that host the Olympic Games qualify for federal funding. Nearly $89 million in federal funds were used to build and improve access roads to the Olympic venues, improve major interchanges, and reconstruct major rural highways that will experience the bulk of the Olympic traffic.
It is estimated that more than 40,000 people will travel on Interstate 80 to four different events in Summit and Wasatch counties. I-80 is the major east-west thoroughfare in the western United States. To meet the anticipated demand of motorists traveling to Olympic venues in Summit County, which includes Park City and Deer Valley, and in Wasatch County, which includes Heber and Midway, two major interchange reconstruction projects on I-80 have been completed. Both of the interchanges, Kimball Junction (I-80 and state Route 224) and Silver Creek Junction (I-80 and U.S. Route 40), had reached their original design capacity and structural stability life, and they needed improvement whether or not the Olympic Games were happening.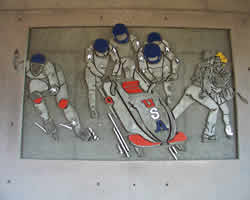 In particular, at Kimball Junction, the gateway to the Utah Olympic Sports Park, Park City, and Deer Valley areas, a new single-point urban interchange (SPUI) was built. The SPUI is designed to allow more vehicles to travel through this major interchange on widened on-ramps and off-ramps. Also, with the installation of Intelligent Transportation System (ITS) devices, UDOT officials can monitor traffic flow at the interchange and control the signals before and after an Olympic event to keep traffic moving as smoothly as possible.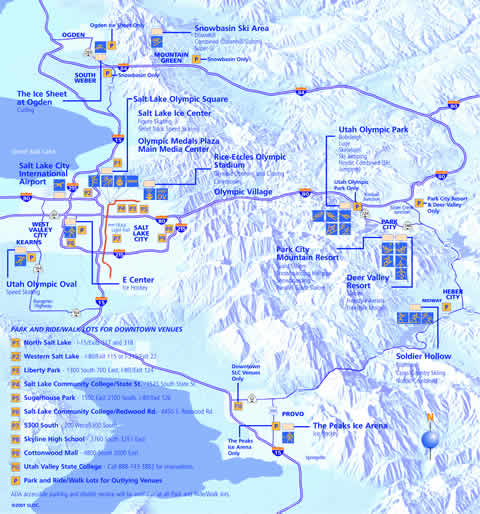 Several ITS devices were installed along I-80, a major canyon corridor that experiences extreme inclement weather. In less than a year, UDOT completed a $2.5 million design-build ITS project from Salt Lake County to the Silver Creek Junction that connects to U.S. 40. With closed-circuit television cameras, variable message signs, road/weather information systems, and congestion detectors, UDOT is able to better monitor and manage that traffic corridor.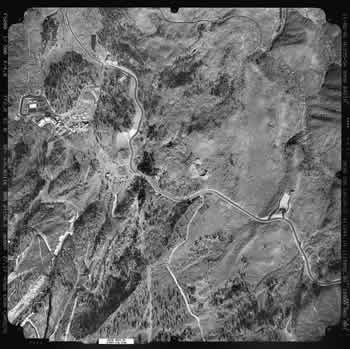 Improving access to several of the Olympic venues was another challenge for UDOT. For example, Snowbasin Ski Resort, a small remote ski area located about 80 kilometers (50 miles) north of Salt Lake City, is host to one of the most popular Olympic events - downhill racing. Access to Snowbasin was limited to a two-lane, winding, mountain highway, and this posed a major problem for athletes, spectators, officials, and volunteers. The solution was to design and construct a second road approximately 7.3 kilometers (4.5 miles) long to serve as the main access road to the venue site.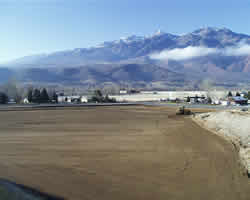 A total of eight highway improvement projects, including the major thoroughfares of I-80, U.S. 40, U.S. 89, and state Route 248, were completed by UDOT. Analysts predicted that without theseimprovements, approximately 50 percent of the Olympic spectators would be late to an Olympic event and that the only way to avoid such delays would be to have spectators arrive at least four hours before an event.
To help avoid delays and reduce some of the traffic along Utah's highways, an expanded and accessible mass transit system was also necessary. UDOT worked with the Utah Transit Authority on its TRAX light-rail system and its fixed bus service in the Salt Lake Valley, which stretches 130 kilometers (80 miles) from Ogden to Provo. But the system needed to service not only the Salt Lake Valley area, where the majority of Utah's population resides, but also east through the Wasatch mountain range to the Park City, Heber/Midway, and Snowbasin areas. Because access to most of the venue sites is highly restricted, the challenge became getting spectators to their venues in ample time to see the events. A proposal to build "park-and-ride" lots or "park-and-walk" lots near venue sites became a main focus of UDOT's transportation plan. Federal funds helped to construct six temporary park-and-ride or park-and-walk lots.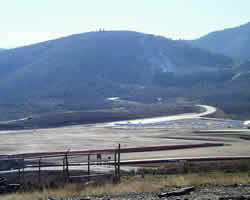 In Park City, crews worked to clear and build a 33.6-hectare (83-acre) temporary, paved lot along U.S. 40 at Silver Summit. The lot serves as the pick-up and drop-off point for hundreds of borrowed transit buses and rented motor coaches that will be used to transport spectators, skiers, and visitors to and from downtown Park City, the local ski areas, and Olympic venues.
The Utah Olympic Sports Park, host to the ski jumping, bobsleigh, luge, and skeleton events had been operating for years with limited access via a neighborhood road. A newly constructed access road and a new temporary park-and-walk lot now provide spectators, media, and athletes an easy trip to the sports park.
But the construction of the temporary lots doesn't mark the end of work for crews. In the final phase of the project, after the Games, UDOT must restore all of the temporary lots to their original state by removing the recycled asphalt base, recontouring, spreading topsoil, and revegetating the areas.
UDOT's challenge was not only to build and restore temporary park-and-ride/walk lots and to reconstruct and improve the roadways, but it was also imperative to create an overall Olympic transportation plan that involved the joint efforts of FHWA, UDOT, Utah Transit Authority, cities, counties, and the Salt Lake Organizing Committee (SLOC). With financial help from FHWA to the tune of nearly $5.5 million, officials from these agencies have worked for years to plan, create, and implement a unified program to keep traffic moving smoothly during the Olympics.
A piece of the transportation program is a public information campaign called "Know Before You Go." This campaign is designed to inform commuters, Olympic spectators, commercial drivers, and residents about the best routes to take during the Olympic Games whether or not they are attending the Games. A 36-page Official Olympic Transportation Guide contains detailed maps highlighting road closures and restrictions, suggested routes, and crucial public transit information. A half-million copies of the transportation guide, printed in November, are available free to the public in local chain grocery stores throughout the state.
As part of "Know Before You Go," an ITS Web site (www.utahcommuterlink.com) was designed to give travelers real-time information about traffic conditions, road closures, weather conditions, and the best routes to take during the Olympics. In fact, people are able to sign up to receive e-mail alerts that inform them about the latest traffic incidents and road conditions.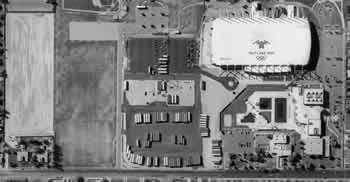 The "Know Before You Go" campaign goes beyond just transportation guides and the Web site. The effort is reaching out to businesses and explaining how the Olympic Games will affect their workplace and employees. The campaign also includes a "Business Game Plan" to help companies cope with the challenges of conducting business during the Olympics and to emphasize the important role that each company can play to reduce normal traffic during peak hours. Transportation representatives have been meeting with employers and their employees to talk about strategies such as alternating work schedules, car-pooling or ride-sharing, using the mass transit TRAX light-rail and bus systems, telecommuting, and alternating delivery schedules. All of these methods should prove to be helpful in managing traffic flow.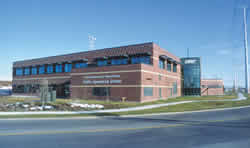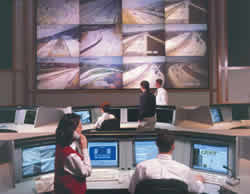 Federal participation has helped to build a $121 million technology program that includes a new state-of-the-art nerve center, the Traffic Operations Center (TOC). The TOC is the muscle and brain behind Utah's transportation management program, CommuterLinkSM. The CommuterLinkSM system has already helped UDOT and its partners to improve the traffic flow on roads and highways, as well as the mass transit system, throughout the Wasatch Front. The system will be the key technology source for keeping traffic and public transit moving smoothly during the Winter Olympic Games in February 2002. Information from approximately 200 closed-circuit TV cameras, congestion detectors, 55 variable message signs, 540 traffic signal controls, ramp meters, and 21 weather sensors is processed through the TOC. The TOC uses this real-time information to determine what steps should be taken to help clear up congested areas and to dispatch highway crews to help maintain a steady traffic flow. Then, the important traffic data are delivered to the public with up-to-the-minute traffic information on the variable message signs, via radio, through TV traffic reports, and over the Internet.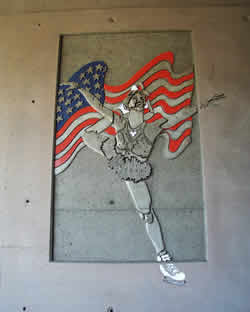 In addition, the system's weather sensors provide up-to-date weather information, allowing UDOT to alert motorists about snow-packed and icy road conditions. It is also helpful to road maintenance crews for an effective snow removal plan.
Because the weather sensor data can help forecast when it will freeze, UDOT can proactively put into place its anti-icing technology program. At least one hour before a major snowstorm, a liquid chemical that prevents ice from adhering to the road surface is sprayed on the roadways, helping to avoid black ice conditions and reducing snow accumulation. While this anti-icing method has been used over the past few years on select roadways, its use is being expanded this winter to cover most of the Salt Lake Valley freeways and major roads.
UDOT is increasing its snow removal force to provide the highest level of service during the Olympics. A total of 125 trucks will be plowing the roadways. These additional truck drivers, along with UDOT maintenance and construction crews, will also serve as extra eyes and ears on the roadways. These traffic observers will be key in reporting road conditions and helping UDOT maintain an efficient flow of traffic.
In December 2001, UDOT launched its toll-free 5-1-1 traveler information hotline. Before hitting the road, travelers are able to dial 5-1-1 on any phone to hear the latest traffic updates, current road conditions, public transportation information, and weather forecast. This voice-activated information line is part of a nationwide program approved by the Federal Communications Commission (FCC) to give real-time information to travelers. UDOT is one of five state departments of transportation designated as an early adopter of the program and has participated in writing the national guidelines for the 5-1-1 line based on the needs of travelers. UDOT is designing its 5-1-1 system to handle an average of 350,000 calls per month, but the system will handle an overflow of calls, if necessary.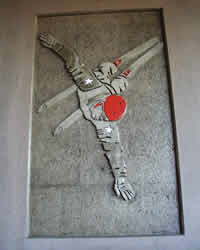 UDOT's ambitious goals are to reduce freeway accidents by 20 percent, reduce freeway delays by 30 percent, increase peak-hour speeds by 15 percent, and reduce signal stops by 20 percent. By meeting these goals, UDOT will save highway users in the Salt Lake Valley more than $100 million per year.
However, putting the pieces together for this Olympic-sized transportation plan is not just about technology, construction, and information. UDOT has tied the entire project together with a beautification project that celebrates the Olympic spirit. Along several state highway bridges and interchange areas, motorists can see about 80 unique, concrete murals that highlight various Winter Olympic sports and Utah's natural scenery. The concrete murals are cast directly into the existingdesign and structure of the concrete walls, turning the concrete structures into works of art. The murals, generously contributed by local contractors, capture the commitment and strength of Olympic athletes. These lasting impressions also symbolizethe commitment that UDOT, federal, Olympic, state, and local officials have made to help ensure that transportation runs safely and smoothly during one of the most exciting and important events in Utah's history.
---
John R. Njord is the executive director of the Utah Department of Transportation. Serving in this position since May 2001, Njord leads an agency of 1,800 employees with responsibility for the design, construction, and maintenance of the state's 9,500-kilometer (almost 6,000-mile) system of roads and highways. He joined the department in 1988, and he most recently served as the deputy director and chief engineer. He also served as the UDOT director of transportation planning with the Salt Lake Organizing Committee; in this position, he was responsible for transportation planning for the Olympic Games. He is a member of the American Society of Civil Engineers and the American Association of State Highway and Transportation Officials (AASHTO). He is the vice chair of the AASHTO Standing Committee on Environment. Njord is a graduate of the University of Utah with a bachelor's degree in civil engineering, and he is a registered professional engineer.