Highways For LIFE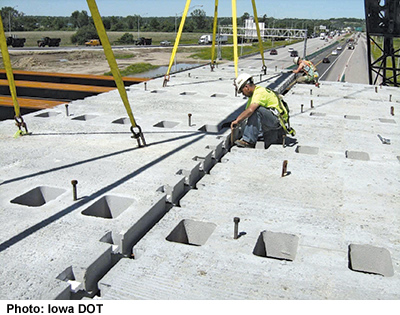 The pilot program has facilitated adoption of many innovative technologies ranging from prefab bridge components to all-weather pavement markings, and more.
America's highway professionals face a daunting challenge. Many roadways need repair, but the Highway Trust Fund, created to pay the bills, is falling short. Even if sufficient funding were available, using traditional design and construction approaches to fix an already-congested system would cause even more traffic delays.
Under a program established by the U.S. Congress in 2005, the Federal Highway Administration (FHWA) is boosting awareness of and, ultimately, standard use of innovations that can produce better, longer lasting roadways and bridges. These innovations can help highway agencies complete construction faster, at lower cost, and more safely with less impact on the driving public. A comprehensive technology transfer effort, the Highways for LIFE program is using proven marketing approaches and dedicated teams to deploy innovations more effectively and is helping private industry move prototypes of promising innovations into the marketplace where they can benefit the traveling public. LIFE is an acronym for Long-lasting, Innovative, Fast construction, Efficient, and safe, all characteristics of the ideal highway or bridge construction project. The program also is providing incentives to encourage highway agencies to use customer-focused performance goals to improve construction of highways and bridges.
The result has been a validation of the Highways for LIFE vision put forth 5 years ago. "Implementation of innovative methods and materials can take many years," says Mary Lou Ralls, principal of Texas engineering consulting firm Ralls Newman, LLC. "The Highways for LIFE program has accelerated that process significantly."
Program Highlights
Involving stakeholders. Successful adoption of innovation requires stakeholder involvement. From the very beginning, FHWA established a process to involve organizations and people affected by the Nation's highway system. Before plans began for Highways for LIFE, leaders of State departments of transportation (DOTs), construction and highway engineering design firms, and various trade associations and organizations representing the traveling public were asked for their input on needs in the highway community. Later, as plans began to be made for the effort to accelerate highway construction, groups of these individuals were brought into the U.S. Department of Transportation (USDOT) headquarters to discuss the characteristics that the effort should contain. USDOT brought these concepts into the development and later into operation of the program, and stakeholder input has continued into the present.
Enhancing technology deployment. Highways for LIFE has developed a more effective way to encourage adoption of high-payoff innovations. Teams of technical and marketing experts identify critical needs and obstacles, develop marketing plans, and create implementation tactics and communications tools to support those plans. The teams make presentations at technical meetings and host workshops, peer exchanges, and demonstration projects for potential users. They partner with organizations throughout the highway community to champion the technologies.
Moving emerging private sector innovations into the marketplace. The program's Technology Partnerships help private sector innovations make the leap from promising late-stage prototypes to market-ready products. By providing funds to refine and test the best ideas developed by industry under real-world conditions, the program fills a critical gap in development of innovations. FHWA has awarded seven grants totaling $2.3 million and expects to announce additional grant awards in 2010.
Employing demonstration projects. Incentive funding offered to States enables them to pilot innovative approaches. Between 2005 and October 2009, the program awarded approximately $25 million to 25 demonstration projects in 21 States, highlighting more than two dozen innovations, such as wider use of accelerated bridge construction techniques and innovative, performance-based contracting.
Developing a new business model. FHWA encourages States to develop performance goals that define results in key areas--safety, construction time and congestion, quality, and user satisfaction. As a result, the program is fostering a new business model for managing highway project delivery. Setting performance goals for a construction project is a new concept for most State DOTs. Highways for LIFE wanted the States to stretch their goals to go beyond what is required in the American Association of State Highway and Transportation Officials' (AASHTO) design guide to satisfy motorists.
Evaluating success. Documentation is a valuable resource for decisionmakers and practitioners as they adopt innovation. For each demonstration project, FHWA is producing a summary report on success in meeting performance goals. The reports, which also compare the costs and benefits of using the innovation compared to traditional construction, will guide decisionmakers as they choose the best solutions for future projects.
Technology Deployment
In asking the question, "How can we get innovations into use faster?" FHWA found that often, promising innovations that come from research efforts are simply announced, or a report is released, with no formalized effort to encourage their use. The Highways for LIFE team determined to set up and pilot an ideal approach for deployment through several representative innovations. These innovations, called Vanguard Technologies, would lead the way toward a more aggressive approach to get innovations into use faster.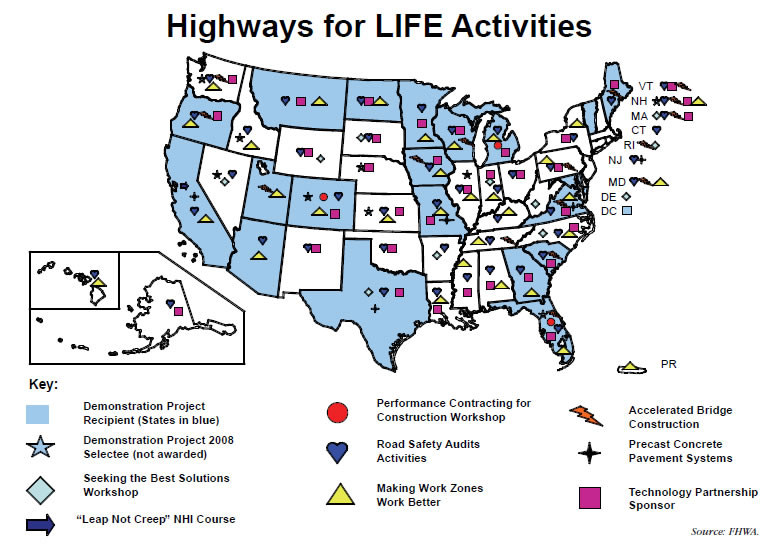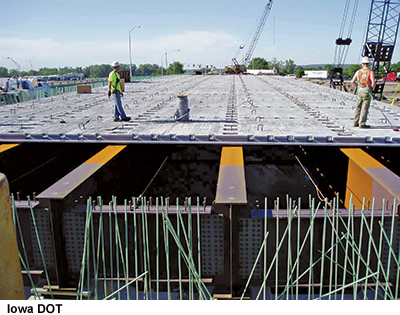 One of the Vanguard Technologies is road safety audits (RSAs), which make highway segments or intersections safer by a multidisciplinary team taking an indepth look at the roadway or intersection. For example, when crashes increased on a stretch of highway in Virginia, an RSA team investigated in May 2005. A law enforcement member of the team reviewed crash reports and found most crashes occurred at night and involved older drivers who had trouble seeing the turnoff to their retirement community after driving through a brightly lit intersection. The team uncovered other safety issues, suchas an obscured STOP sign and a steep ditch at the intersection. The team recommended simple, low-cost solutions that improved safety: a street light, better signage, and a dedicated turn lane, the construction of which eliminated the ditch.
What makes the Vanguard Technologies approach so effective is that it uses a combination of proven marketing techniques, vocal leadership, and dedicated funding to move technologies all the way to full implementation. The program's Guide to Creating an Effective Marketing Plan is a step-by-step manual that any agency or organization can use to build marketing plans for deploying innovations and other highway-related initiatives.
The RSA deployment team developed a marketing plan for promoting a workshop on conducting audits, targeted 34 States--based on their crash numbers--to undergo audit training, and set a 2010 goal for documenting RSAs in all strategic highway safety plans. The team also developed a peer exchange program to provide technical assistance, and 38 States have held RSA workshops for local governments. Several States, including Arizona, Tennessee, and Virginia, have staff members who manage their RSA program, and many States have made audits their standard approach. Followup research found that crashes, fatalities, and injuries decreased after highway agencies conducted RSAs and implemented the audit teams' recommendations.
Already the Vanguard Technologies effort is paying off in other ways as well. In addition to RSAs, other Vanguard Technologies include accelerated bridge construction, precast concrete pavement systems, techniques for making work zones work better, and, most recently, the safety edge, a beveled pavement edge designed to prevent loss of vehicle control from pavement dropoff.
Twenty-five States plus Puerto Rico have used prefabricated bridge elements and systems, a key component of accelerated bridge construction. Contractors manufacture the components away from the construction site or adjacent to it. The technique limits traffic disruption, improves work zone safety, and lowers construction costs.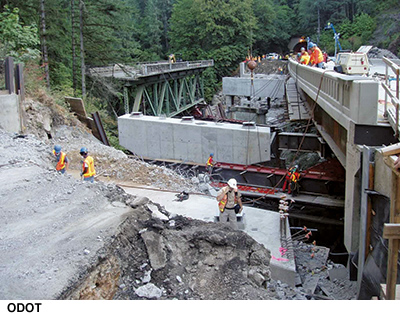 The Oregon Department of Transportation (ODOT) used prefabricated bridge elements made with high-performance concrete to replace five bridges on Oregon 38. Formulated for enhanced strength and durability, high-performance concrete is a cost-effective way to increase infrastructure life and reduce maintenance. ODOT accelerated construction by building the new bridges next to the existing structures and sliding them into place overnight on a rail system. The techniques greatly minimized disruption to the traveling public and freight carriers by eliminating the need for a 50-mile (80-kilometer) detour.
For its marketing plan, Highways for LIFE's Prefabricated Bridge Elements and Systems deployment team set a 2010 goal for all States to make it a standard practice for bridge design and construction to use prefabricated elements and systems. The plan focuses on using product demonstrations as a marketing tool, combining workshops and site visits to convince States to try the technology. So far, some 23 States have tried the technology and consider it a viable design option.
Eight States--California, Illinois, Missouri, New Jersey, New York, Texas, Utah, and Virginia--have used or are planning to try precast concrete pavement systems, an approach that could revolutionize highway repair. Contractors form concrete pavement panels offsite and install them in just hours when traffic volume is low. The process reduces traffic congestion, makes construction safer, and provides more durable pavements.
The Maine Department of Transportation (MaineDOT) used precast, prestressed concrete superstructures, built offsite in a controlled environment, when it replaced two bridges near Old Town and Addison. The technique enhanced the structures' durability and reduced construction time. MaineDOT also used full road closures to accelerate construction and reduce the impact on drivers. The shortened schedule enabled workers to complete the bridges during the summer and avoided long detours for schoolbuses.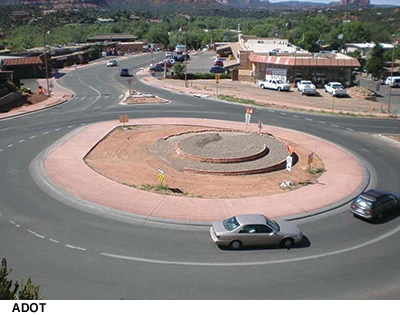 For the first time, the Georgia Department of Transportation built a bridge using precast concrete elements in both the substructure and superstructure. The project, a new interchange on I-85, also used a design-build approach that required contractors to meet performance measures in their bids. Project goals to lessen construction-related congestion included cutting construction time by 40 percent through contract incentives and clearing in less than 20 minutes all work zone incidents that do not involve injuries. Construction ended after 16.5 months, 13.5 months less than with traditional construction methods.
In its marketing plan, the Precast Concrete Pavement Systems deployment team set a 2013 goal for a dozen States to adopt use of precast concrete pavement as a standard approach. (In some cases, a standard approach is the only method approved for accomplishing a particular activity. In others, it may be one of several approved options, depending on the particular application.) Marketing tactics include Web conferences, technology demonstrations, and dissemination of technical information through DVDs and the Highways for LIFE Web site.
The Making Work Zones Work Better initiative helps highway agencies better understand the potential impact of work zones, improve their work zone management programs, and use product and system innovations to lessen the impact on construction crews and the public. The deployment team's goal is to increase the number of States that use innovative management strategies and tools to assess work zone impacts. Key components of the marketing plan are peer-to-peer exchanges, workshops, and project assessment assistance. The plan also calls for developing resources such as manuals, guidance documents, and traffic analysis tools.
Workshops
Through workshops, Highways for LIFE is helping DOTs apply a new business model for managing highway project delivery. A workshop called Seeking the Best Solutions helps agencies develop processes for setting customer-focused performance goals and incorporating innovations into highway projects. By the end of 2009, workshops had occurred in 10 States: Arkansas, Delaware, Indiana, Massachusetts, Nevada, North Carolina, Rhode Island, South Dakota, Texas, and West Virginia.
Highways for LIFE also developed the Performance Contracting for Construction workshop and tested it in Colorado, Florida, and Michigan. In performance contracting, a highway agency defines performance goals for projects, and the contractor has the flexibility to determine how to accomplish those goals.
As a result of the workshop, the Michigan Department of Transportation (MDOT) used performance-based contracting when reconstructing part of a rural road. Rather than saying what to do and how to do it, the agency developed a contract that made the contractor responsible for meeting goals in pavement performance, work zone safety, and travel delays. The contractor had the flexibility to propose innovations to achieve the goals, including a new pavement design to better ensure performance and addition of a temporary travel lane to speed construction and reduce traffic delays.
Florida plans to pilot four performance contracts for pavement resurfacing in 2010.
Highways for LIFE also sponsors workshops on accelerated bridge construction, customized for each State. So far, California, Florida, Iowa, Louisiana, Massachusetts, New Hampshire, Pennsylvania, Tennessee, Utah, Washington, and Wisconsin have held workshops.
A new training course, Leap Not Creep: Accelerating Innovation Implementation (FHWA-NHI-134073), helps transportation professionals put innovations to work quickly and make them part of their standard procedures. Piloted in California in 2008 and launched in 2009, it is the first National Highway Institute (NHI) training focused on technology deployment.
Information dissemination is an essential component of technology deployment, both to help transportation stakeholders use innovations effectively and to expand awareness of the Highways for LIFE mission to improve the American driving experience. The initiative uses a full range of communications tools to tell the innovation story, including workshops, showcases, presentations, brochures, handouts, trade shows, DVDs, videos, reports, and articles in industry publications. "The efforts aim to put the information, tools, and training the highway community needs to transform itself into the hands of those who can make it happen," says Highways for LIFE team leader Byron Lord.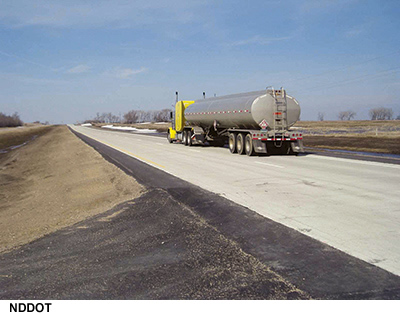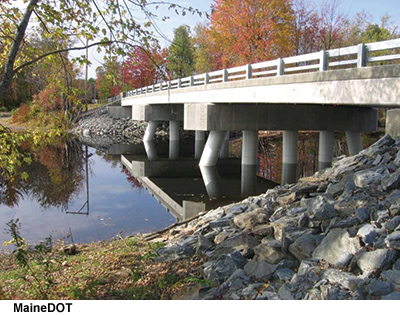 Moving Emerging Innovations into the Marketplace
The Technology Partnerships program helps the private sector test and evaluate emerging highway technologies and move them closer to commercialization. FHWA acts as a broker and engages highway agencies to evaluate the innovations on real-world projects. The program capitalizes on private sector creativity by funding the best ideas already developed by industry, filling a critical funding gap in the final development of innovations.
Thirty-three State DOTs have evaluated technologies developed by five companies that were awarded grants in 2007; 14 States have evaluated more than one technology. At the end of the award period, the DOTs will have valuable experience in using the innovations and will be able to champion their deployment.
3MT is using a Technology Partnerships grant to adapt its all-weather pavement marking system for use in work zones. The goal is a cost-effective system that maintains visibility, enhances driver safety in all types of weather, and meets work zone requirements such as fast application and drying times. The prototype incorporates specially designed wet-reflective optical materials into pavement marking paint, which could make driving through work zones on rainy nights easier and safer.
Stay Alert Safety Services, Inc., is developing another safety-related prototype, an automated system to install pavement markers. The reflective markers enhance roadway safety by enabling drivers to see lanes at night, but installing them by hand is dangerous for highway workers. The company developed an automated system that can be mounted on standard equipment to apply adhesive to the roadway and press the markers into place with a robotic arm. The company will test the system on projects for the North Carolina Department of Transportation.
Three grant awards feature innovations to assess the aggregates and quality of asphalt pavement, which is used on 94 percent of the country's paved roads. Haskell Lemon Construction Company developed an intelligent asphalt compaction analyzer (IACA) that fits on a vibratory compactor. Good compaction of newly applied hot-mix asphalt helps ensure a longer lasting roadway, but until now compaction was tested on hardened asphalt. The new system provides real-time data so inconsistencies can be fixed while the asphalt is still pliable. The company is testing it on real-world construction projects in nine States.
The composition of aggregates used in pavement surfaces affects durability and skid resistance. Pine Instrument Company developed an aggregate imaging system (AIMS), which combines hardware that captures real-time digital images of paving material samples and software that analyzes shape, texture, and ratio characteristics of aggregates to improve the speed and accuracy of testing.
The way asphalt responds to low temperatures is critical to its performance. EZ Asphalt Technology, LLC developed an asphalt binder cracking device (ABCD), a simple and reliable method to test the cracking potential at different temperatures of the binders used in asphalt. The device will assist the industry in predicting and preventing asphalt failure due to cracking at low temperatures, extending the life of pavements and reducing the need for patching or repaving. More than 25laboratories participated in the interlaboratory studies of the AIMS and the ABCD to assess the repeatability and reproducibility of the equipment. The AASHTO Subcommittee on Materials is considering publishing a provisional standard utilizing the AIMS equipment.
Other grant awards will demonstrate the application of two new bridge technologies. Prefabricated bridge bents, also known as piers, have not been used in seismic regions because methods of making connections that are both structurally robust and quick to assemble were relatively unknown and not addressed in design specifications. Berger/Abam Engineers Inc., will demonstrate a totally precast concrete bridge bent system that can be used in seismic regions. The new technology, to be used on a bridge in Washington State, allows bridge bents to be prefabricated offsite, and the segments moved into place and assembled onto the bridge, greatly reducing construction time and traffic delays.
Precast panels manufactured from ultra-high performance concrete (UHPC) can provide significant durability improvements to bridge decks due to the high strength, extremely low permeability, and improved connection details inherent in the system. Coreslab® Structures will demonstrate the panel structural performance, the deck constructability, the field cast joint performance, and the overall bridge deck short- and long-term behaviors on a bridge in Wapello County, IA. The project will also deliver a life-cycle cost analysis addressing the viability of production, deployment, and operation of UHPC precast bridge deck panels.
Demonstration Construction Projects
Demonstration construction projects typically are showcases where transportation professionals from across the country can observe a variety of innovations in action. Stakeholders learn what it takes to deploy the innovations, see the benefits firsthand, and exchange information with peers. In turn, they take what they learn back to their own States to try on projects, accelerating the spread of innovations. Highways for LIFE reaches out to experts to champion innovations among their peers and supports their participation in showcases. These demonstration projects and their showcases also work hand-in-hand with other Highways for LIFE efforts such as the workshops and the Vanguard Technologies to move all of these initiatives forward at the same time.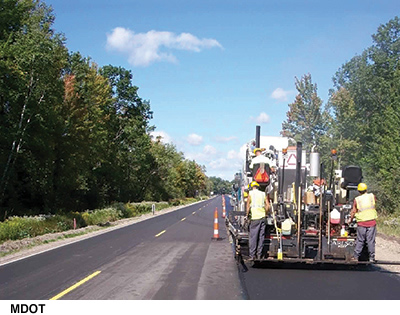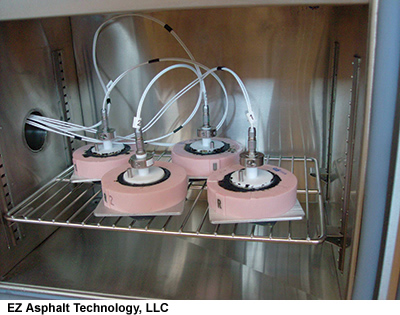 In 2006, as part of the Vanguard Technologies effort, the Utah Department of Transportation (UDOT) sent personnel to observe a Florida project where innovative equipment moved a prebuilt bridge into place overnight, saving motorists months of traffic disruption. Impressed, UDOT decided to try the technique itself. Helped by a Highways for LIFE demonstration project grant, UDOT used accelerated construction techniques to build a new structure alongside a bridge over I-215 in Salt Lake City while traffic flow continued unobstructed. UDOT removed the old structure and shifted the new one into place in one weekend with self-propelled modular transporters--computer-controlled vehicles that can move heavy loads with great precision.
As a result of UDOT's experience on that and 80 other bridge projects, the agency set a goal of making accelerated bridge construction standard practice by 2010. Other State DOTs, including some that sent representatives to watch Utah's bridge move, also are increasing their use of such techniques to build better bridges with much less traffic disruption.
Interest in the demonstration program has been high from the beginning. A 2009 call for projects resulted in 14 applications from 10 States and the District of Columbia. Each project gives a State DOT the opportunity to use an innovation with potential to boost quality and safety while cutting construction-related congestion. DOTs experience firsthand the benefit of setting project performance goals and applying innovative solutions to construction challenges, and adding those innovations to their toolkits for later projects.
"With limited funding and staff, many State DOTs are reluctant to step out front to try innovative methods or materials without additional funding to cover the cost difference for the first use of an innovation and without support in making a change from the status quo," says Ralls. "The Highways for LIFE program not only provides the needed additional funding, but also provides support to DOTs to assist them in implementing innovation."
The design-build delivery method is slashing years from the completion date of a project in Kansas City, MO. The Missouri Department of Transportation is rebuilding a section of I-29/I-35 to increase capacity, improve safety, and upgrade the Missouri River crossing. The project is using fixed-price, design-build contracting to encourage innovation in design, traffic management, and construction phasing.
The Iowa DOT used innovative contracting and construction to meet its commitment to city officials, businesses, and motorists to fast-track reconstruction of the 24th Street interchange in Council Bluffs. Rebuilding the overpass bridge using prefabricated bridge elements and contract incentives cut the construction time in half.
To stretch the funding available to meet a program goal of at least one project per State, FHWA limited individual grants to $1 million, lower than the $5 million limit set by Congress. But feedback from highway agencies indicates that $1million is not always sufficient to entice them to try innovations and incur the increased costs often associated with first-time use. A program requirement to start construction within 1 year of approval also has been a challenge because most agencies use a multiyear delivery process to identify and develop projects.
More Lessons Learned
Although hundreds of millions of dollars are spent on highway research year in and year out, only a fraction goes to deploying innovations and making them standard practice. Some believe that efforts to expand innovation can stop at the research level and innovations will be adopted automatically. As FHWA has demonstrated through Highways for LIFE, however, adequate resources--both qualified people and funding--also need to be dedicated to technology deployment. Successful deployment cannot end with introduction of the technology; it requires focused follow through all the way to mainstream implementation.
The program has shown that transportation agencies need incentives to use new technologies. Agencies face many barriers to innovation, including funding limits and low tolerance for risk taking because of public scrutiny and accountability. A program that encourages agencies to try new ideas by providing financial support and technical assistance can help overcome barriers.
Highways for LIFE also has found that transportation practitioners need training in marketing to accelerate technology deployment. Although proven marketing approaches are key to deployment, few transportation agencies have marketing professionals on their staffs. Just as effective marketing can persuade potential customers to try new consumer products, it can encourage highway professionals to try better ways to build roads and bridges.
The program also underscores the importance of involving stakeholders at both the national and local levels early in the innovation implementation. Stakeholder input and support are essential to make implementation a success. Not only does early involvement help overcome resistance to new techniques and practices, it enables stakeholders to offer their own insights and gear up to use innovations effectively.
Further still, members of the public--the highway system's ultimate customers--are more satisfied with a project's results if they are informed beforehand about its purpose and the innovations planned to enhance its outcome, and are given the opportunity to offer input.
The program also found that an effective way to advance innovation implementation is for potential users to witness new construction techniques firsthand. When potential users can see an innovation in action during a technology demonstration or project showcase, they gain a better understanding of its uses and benefits. They also gain confidence that the innovation works in real-life applications.
The Highways for LIFE team found that peer group support and testimonials are valuable tools in advancing innovation. Highway professionals trust what their peers tell them. They can learn much from their colleagues' experiences and benefit from technical advice on how to implement innovations at their own agencies.
FHWA's institutional knowledge and extensive network of contacts in the highway community enable it to play a national leadership role in technology advancement and deployment. In many cases, stakeholders become involved in initiatives such as Technology Partnerships and Vanguard Technologies because FHWA is leading the effort and brokering the participation of other transportation agencies and industry.
As Highways for LIFE has shown, agencies and organizations working together to advance an innovation need to coordinate and leverage their efforts to ensure optimal use of resources and the best results. Because it is a national leader in the highway community, FHWA can play a key role in coordinating innovation advancement to achieve the best results.
Continuing the Momentum
The Highways for LIFE pilot program is scheduled to conclude at the end of fiscal year 2009, but the need to carry out its concepts and philosophy continues. Given the Nation's economic state, the need is more urgent than ever.
"The perfect storm we find ourselves in, with the ever increasing competition for scarce funding and our continually aging and congested transportation system, demands that we accelerate the implementation of our promising research findings," says Sandra Larson, director of the Iowa DOT's Research and Technology Bureau. "Adoption of these promising innovations and new technologies will result in longer lasting, safer roads and bridges, and will ease the burden of this storm that is unlikely to clear off anytime soon."
Although FHWA actually builds few highways and bridges, it plays a national leadership role in encouraging the highway community to use the best solutions available to meet highway users' needs across the country. Through Highways for LIFE, FHWA has demonstrated a new business model for highway construction. The program has provided knowledge, incentives, and tools the highway community can use to obtain more value for every transportation dollar invested.
Ultimately, the success of Highways for LIFE is measured by its progress in achieving its mission: improving the American driving experience. "The program has enabled the highway community to make strides, but much work remains to be done," says Highways for LIFE team leader Lord. "The immediate payoff will be road and bridge construction done faster, more safely, and less expensively, with a better highway system the result. Over time, the outcome could be thousands of lives and billions of taxpayer dollars saved."
Kathleen A. Bergeron is a marketing specialist with FHWA in Washington, DC, and works mainly on the Highways for LIFE program. Before joining FHWA, she managed communications and marketing programs for consulting engineering firms and transportation agencies at the State and local levels. She has a bachelor's degree in journalism from the University of Texas at Austin and a master's degree in transportation management from San José State University.
For more information, contact Kathleen Bergeron at 202-366-5508 or kathleen.bergeron@dot.gov.
Learning Tools
Highways for LIFE has developed other ways to learn about innovation:
"Innovations" is a monthly Web conference on innovative technologies and practices. Highways for LIFE is partnering with NHI to advance Web conferencing as a new mode of technology delivery that enables highway professionals to take advantage of training without incurring travel expenses.
DVDs, including the award-winning "Prefabricated Bridge Elements & Systems Toolkit," "Road Safety Audit Toolki"Two-Lift Concrete Paving Videoconferenc"Precast Concrete Pavement Systems Videoconference," provide technical information on specific innovations and case histories of how States are using them.
The Highways for LIFE Web site at www.fhwa.dot.gov/hfl provides details on the initiative's projects and how to get involved.
Innovator, a bimonthly newsletter, chronicles the movement to improve the way highways are built.