2023 Build a Better Mousetrap Winners
Transportation's number one priority is safety, and this year's nominations for the Build a Better Mousetrap (BABM) national competition reflected this priority. Innovations from all over the country poured into the Federal Highway Administration touting successes in a variety of areas, including improving a dust control process, clearing culverts, providing safer rail and pedestrian crossings, establishing youth training programs, and creating public awareness outreach campaigns. According to Joe Conway, FHWA's Center for Local Aid Support director, "the submissions are better and better every year! Selecting just four winners is a tough task because the State, local, and Tribal agencies are putting their best foot forward to solve problems and communities benefit." 
 
The BABM national competition highlights innovative solutions in transportation programs. Benefits of the competition include encouraging collaboration, motivating others, and improving business practices. This year, FHWA received 53 nominations across four award categories: Innovative Project, Smart Transformation, Bold Steps, and Pioneer. The 2023 BABM winners were announced this past summer during the annual National Local & Tribal Technical Assistance Program Association Conference in Columbus, OH.
Innovative Project Award Winner: The Confederated Tribes and Bands of the Yakama Nation
The Yakama Nation is a federally recognized Tribe that manages approximately 1,200 miles (1.931 kilometers) of public roads. Most of the roads are in rural agricultural settings where crashes happen every day. Some of those crashes result in serious injuries and are fatal. Their solution is the Mobile Unit Sensing Traffic (MUST) device, which is a comprehensive roadside sensing communication system tailored specifically for Tribal and rural roads. It is equipped with a multisensing camera and sensors that can monitor traffic, detect dangerous events, and provide real-time warning messages to users. "The successful deployment of our system has yielded invaluable safety data that supports our traffic planning efforts and enhances our ability to secure grants for future projects," says Yakama Nation representative HollyAnna DeCoteau Littlebull.
 
Pioneer Award Winner: City of Walnut Creek, CA
Maintaining traffic signal visibility requires trained personnel and regular inspections that are labor intensive. The City of Walnut Creek's solution is the implementation of an automated process to assess traffic signal visibility using off-the-shelf hardware components such as a cell phone with a built-in camera and GPS receiver, a windshield phone mount, and a laptop computer. The new process "saves time, increases accuracy, and significantly reduces the risk of error and danger to agency personnel and, ultimately, for the roadway users," according to Matt Redmond with the City of Walnut Creek.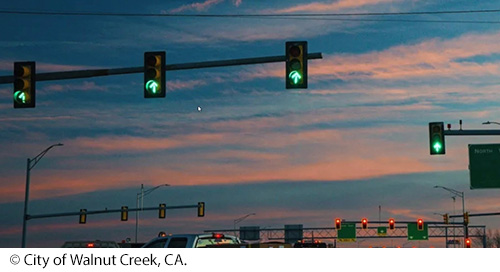 SMART Transformation Award Winner: St. Louis County Public Works Department, MN
The St. Louis County Public Works Department is responsible for the maintenance and snow removal of approximately 3,000 miles (4.828 kilometers) of roads. Road conditions can vary greatly at any given time during winter storms. Therefore, the county needed more accurate and immediate access to information to assist with emergency response. Their solution was to purchase 51 inexpensive solar-powered remote cameras. Brian Boder, deputy director of maintenance at the St. Louis County Public Works Department, says, "This option decreases service intervals and improves cold weather performance." The cameras are compatible with virtually any cellular network and are capable of being remotely operated.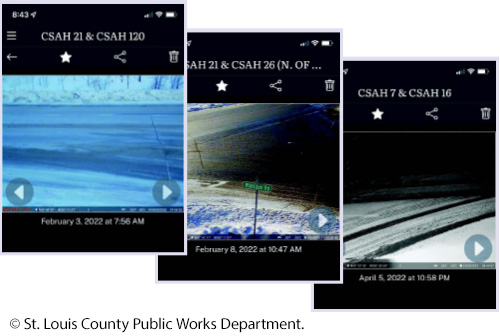 Bold Steps Award Winner: New Jersey Department of Transportation (NJDOT)
The Route 71 Drawbridge was built in 1932 and is heavily traveled. The mechanical span lock equipment that allows the bridge to open and close safely failed in 2021, causing damage to the structural steel. After much discussion and research, NJDOT's solution was to reduce the roadway to one lane in each direction to balance the load traveling over the bridge. This distribution of traffic (or Road Diet) moved travel lanes away from the damaged centersection of the bridge and was implemented in stages over the course of one month. Gerald Oliveto, a moveable bridge subject matter expert at NJDOT, says, "Taxpayer funds were effectively and efficiently used to preserve the existing drawbridge while also enhancing bicycle, pedestrian, and motorist safety on the roadway."
 
The BABM winners will be featured in the next Local Aid Support's newsletter and in various webinars and social media posts throughout the year. To subscribe to the newsletter, visit https://public.govdelivery.com/accounts/USDOTFHWA/subscriber/new?topic_id=USDOTFHWA_153.  For more information on BABM, visit: https://www.fhwa.dot.gov/clas/babm/.

Trinette Ballard is a Local Aid Support program manager in the Office of Transportation Innovation and Workforce Solutions and has been with FHWA for 16 years.