Along the Road
Public Information and Information Exchange
 
TFHRC Launches a Virtual Tour
A self-guided virtual tour of the Turner-Fairbank Highway Research Center (TFHRC) will soon be available on the Federal Highway Administration's website from a desktop or mobile device.

Launching in late 2023/early 2024, the virtual tour for this one-of-a-kind research center features close-up looks into 6 of the 15 laboratories that conduct the cutting-edge research and development activities for which TFHRC is known. With a click of the mouse, visitors can also virtually stroll through the TFHRC lobby filled with informational displays, learn about the center's state-of-the-art laboratory equipment, and participate in special activities created for elementary and secondary school students.
 
The tour explores the Chemistry Laboratory, the Federal Outdoor Impact Laboratory, the Human Factors Laboratory, the J. Sterling Jones Hydraulics Research Laboratory, the Saxton Transportation Operations Laboratory, and the Structures Laboratory. Similar to an in-person tour, FHWA researchers share information on the frequently used and unique high-tech equipment that enables their ground-breaking studies. This information is shared with visitors via clickable "touchpoints" highlighted throughout the rooms.

With special activities in Science, Technology, Engineering, and Mathematics (STEM), a visit to the STEM Activity Center will help inspire the next generation of transportation researchers and engineers; easy-to-follow videos illustrate activities—modeled after actual TFHRC research projects—that spark curiosity about infrastructure and the environment, road barriers and safety, communication among connected automated vehicles, and more.

For more information, or to delve into the room-by-room tours of selected TFHRC laboratories, visit https://highways.dot.gov/research.
ODOT to Invest Record Dollar Amount in Construction
In March 2023, the Ohio Department of Transportation (ODOT) announced a plan to invest a record $2.5 billion during this year's construction season, the time of year when priorities shift from winter activities to springtime construction and maintenance. This season's projects center on safety and maintaining infrastructure in a state of good repair.

More than 1,000 construction projects are scheduled across Ohio this year, including 31 new projects and 190 projects to reduce serious or deadly crashes on roadways. More than 5,700 miles of pavement and 823 bridges will be improved through resurfacing; microsurfacing; culvert replacements; chip sealing; bridge repairs; bridge replacements; lighting improvements; intersection improvements; widening; slide repair; bridge re-decking; and/or pavement replacements.
ODOT's construction plans are grouped together by districts and outlined in guides (https://www.transportation.ohio.gov/projects/construction-guides/construction-guides) by counties. The guides provide a brief description of each project, estimated start and finished dates, project costs, and impacts to traffic.

With the number of construction projects planned, ODOT is encouraging motorists to abide by the "Move Over" law—to cautiously shift over one lane, or slow down, when driving by any vehicle with flashing lights—when traveling through work zones. In 2022, 133 ODOT crews (including workers, vehicles, and equipment) were struck by vehicles while operating along Ohio roadways.

For more information, visit https://www.transportation.ohio.gov/about-us/news/statewide/2023-construction-kickoff.
Dust Storms Cause More Traffic Fatalities Than Previously Noted
A research study funded by the National Aeronautics and Space Administration's Health and Air Quality program and conducted by researchers at multiple institutions—including the National Oceanic and Atmospheric Administration's (NOAA) Air Resources Laboratory, George Mason University's College of Science and Center for Spatial Information Science and Systems, University of Texas at El Paso's Department of Earth, Environmental and Resource Sciences, and Freie Universität Berlin's (Germany) Institute of Meteorology—was published May 2023 in the Bulletin of the American Meteorological Society. The study revealed that dust storms contribute to a larger number of U.S. traffic fatalities than previously determined.

Dust storms, also referred to as sandstorms, can hurt a driver's visibility, causing a loss of control of the vehicle as strong winds lift large amounts of sand, dirt, and other debris off the ground and into the air. Research found that dust storms can also cause vehicles to lose traction and spin out of control.
 
Though dust storms can occur at any place where loose soil and high wind is present (e.g., baseball fields, farmlands, and construction sites), dust storm-related fatalities occur most often in the Southwest region of the United States (e.g., Arizona, New Mexico, Southern California, and Texas), where winds from strong storms kick up dust and sand in desert landscapes. The Autumn 2021 issue of Public Roads features the article, "Confronting the Storm: Arizona's Innovative Dust Detection and Warning System" (https://highways.dot.gov/public-roads/autumn-2021/03) that details the impact of dust storms and a state-of-the-art, fully automated dust storm detection and warning system developed by the Arizona Department of Transportation. The system works to detect dust storm events as well as warn drivers to modify their behavior when they occur.

After examining records from 2007 to 2017 for dust storm-related events as well as two NOAA databases alongside the Fatality Analysis Reporting System, researchers pinpointed 232 deaths from dust storm-related traffic incidents. Their findings were greater than previous datasets that reported only 10 to 39 deaths. Hence, the researchers were motivated to create a method by which to gather and analyze storm data more accurately; their method involved running code to collect information on every severe weather event that mentioned "dust" in their published reporting, among other search strategies. Researchers then took the important measure of manually examining each resulting event to ensure it was representative of a dust storm. Their updated searches revealed the number of deaths from dust storms ranged from 14 to 32 per year, which was also more than what had been officially recorded over the same decade.

To view the research article in its entirety, visit: https://journals.ametsoc.org/view/journals/bams/104/5/BAMS-D-22-0186.1.xml.
Is Happiness the Next Transportation Metric?
There are several potential causes of unhappiness while driving—crowded roadways, running late due to traffic, or the driving behaviors of other motorists. A recent study, published April 2023 in the American Association of State Highway and Transportation Officials Journal, aimed to determine whether traveler happiness could be a key transportation metric for planning projects alongside others, such as vehicles' miles traveled (the distance that vehicles travel on a specific road or network of roads over a certain period of time); crash rates (the number of crashes, traffic volume, and road length); and transit accessibility (how easily residents of a community can access public transit services and how well those services meet their needs). How happiness—an emotional state characterized by feelings of joy, satisfaction, contentment, and fulfillment—is impacted by infrastructure could soon be tracked by State departments of transportation.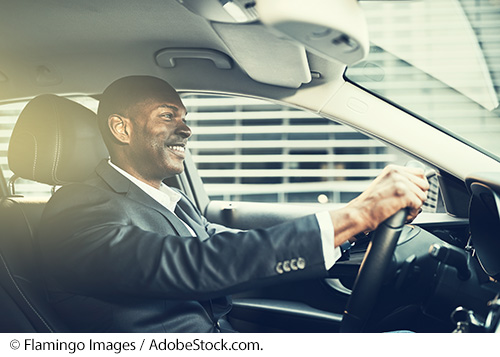 For this study, researchers developed a GPS-based smartphone application (app) to capture commuters' routes and modes of transportation (e.g., car, bus, bike, rail, or walking) in Minneapolis-St. Paul (MN) metropolitan region. At the conclusion of their commute, travelers indicated, via the app, how they felt from a list of options: happy, meaningful, painful, sad, tired, or stressed. The data inputted into the app powers a map—dubbed the Minneapolis-St. Paul Transportation Happiness Map (https://maps.umn.edu/transportation-happiness/)—and produces a visualization that illustrates spatiotemporal differences in travelers' happiness ratings on the region's streets and roads. Users of the map can extract data by selecting among 10 travel-mode options, seven time-of-day options, eight emotion options, and two statistic options (mean and median) to visualize patterns of transportation happiness.

From the information collected during the study, people commuting along a scenic riverside route were the happiest, and bicycling was deemed the happiest mode of transportation. Although it may take additional research, there is hope that happiness will be used as a metric to guide the building of infrastructure—both the type and location.
After Two-Year Dramatic Rise, Flat Fatality Rate Projected
As the National Highway Traffic Safety Administration (NHTSA) continues to gather and finalize data on crash fatalities for 2021 and 2022, statistical projections for the fourth quarter of 2022 represents the third straight quarterly decline in roadway fatalities across the Nation. This decrease comes after seven consecutive quarters of year-to-year increases, beginning with the third quarter of 2020.

In 2021, NHTSA also created a methodology to generate State-level fatality estimations. Twenty-seven States—including Arkansas, Ohio, Pennsylvania, Puerto Rico, South Carolina, and West Virginia—are projected to have decreases in fatalities in 2022; 23 are projected to have experience increases. Fatality rates were also grouped by NHTSA region, with five of the 10 NHTSA regions experiencing decreases in 2022:
NHTSA Region 3: Delaware, District of Columbia, Kentucky, Maryland, North Carolina, Virginia, and West Virginia.
NHTSA Region 4: Alabama, Florida, Georgia, South Carolina, and Tennessee.
NHTSA Region 5: Illinois, Indiana, Michigan, Minnesota, Ohio, and Wisconsin.
NHTSA Region 6: Louisiana, Mississippi, New Mexico, Oklahoma, and Texas.
NHTSA Region 7: Arkansas, Iowa, Kansas, Missouri, and Nebraska.
However, these regional estimates are subject to change as annual reports are finalized and released.

In 2022, the U.S. Department of Transportation published the Vulnerable Road User Safety Assessment to guide States on required 2023 assessments. This guidance addresses schedule and frequency, statutory and regulatory requirements, potential funding opportunities, and the relationship between the Vulnerable Road User Safety Assessment and other vulnerable road user activities. USDOT has also advanced the Manual on Uniform Traffic Control Devices rulemaking effort and issued a Standing General Order to collect data about crashes in vehicles equipped with automated driving systems and advanced driver assistance systems. These efforts are among several implemented by the Department with the goal of not only decreasing but eliminating preventable fatalities.
MDOT Receives 2022 Keep America Beautiful Award
The Mississippi Department of Transportation (MDOT) and Keep Mississippi Beautiful—a nonprofit organization working to inspire Mississippians to end littering, improve recycling, and beautify their community—received the 2022 State Agency Partnership Award at the Keep America Beautiful National Conference held in February 2023. MDOT was one of 16 State agencies across the Nation to be honored at the annual forum in Washington, D.C.

State departments of transportation and other State agencies at this conference are awarded based on their support of Keep America Beautiful State affiliates. MDOT was selected for its litter prevention efforts and its Trash Bash events, held in partnership with Keep Mississippi Beautiful as an annual roadway clean-up initiative. These events are known to make a huge impact statewide by removing a large amount of litter and debris from State highways. In 2016, for example, MDOT employees in total spent 30,526 hours picking up trash on the side of the road, which is equivalent to almost three and a half years.

For more information on litter prevention in Mississippi, visit https://litter.mdot.ms.gov/.
2024 Federal Agency Uniform Act Conference
The Federal Highway Administration is planning a 2024 Uniform Act Conference scheduled for February 6–8, 2024. As a gathering for Federal agencies with real estate programs, the conference will promote Uniform Act stewardship, oversight, and state-of-the-practice through discussions and collaboration with Federal agency partners and stakeholders.

The Uniform Relocation Assistance and Real Property Acquisition Policies Act of 1970 (Uniform Act) provides important protections and assistance for people affected by federally funded projects. Congress enacted this law to ensure that people whose real property is acquired, or who move as a result of projects receiving Federal funds, are treated fairly and equitably and receive just compensation for—and assistance in moving from—the property they occupy. FHWA's Office of Real Estate Services, acting as Federal lead agency for the implementation of the Uniform Act, develops, issues, and maintains governmentwide regulations, provides advice and guidance to Federal agencies on the Uniform Act, and provides an annual report to Congress on the state of the governmentwide Uniform Act program.

FHWA leads many activities to advance Uniform Act state-of-the-practice including development and maintenance of Uniform Act Training courses, which are provided through the National Highway Institute (a description of each course offering is listed at https://www.fhwa.dot.gov/real_estate/training/trta200.cfm). FHWA also leads a research program on Uniform Act related issues and opportunities and hosts a biannual meeting with its Federal agency partners.

To register for the in-person and virtual 2024 Uniform Act Conference, visit: https://forms.office.com/pages/responsepage.aspx?id=WyTNxPBElUOhqjhI0lj3izjnWZnN3XtJrCgsjdEeb2ZUNkE0RzczSjAzTUxTMFBKQ0E4VDNCNjFVSC4u&wdLOR=cB9325838-2CD5-44D3-9AF7-46BEE1F861A4. Registration is open to Federal agencies and partners overseeing federally funded projects and programs subject to the requirements of the Uniform Act. For more information, contact FHWA's Arnold Feldman at arnold.feldman@dot.gov.
Hypothetical Strategies Address Actual Truck Emissions and Noise Concerns
The Federal Highway Administration published the report Addressing Truck Emissions and Noise at Truck Freight Bottlenecks (https://www.fhwa.dot.gov/environment/air_quality/research/addressing_truck_bottlenecks/fhwahep22026_final.pdf), which provides information on strategies to reduce truck emissions and noise at truck freight bottleneck areas across the Nation.

Truck freight bottlenecks—specific locations on highways where traffic congestion occurs—can have negative impacts on both the economy (e.g., delayed freight shipments and wasted fuel) and the environment (e.g., air pollution). The nearly 120-page report highlights three case studies, each representing a highway freight bottleneck and intermodal connector location in the country, along with hypothetical mitigation strategies.

The first case study, conducted on the Kennedy Expressway (also known as Interstate–90/94) in Chicago, IL, found that capacity and/or operational strategies to maintain higher peak period speeds could help reduce emissions. The study also found that truck replacement and clean truck strategies (e.g., congestion mitigation and idling reduction) could have large emissions benefits if applied to most trucks serving the region.

Strategies derived from the case study at Port of Houston's Barbours Cut Terminal in Texas—where most trucks serve local or regional destinations—include clean truck, drayage optimization, and rail drayage strategies, which can have significant emissions benefits. It was also found that noise-specific measures can provide larger truck noise reductions, and a substantial share of emissions came from idling at gates or in terminal operations, pointing to the benefits of terminal efficiency improvements.

Lastly, the case study focusing on Interstate–5 at the Port of Tacoma in the State of Washington—where most trucks on the interstate are through traffic—found that strategies that only affect local, port-serving traffic will produce modest benefits but more substantial benefits on local streets. Also, eliminating congestion for trucks (by establishing truck-only lanes on I–5) has significant peak period emissions benefits; truck replacement and clean truck strategies can have substantial benefits if applied to all traffic; and noise-specific measures (e.g., barriers) can provide larger truck noise reductions.

With each of the three case studies producing varied strategies, a "one-size-fits-all" strategy may not exist; the best solution may be a combination of strategies tailored to local needs, environment, and opportunities.

For more information, contact David Kall at david.kall@dot.gov or call (202) 366-6276.
 
Technical News
AI in Transportation: The Solutions and Challenges
The definition of artificial intelligence (AI) is continually evolving just like its number of applications. For one, AI consists of the "thoughts" and conclusions that computers make after receiving data inputs. The National Artificial Intelligence Act of 2020 defines AI as a machine-based system that can, for a given set of human-defined objectives, make predictions, recommendations, or decisions influencing real or virtual environments. In transportation, the predictions, recommendations, or decisions can range from advanced driver-assistance systems and predictive traffic modeling to safer, cleaner, smarter, and more efficient processes in construction, surface automation, and intelligent transportation systems (ITS).

In the construction industry, including roadway construction, nearly 350,000 unfilled positions exist. The construction industry is also where the second highest number of work-related severe injuries occur among the private industry sectors. AI, via AI-powered robots and collaborative robots (cobots), can serve as a viable solution to address these challenges. The use of AI and robotics can address the labor shortage and create jobsites that are safer and more productive. Cobots are equipped with advanced sensors and AI algorithms that allow them to perceive and adapt to their environment, interact with humans in a safe and efficient manner, and perform a wide range of tasks.

In surface transportation automation, including automated driving systems and smart infrastructure, AI enhances detection systems. It can be applied to a vehicle's detection system, where sensor input and map data are fused to detect all objects (static and dynamic) from the environment and enable a vehicle to plan its trajectory. Similarly, AI can enable infrastructure sensors to fuse data from multiple sources including connected and automated vehicles, traffic detectors, including radar and video, and other related data like environmental and contextual data.

In addition, AI applications can enhance ITS, including asset management, traveler support tools, commercial vehicle and freight operations, emergency management, and Transportation Systems Management and Operations (TSMO). For example, with TSMO, AI can be applied at the system, technical, and operational levels to optimize the performance of a multimodal infrastructure to preserve capacity, advance efficiency, and productivity, and improve the security, safety, and reliability of the U.S. transportation system.

For as much as AI can add to transportation, there are many challenges to its adoption, including stakeholder perception (e.g., the perceptions of users, developers, and researchers), ethics (e.g., privacy and surveillance), equity (i.e., producing equitable outcomes for everyone, including older people and people with disabilities), and bias (e.g., AI systems making decisions based on biased human decisions or those that reflect historical or social inequities). Other challenges include safety, cybersecurity, human behavior, weather impacts, public trust, and coworker trust (in working alongside AI-enabled teammates). A detailed listing of these challenges and more for AI in ITS can be found in the October 2022 report, Artificial Intelligence (AI) for Intelligence Transportation Systems (ITS): Challenges and Potential Solutions, Insights, and Lessons Learned (https://rosap.ntl.bts.gov/view/dot/66971).

For more information, contact Mubassira Khan (mubassira.khan@dot.gov), Robert Sheehan (robert.sheehan@dot.gov), or Reza Akhavian (rakhavian@sdsu.edu).
Policy, Regulations, and Grants
Accelerating the RIA Grant Program
In April 2023, the U.S. Department of Transportation announced that its Build America Bureau will add $24 million in grants to the Regional Infrastructure Accelerators (RIA) Program to further expedite the development of transportation infrastructure projects at local and regional levels.

RIA is a USDOT-funded grant program to help move transportation projects forward, assisting with project planning, development, and delivery. Accelerators also evaluate innovative financing, access technical assistance and best practices, and develop a pipeline of projects ready for investment.

In fall 2022, USDOT announced five additional accelerators to the RIA Program. One of those accelerators, the Resilient State Route (SR) 37 Program in California, will address congestion, flood protection, sea-level rising issues, and connections to transit and rail options along a 20-mile route of SR 37—a stretch of highway vital to both rural and disadvantaged communities in Sonoma and Napa counties. Another accelerator, in Dona Ana County, NM, will oversee the creation of the New Mexico TradePort. This tradeport, an integrated logistics hub, plans to build new infrastructure that accelerates the regional transition to a low-carbon economy and expands opportunities for allied trade and transportations service providers.