Making the Journey a Destination
For the first time since 2009, new National Scenic Byways and All-American Roads were named on February 16, 2021. The U.S. Department of Transportation approved 49 designations to the America's Byways collection. The latest designations confirmed 15 All-American Roads and 34 National Scenic Byways in 28 States, including Nebraska and Rhode Island that gained nationally designated byways for the first time. These designations increased the total number of America's Byways to 184 in 48 States. Prior to the 2021 designations, 150 byways were designated in a series of nomination rounds in 1996, 1998, 2000, 2002, 2005, and 2009.

Established in Title 23, Section 162 of the United States Code, the National Scenic Byways Program (NSBP) is a grassroots, collaborative effort that recognizes selected roads throughout the United States for their intrinsic historic, cultural, natural, archaeological, recreational, and scenic qualities. From its inception under the Intermodal Surface Transportation Efficiency Act of 1991 (Public Law 102-240), the NSBP has been one of USDOT's most popular programs, with consistent support from members of Congress, State and local officials, national byway nonprofit organizations, byway sponsors, area businesses, and many other stakeholders.

FHWA has lead responsibility for the NSBP and manages the byway nomination process within USDOT. "America's Byways enrich quality of life not only by preserving the character of designated byway corridors, but also by providing access to outstanding recreational opportunities," says FHWA Executive Director Gloria M. Shepherd. "The journey begins on the road, but exploring scenic byways is a tangible experience that allows you to truly enjoy the environment around you."

The Reviving America's Scenic Byways Act of 2019 (Public Law 116-57), signed on September 22, 2019, requires the U.S. Secretary of Transportation to conduct a one-time solicitation of nominations for designation of All-American Roads and National Scenic Byways. This act reinstated the NSBP after funding for the program was discontinued in 2012 under the Moving Ahead for Progress in the 21st Century Act (Public Law 112-141) and designations were paused. Sixty-three nomination applications were submitted for consideration in 2020. Each application was reviewed by a Federal team of subject matter experts on historic preservation, design, cultural resources, visual impacts, tourism and economic development, highway safety, Federal lands, and Native American history and culture. Nomination applications were also sent to the U.S. Departments of Agriculture and Commerce for consultation.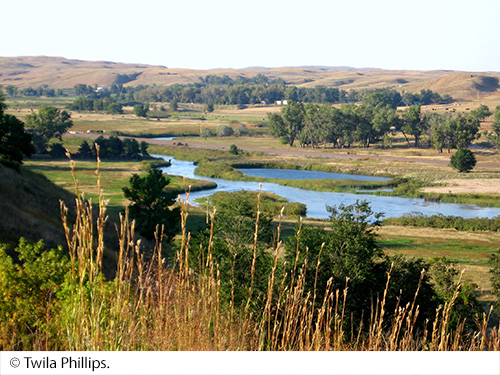 Come Closer: States with First-Time Byway Designations
Nebraska: Lincoln Highway Scenic & Historic Byway
The Lincoln Highway Scenic & Historic Byway was designated as a National Scenic Byway for its intrinsic historic qualities. This Nebraska byway was first used by Native Americans and fur traders who began exploring the west. It was later used in the Nation's westward migration of people on the Oregon and Mormon trails, then Union Pacific Railroad, and ultimately became part of the first transcontinental highway.

The Lincoln Highway, in 1913, was 3,389 miles (5,454 kilometers) long and was among a collection of local roads connected by lines on a map. Later, upon the establishment of the U.S. Numbered Highway System in 1926, U.S. Highway 30 encompassed many of Lincoln Highway's alignments across America. Nationally, less than 25 percent of the original alignments are navigable, but across Nebraska, most of the original 1913 route can still be traveled. Travelers navigating the byway from east to west will see a changing geography as America's damp east meets the arid west.

The journey on this byway begins in the historically significant community of Blair, NE, mentioned in the journals of military personnel and explorers Meriwether Lewis and William Clark. From Blair, the route joins the Platte River valley continuing westward to the town of North Platte, NE, where the North and South Platte Rivers converge, and then to Brule, NE. In Brule, the byway diverges from the river valley and continues westward as the river turns to the south. The Lincoln Highway crosses through small rural towns that developed along the entire byway. The byway has many historical markers commemorating significant incidents along the highway, including dozens of original 1928 concrete Lincoln Highway markers placed by the Boy Scouts to mark the end of activities by the Lincoln Highway Association that had boosted the road since 1913. For more information on the Lincoln Highway Scenic & Historic Byway, visit https://lincolnhighwaynebraskabyway.com/.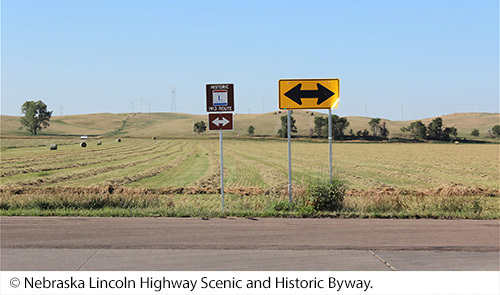 Nebraska: Sandhills Journey Scenic Byway
The Sandhills Journey Scenic Byway was designated as a National Scenic Byway for its intrinsic natural qualities. The Nebraska Sandhills occupy nearly 20,000 square miles (51,8000 square kilometers) of dunes, native grasses, and lakes. The Sandhills Journey Scenic Byway, also referred to as Nebraska Highway 2, cuts through the largest area of stabilized sand dunes in the western hemisphere. The Nebraska Sandhills is touted as a world-class birding experience, featuring more than 300 species of migratory and indigenous birds during the spring migration. At the byway's eastern end, near Grand Island, NE, large migrations can be observed, including the largest gathering of cranes on the Platte River and the mating dance of the male Prairie Chicken and Sharptail Grouse in April.

The remote areas of the byway, away from artificial light, offer some of the best places to experience dark skies, perfect for star gazing and astronomy. The Sandhills Journey Scenic Byway Visitor Interpretive Center is a new venue that introduces travelers to educational exhibits showcasing the natural features of the Nebraska Sandhills, and demographic displays provide an insight into the thoughts and lives of settlers and present-day residents. For more information about the Sandhills Journey National Scenic Byway, visit https://www.sandhillsjourney.com/.
 
Rhode Island: Revolutionary Heritage Byway
The Revolutionary Heritage Byway was designated as a National Scenic Byway for its intrinsic historic qualities. This byway, located in Bristol, RI, brings travelers through a quintessential New England town rich in history and culture, providing vistas of historic homes and waterfront parks. Additionally, downtown Bristol is listed on the National Register of Historic Places (NRHP). Along the northern portion of the byway is Colt State Park, a large public open space, and home to one of Rhode Island's most striking shorelines. Colt State Park is also listed on NRHP and provides access to the East Bay Bike Path from Bristol to Providence. In 2009, the town of Bristol was designated as one of the National Trust for Historic Preservation's Dozen Distinctive Destinations. This corridor is also part of the network of land and water trails that comprise the Washington-Rochambeau National Historic Trail.

The byway itself also has unique qualities, as it is home to the Nation's oldest continuous 4th of July celebration. An amendment added to the National Highway System Bill of 1995 allowed Bristol to permanently change the center line of the roadway to red, white, and blue for the entire length of the parade route. For more information about the Revolutionary Heritage Byway, visit https://nsbfoundation.com/nb/revolutionary-heritage-byway/.
Continuing the Legacy
Since the reemergence of the NSBP, FHWA has organized several coordination activities to support local, statewide, and national byway efforts. In 2020, FHWA began hosting monthly coordinator calls with FHWA division offices and Office of Federal Lands contacts, State and Tribal scenic byways coordinators, Federal Land Management Agencies (FLMAs), and two national byway partners: the National Scenic Byway Foundation (NSBF) and Scenic America. These coordinator calls serve as a pivotal forum for FHWA to share information and provide technical assistance, and for byways coordinators and stakeholders to share current events and updates on behalf of the local byway communities.

The calls also provide a platform for coordinators to share their knowledge and passion with their peers. "The National Scenic Byways Program is an invaluable program that strives to protect and enhance our Nation's most scenic, historical, cultural, archeological, natural, and recreational enriched drives; along with providing economic development to communities along our Nation's Scenic Byways," says Holly Slagle, statewide scenic byway coordinator for the Minnesota Department of Transportation. "Our grassroots organizations, who give of their time freely, are vital to the success of the NSBP. Together we stand ready to ensure the NSBP is strong through leadership and perseverance."

Through the partnership with the NSBF, FHWA has also participated in coordinator trainings and conferences, such as the Heartland Byways Conference in May 2022. The Heartland Byways Conference is hosted biannually among the States of Kansas, Nebraska, and Iowa as an educational opportunity for leaders and volunteers of designated byways in America. During the May 2022 conference, FHWA staff participated on a Federal and national byway partners panel to discuss the vision for a robust and collaborative scenic byways program over the next 30 years.

In addition to technical assistance, FHWA also provides NSBP discretionary grants to State departments of transportation (DOTs) and federally recognized Tribal governments to implement eligible projects on highways designated as National Scenic Byways or All-American Roads, State scenic byways, or Tribal scenic byways; and plan, design, and develop a State or Tribal scenic byway program. Since 1992, FHWA has provided more than 3,200 NSBP grants totaling over $526 million. In April 2023, FHWA awarded $21.8 million to 33 byway projects in 29 States, including five Tribal lands. These are the first NSBP grants awarded since 2012. There is currently up to $20 million available for the FY2023 NSBP Grants and Technical Assistance. FHWA anticipates awarding grants in 2024.
 
Additionally, depending on the road, byways may be eligible for other Title 23 Program funds—such as the Surface Transportation Block Grant Program, the Federal Lands Transportation Program, the Tribal Transportation Program, and the State Planning and Research Program—to support eligible byways projects. States and Tribes can also consider byway corridor management plans (CMPs) and other criteria in their transportation prioritization and programming guidance.
 
NSBP directly impacts local communities. For example, Rhode Island DOT received $750,000 to repair a badly damaged sea wall, improve drainage, and replace sidewalk and curbing as part of the Hope Street Pedestrian and Resiliency Enhancements project along the Revolutionary Heritage National Scenic Byway. The Forest County Potawatomi Community Tribe in Wisconsin received more than $302,000 to enhance the Tribe's biking and pedestrian trail by designing and constructing four culturally interpretive rest areas along a path parallel to the Nicolet-Wolf River Scenic Byway, adding cultural artwork to the biking/pedestrian underpass and installing wayfinding signage. These projects capture and highlight the byway's intrinsic qualities and will improve quality of life for the byway communities.

As required by the Consolidated Appropriations Act, 2021, FHWA is also conducting an economic impact study of designated National Scenic Byways and All-American Roads. According to Lenore C. Bates, the Colorado scenic byway coordinator at the Colorado DOT, "Thirteen of Colorado's 26 byways are also designated as America's Byways by the U.S. Secretary of Transportation—more national designations than any other State. These are important assets since 19 percent of Colorado tourists visit our scenic byways. Predominantly, the synergy of the Colorado Scenic and Historic Byways increases regional effectiveness and promotes rural tourism, economic development, scenic conservation, historic preservation, and recreation."

Through the decades, the NSBP legacy has endured and thrived. FHWA is proud and excited to continue the journey and promote America's Byways. More information on National Scenic Byway Program can be found at https://www.fhwa.dot.gov/hep/scenic_byways/.

Danielle Blackshear is a transportation specialist in the FHWA Office of Human Environment. As the NSBP lead, she provides program and policy direction for America's Byways designations and $42 million dollars in NSBP discretionary grants. She received her bachelor's and master's degrees in urban and environmental planning from the University of Virginia.

Lilah Morrissey has over 14 years of professional experience in project management and marketing. She has a master's degree in community and regional planning from the University of Oregon. As the marketing specialist for FHWA's Office of Planning, Environment, and Realty (HEP), Morrissey manages print, digital, social media, publications, and project management needs for the five HEP offices.

Edward Starks is a transportation specialist in the FHWA Office of Human Environment. He supports the NSBP through technical assistance and program direction. He received his bachelor's degree in industrial engineering and master's degree in transportation planning and intelligent transportation systems from South Carolina State University.

For more information about the 2021 America's Byways Designations, visit https://www.fhwa.dot.gov/hep/scenic_byways/designations/. For more information on the National Scenic Byways Program, see https://www.fhwa.dot.gov/hep/scenic_byways/ or contact Danielle Blackshear at danielle.blackshear@dot.gov or (202) 366-2064.
 
America's Byways is the umbrella term for the collection of 184 distinct and diverse roads designated by the U.S. Secretary of Transportation. America's Byways include National Scenic Byways and All-American Roads. The NSBP's May 18, 1995, Federal Register Notice (60 Fed. Reg. 26759) sets forth the criteria for the designation of roads as National Scenic Byways or All-American Roads.

To be designated as a National Scenic Byway, a road must possess at least one of the six intrinsic qualities—historic, cultural, natural, archaeological, recreational, and scenic—that is regionally significant. Regional significance means that the byway characteristics are representative of a geographic area encompassing two or more States.

For All-American Road designations, a road must possess two of the six intrinsic qualities that are nationally significant, and the road should be considered a destination unto itself. National significance means that the characteristics associated with the intrinsic qualities are those which best represent the Nation and contain one-of-a-kind features that do not exist elsewhere.

When FHWA issues a call for America's Byways nominations, anyone can nominate a road for designation, but the nomination must be submitted through a State or Tribal Government's identified scenic byway agency or a FLMA and must also include a CMP designed to protect the unique qualities of the byway. The road must also first be designated as a State, Tribal, or FLMA scenic byway.

The FHWA America's Byways website (https://fhwaapps.fhwa.dot.gov/bywaysp/) spotlights each of the 184 designated byways, including a brief description, photos, maps, and local byway contact information.