Updates on Two-Dimensional Hydraulic Modeling Training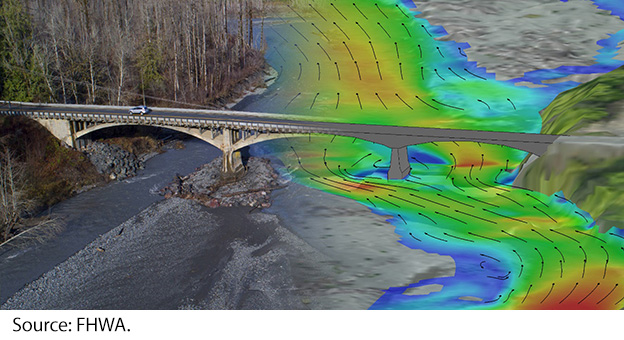 2D modeling shows the complex interactions between waterways and structures.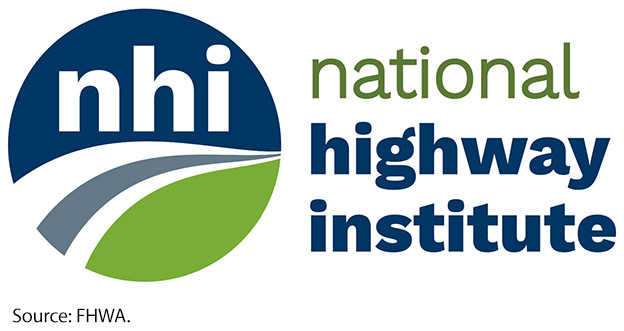 For several decades, hydraulic engineers have used one-dimensional (1D) hydraulic models to perform hydraulic analyses for transportation projects involving waterway crossings and encroachments. Although 1D modeling required several assumptions to simplify the analysis that often led to inaccurate results, it was the best technology available for many years. In recent years, however, significant advances in computing power have ushered in the practical use and application of two-dimensional (2D) modeling. Most of the assumptions that were needed in 1D modeling have been eliminated and replaced by direct computations, allowing for significant advances in the hydraulic discipline. 2D modeling results provide a better understanding of the complex partnership between waterway environments and transportation assets, leading to safer designs and more cost-effective structures.
Drawing on this technological advancement, the U.S. Bureau of Reclamation (USBR) developed the Sedimentation and River Hydraulics (SRH) 2D model—a 2D flow hydraulic and mobile-bed sediment transport model for river systems. This SRH-2D model solves 2D dynamic wave equations and depth-averaged velocity using the finite volume numerical method. Since 2013, USBR and Federal Highway Administration (FHWA) have partnered to expand the transportation hydraulics capabilities of the SRH-2D model and improve the graphic user interface features for more efficient and effective applications. Because of these SRH-2D model improvements, the FHWA's National Highway Institute (NHI) has developed a series of courses to train hydraulic personnel on the best methods to use and apply this engaging model for highway encroachments.
Achieving Success with NHI
NHI offers an updated 2D hydraulic modeling course as well as data source training to study how to appropriately apply 2D hydraulic models of rivers in highway encroachment scenarios. Participants can register for the 2D Hydraulic Modeling of Rivers at Highway Encroachments training (FHWA-NHI-135095), which is now offered in person and online, to learn how to use and apply the SRH-2D model. This training teaches SRH-2D modeling principles and techniques through use of the latest version of the Surface Water Modeling Systems (a graphical pre and postprocessor for multiple 2D modeling engines).
NHI also offers online web-conference training (WCT) courses that provide more comprehensive SRH-2D model data information, including:
SRH-2D Model Data Files, Diagnosis & Verifying 2D Model Results WCT (FHWA-NHI-135095A)
This WCT presents numerous data files created and used for SRH-2D input and output as well as for SRH Pre. Participants will learn:
How files are used and formatted.
How to verify model convergence and various diagnostic message outputs by SRH-2D.
How to use monitor lines.
Model Terrain Development with Various Data Sources WCT (FHWA-NHI-135095B)
This WCT shows participants how to use and process light detection and ranging (LiDAR) efficiently and other elevation format types to define geometry for 2D hydraulic models. Applicants will also learn to identify potential data issues, use methods for modifying geometry, and import and export data from other data sources.
Prerequisite Information
Basic Hydraulic Principles Review (FHWA-NHI-135091), a web-based training, is available at no cost to participants who wish to refresh their knowledge of the fundamental hydraulic concepts of open channel flow.
How to Attend or Host a Course
NHI invites professionals interested in earning continuing education units or professional development hours to visit http://bit.ly/NHIHome and browse the complete digital course catalog. The catalog lists over 350 courses in 19 program areas.
To sign up for email alerts and to see when a particular course session is available, visit the description page for that course and then click on the "Sign Up for Session Alerts" link.

Organizations interested in hosting an NHI course can submit a host request form, or find more information, by visiting https://www.nhi.fhwa.dot.gov/training/host.aspx.
NHI is an approved accredited provider by the International Accreditors for Continuing Education and Training (IACET). As an IACET Accredited Provider, NHI offers continuing education units for its programs that qualify under the American National Standards Institute/IACET Standard.
Scott Hogan is a senior hydraulic engineer and geotechnical and hydraulic engineering team leader at FHWA.
Sabrina Sylvester is a contracted senior marketing analyst for NHI.