Along the Road
Tribal Technical Assistance Program Centers will support Tribal communities via both virtual and hands-on services to help strengthen their capacity for self-governance of transportation programs.
Along the Road is the place to look for information about current and upcoming activities, developments, trends, and items of general interest to the highway community. This information comes from U.S. Department of Transportation sources unless otherwise indicated. Your suggestions and input are welcome. Let's meet along the road.
Public Information and Information Exchange
Tribal Technical Assistance Program Centers Get Reboot
In January 2022, the Federal Highway Administration announced the availability of nearly $18 million in grants toward the reopening of seven Tribal Technical Assistance Program (TTAP) Centers across the Nation.
TTAP was originally created to provide comprehensive transportation training and technical assistance to Tribal communities in maintaining the safety and structure of Tribal roads. With the reestablishment of these centers over the past five years, the mission of TTAP remains the same: help Native American and Alaska Native Tribal governments build capacity within their organizations, deliver important training resources, and help Tribal communities plan, construct, and maintain their transportation networks.
Prior to their closing, the seven TTAP centers were serving the 12 Bureau of Indian Affairs regions and associated Tribes; the centers expired in 2017 once FHWA began a pilot to establish one central TTAP center. However, feedback from stakeholders, along with the results of the pilot program, favored the opening of several centers nationwide instead of one. Consequently, the seven TTAP centers are reopening to better accommodate the needs of the Tribal communities.
For more information, visit https://www.fhwa.dot.gov/clas/ttap/.
Open Call: Innovate with e-Ticketing
Electronic ticketing (e-Ticketing), a product of the Federal Highway Administration's Every Day Counts-6 initiative, is a market-ready innovation that automates the real-time recording and transfer of material delivery information in digital format on highway construction and maintenance projects. 
For agencies interested in advancing e-Ticketing, FHWA is offering free outreach events, such as peer exchanges and a national workshop through 2023. 
FHWA is also offering free technical customer service support to help implement e-Ticketing and other e-Construction technologies in the areas of implementation planning, information technology, specifications, etc.   
For more information on events and customer service support, visit https://www.fhwa.dot.gov/construction/econstruction/overview.cfm or email eticketinghelp@dot.gov.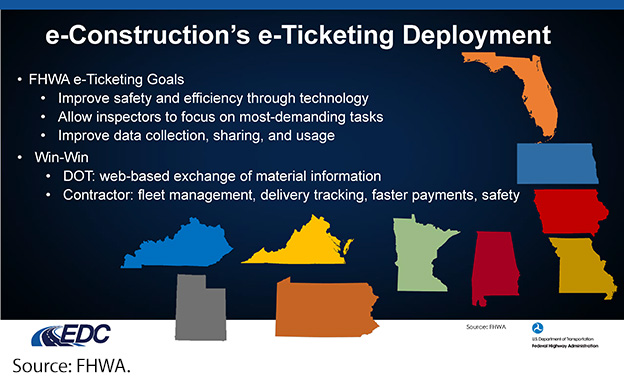 Electronic ticketing improves the tracking, exchange, and archiving of materials tickets.
The DBE program has several goals, including helping small businesses compete for Federally funded transportation projects.
$10 Million Pledge to Minority, Women-Owned Businesses from FHWA
In March 2022, the Federal Highway Administration unveiled $10 million in funding from the FY2021 Disadvantage Business Enterprise/Supportive Services (DBE/SS) Program to assist minority- and women-owned businesses with competing for Federal highway contracts.
The DBE program helps ensure that small businesses can compete for Federally funded transportation projects and assists DBEs in competing outside of the DBE Program.
The funding is provided to State departments of transportation, the District of Columbia, Puerto Rico, and the U.S. Territories that provide training and assistance to DBEs competing on Federally assisted contracts. To be eligible for the DBE program, persons must own 51% or more of a "small business," establish that they are socially and economically disadvantaged within the meaning of the U.S. Department of Transportation regulations, and prove they control their business. FHWA distributes DBE/SS funds each year based on submitted statements of work and through an administrative formula that determines funding for each recipient.
For more information on the DBE program, visit https://www.transportation.gov/civil-rights/disadvantaged-business-enterprise. Funding for the DBE/SS Program for FY2022 through FY2026 was provided by the Bipartisan Infrastructure Law.
FHWA and NOAA Collaboration Propels Environmental Advances and Wins Big
Early in 2022, a partnership between the Federal Highway Administration and the National Oceanic and Atmospheric Administration (NOAA) was honored with a U.S. Department of Transportation FHWA Environmental Excellence Award (https://www.fhwa.dot.gov/environment/environmental_excellence_awards/eea_2022/).
Roadways and transportation corridors often intersect coastal ecosystems, making it crucial to understand how the coastline will change and how these changes will impact the integrity of transportation infrastructure. This collaboration married the best coastal science on nature-based solutions with the best science on pavement deterioration due to inundation, and established the goals of:
Delivering approaches to predict future water level conditions and resultant pavement deteriorations.
Producing physical, ecological, and infrastructure models for local assets and corridor-scale planning.
Developing outputs for transportation planning and coastal decisionmaking.
FHWA and NOAA were recognized for two projects, Pavement Resilience to Sea Level Rise and Potential Mitigation Options Using Natural and Nature-Based Features (https://coastalscience.noaa.gov/project/coastal-communities-pavement-resilience-to-sea-level-rise-using-natural-and-nature-based-features/) and Surface Transportation, Sea Level Rise, and Coastal Storms: A Sustainable Path to Increased Resilience (https://coastalscience.noaa.gov/project/surface-transportation-sea-level-rise-and-coastal-storms-a-sustainable-path-to-increased-resilience/). For both projects, "each agency brought their unique expertise to develop this funding opportunity and shared the opportunity with their networks, resulting in interdisciplinary teams and a breadth of coverage that could not have been achieved without this collaboration," shares Dr. Steve Thur, director of the NOAA National Centers for Coastal Ocean Science. "It will require these types of collaboration between infrastructure experts and environmental experts at the Federal, State, and local level to ensure successful coastal communities in the face of rising seas."
For more information, contact Amir Golalipour at amir@golalipour@dot.gov.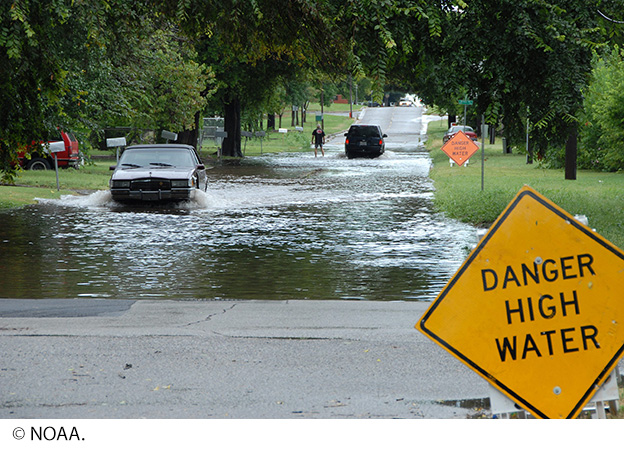 The FHWA and NOAA collaboration represents one component of an emerging work plan, which will integrate climate change considerations into new and adapted transportation systems.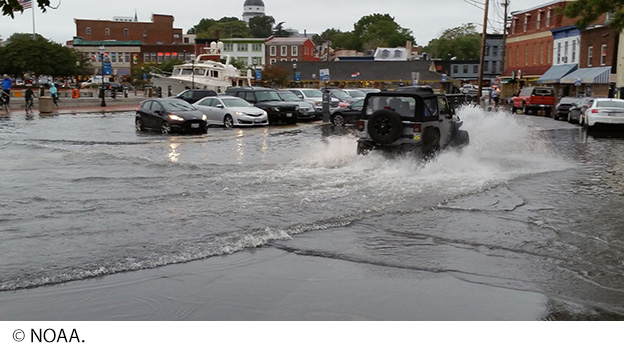 Flooding on a main street in Annapolis, MD.
Technical News
Smart Work Zone System Aims to Protect Workers
A partnership between the Virginia Department of Transportation, Virginia Tech Transportation Institute, and a geohazard mitigation firm led to the pilot deployment of a prototype vehicle-to-everything (V2X) Smart Work Zone technology system. A demonstration of this innovative work zone spanned across two days in May 2022 on U.S. Route 23 in Wise, VA.
This partnership produced a Smart Work Zone system that supports accurate localization of workers within a work zone and monitors their position relative to geo-fenced boundaries, moving construction vehicle hazards, and, in the future, passing connected vehicles. Warnings are provided to a worker through lights, buzzers, and vibrotactors built into their smart vest. Worker locations are transmitted to a mobile cellular-V2X base station and forwarded to passing connected vehicles to warn them of the presence of workers and any potential collisions.
The award-winning Smart Work Zone system has been tested on the Virginia Smart Road as well as in Northern Virginia, and other areas within the State are being considered.
An innovative vehicle-to-everything Smart Work Zone technology system shows promise in decreasing injuries and fatalities commonly associated with work zones and roadway construction workers.
Policy and Legislations
New Rules for Bridge Inspection Timeframes
In May 2022, the Federal Highway Administration published updates to the National Bridge Inspection Standards—the standards established for safety inspections of highway bridges. Routine inspections serve to maintain safe bridge operations and prevent structural and functional failures.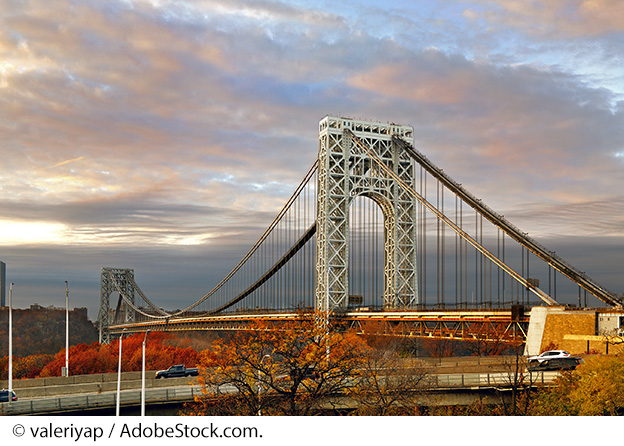 Updates to the final rule extends bridge inspection requirements from two years to four years, and in some cases, to six years.
The updates are designed to improve bridge safety by clarifying responsibilities, standardizing the processes for bridge inspections and evaluations, and requiring distinct actions for higher risk issues. One of the most noticeable upgrades pertain to the amount of time between bridge inspections. The new rule extends bridge inspection requirements from two years to four years; some inspections are eligible every six years.
FHWA's final rule went into effect on June 6, 2022, and applies to structures defined as highway bridges on all public roads, on and off Federal-aid highways, and now, highway bridges within Tribal communities. Also, noted in the updates are training and qualification requirements for bridge inspectors—including a national certification process—and the use of technological advancements used in transportation like unmanned aircraft systems.
For more information on the updates, visit https://www.fhwa.dot.gov/bridge/nbis2022.cfm.
Internet Watch
Local Road Safety Plans Website: A Guide to Mapping Safer Roads
The Federal Highway Administration estimates that nearly 40 percent of the fatalities on the Nation's roadways within the past few years occurred on local roads. In hopes of decreasing this percentage, local transportation agencies are developing a plan—the Local Road Safety Plan (LRSP).
LRSPs are proven to help reduce severe crashes on local road systems. Hence, FHWA established a LRSP do-it-yourself website (https://safety.fhwa.dot.gov/LRSPDIY/) to provide a bounty of information needed to create and implement a customized LRSP. For example, the website outlines the four steps needed to complete a plan:
Step 1: Identify stakeholders.
Step 2: Use safety data.
Step 3: Choose proven solutions.
Step 4: Implement solutions.
What's more, each step is accompanied by a brief written description and a series of videos providing more comprehensive explanations. Sample plans from more than 10 U.S. counties and cities—including Nevada County, CA; Palm Beach County, FL; and Portland, OR—are also posted as guides alongside several other types of training material like a pre-recorded, web-based tutorial and instructions on gathering, utilizing, and incorporating community-specific data into a plan.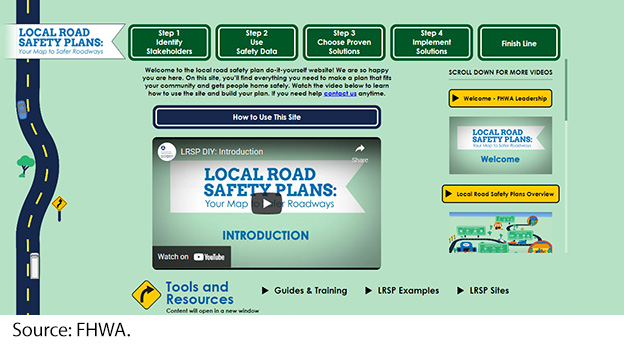 The Federal Highway Administration's Local Road Safety Plans do-it-yourself website provides a plethora of information on how to create a plan.