Delivering Resiliency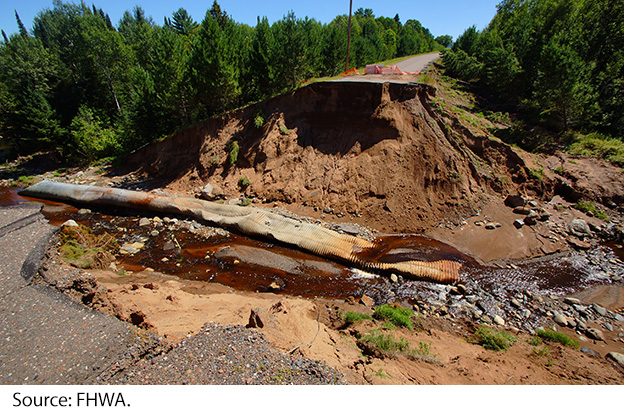 The existing metal culvert that channeled Fond du Lac Creek in Minnesota across the roadway had previously failed several times. In 2012, significant flows resulted in the embankment being washed out and creating a sizeable drop off.
Mother Nature provides breathtaking vistas, but can also bring us some nasty surprises, especially at a time when the climate is changing and affecting storm frequency and intensity. Many of nature's vistas are accessible through the transportation network on, or through, Federal Lands. With the changing weather, it is increasingly important to incorporate resiliency into transportation improvements. In practical terms, how can incorporating resiliency be done effectively, efficiently, and for reasonable costs with limited funding?
Natural disasters and catastrophic events are inevitable and generally unpredictable. Since 1956, Congress has dedicated supplemental funding to States for roads and bridges damaged or destroyed by natural disasters or catastrophic failure. On average, the Federal Highway Administration (FHWA) Emergency Relief (ER) Program, managed under the Office of Infrastructure, provides billions of dollars annually to transportation partners throughout the Nation.
The ER Program's intention is to pay the unusually high costs accrued in the repair and reconstruction of eligible facilities. The ER Program does not cover all repair costs, but rather supplements repair programs of Federal, State, local, and Tribal transportation agencies. Furthermore, ER funds are limited and judicious decisions are inevitable when attempting to cover repair costs. To receive aid for repairs, State departments of transportation must submit an application to the FHWA division office located in their State within two calendar years of the disaster date.
Under FHWA, the Office of Federal Lands Highway (FLH) oversees repair projects that keep Federal Lands roads accessible. FHWA is already delivering on the Biden Administration's focus area of climate change through resiliency and sustainability, and FLH activities have been instrumental to the agency's success.
FLH and its predecessor agencies have long been directly engaged in the location, design, and construction of the public roads that give access to and through the National Parks, the National Forests, and other areas in the Federal domain since 1905. FLH Headquarters, Eastern, Central, and Western Division offices perform this work. FLH currently provides services in all 50 States, the District of Columbia, Puerto Rico, and the U.S. Territories. FLH delivers projects through partnerships with Federal Land Management Agency (FLMA), State, and local partners. To ensure successful delivery, FLH must apply innovative and diverse solutions to the unique projects it undertakes. Context sensitivity is also critical to meeting the unique missions, values, and needs of FLMA partners and the public.
In 1977, Congress established the Emergency Relief for Federally Owned Roads (ERFO) program to also assist Federal Land Management Agencies (FLMA) partners with the repair or reconstruction of Tribal transportation facilities, Federal Lands transportation facilities, and other federally owned roads that are open to public traffic and have suffered serious damage from a natural disaster or a catastrophic failure over a wide area.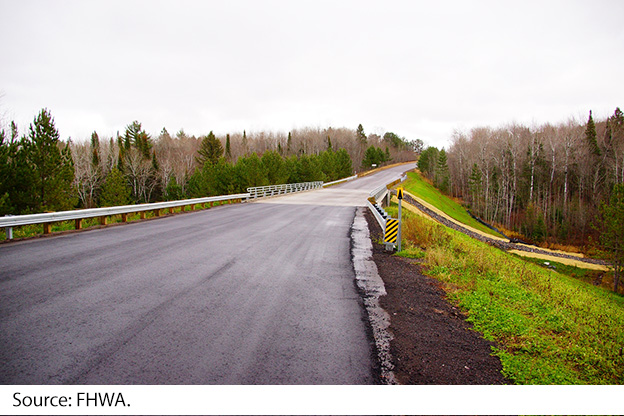 The ERFO Program funded a betterment project for the Fond du Lac Tribe in Minnesota, which included a new bridge rather than a replacement culvert. The bridge replacement option also has the secondary benefit of ensuring that fish passage would continue in the stream.
So, how do repairs that provide resiliency get completed with the limited funding on hand? Is the more judicious decision about investment actually a higher-priced resilient replacement? These questions are frequently asked and FHWA has demonstrated that it is possible to incorporate resiliency in a cost-effective manner through practical design that requires being creative and innovative while considering betterments within the ERFO program. "The Emergency Relief Program can provide agencies with an excellent opportunity for exploring improvements to transportation system resilience," says Hari Kalla, FHWA associate administrator for infrastructure. "Roads and bridges damaged during disasters have been shown to be vulnerable, so FHWA encourages agencies to identify cost-effective measures to avoid further damage from future events."
Rebuilding to Current Standards
Repaired facilities may be rebuilt to current geometric and construction standards. Simply rebuilding to current standards may result in a resilience improvement. For example, following current hydraulic standards may result in a larger culvert, which will allow larger stream flows to pass under the roadway without washing out the pavement. Rebuilding to current standards is not considered a betterment and does not require economic justification.
Betterments are features or facilities that didn't exist before the natural disaster or catastrophic failure that are implemented or constructed that help prevent future damage. Betterments added to prevent future damage and increase resiliency must be economically justified through a life cycle analysis based on the present and future expected cost to the ER Program. The analysis period is typically limited to 25 to 50 years. FLH has implemented resiliency through practical design during implementation of the ERFO Program in several different ways.
Betterment Project Prevents Repeated Damage
During the summer of 2012, the Fond du Lac Tribe in northern Minnesota experienced a flood that damaged several of its roads. Reservation Road—a major arterial serving a significant Tribal community—suffered extensive damage. The existing 5-foot (1.52-meter) diameter metal culvert that channeled Fond du Lac creek across the roadway had previously failed several times. That year, the significant flows resulted in 100 feet (30.48 meters) of embankment being washed out and a 50-foot (15.24-meter) drop off.
The Tribe developed a feasibility study to compare the options, and the entire project team, composed of Tribal, Bureau of Indian Affairs, and FHWA staff, evaluated the options of replacing the existing culvert with an up-sized culvert for a construction cost of $1,030,000 versus a bridge structure betterment for a construction cost of $1,500,000. The team determined that the bridge structure was a justified betterment, especially considering probable future replacement costs. The bridge replacement option also had the secondary benefit of ensuring that fish passage would continue in the stream. The existing culvert had outlet scour issues and had eliminated fish passage. Studies demonstrated that re-establishing fish passage would be expensive and not covered by the ERFO Program.
John Wright, an ERFO Program coordinator, noted that this was the first time the Tribe had applied for ERFO and the first time he saw the impact of a resiliency approach, and stated the ERFO Program has not had to go back to the site in almost a decade.
Mark Twain National Forest in Missouri suffered flooding in 2016. Damage from a rising creek included the access road to Red Bluff campground, a U.S. Forest Service facility. Rather than replacing the access road in-situ, the ERFO betterment project relocated the road to higher elevation to avoid future damage by rising creek waters.
New Location – Similar Costs
Between late December 2015 and early January 2016, there was a major flood event across the Midwest portion of the United States. The broad flooding event impacted the Mark Twain National Forest in Missouri with more than $500,000 in damage to U.S. Forest Service facilities. One of the sites reported was the Red Bluff campground that was damaged primarily from the rise of the adjacent creek. This resulted in the loss of portions of access roads and several camping pads and embankment erosion. While replacement of the camping pads was not eligible within the ERFO Program, the replacement of the access roads was eligible. The U.S. Forest Service and FHWA collaborated on repair options, and through a formal betterment evaluation, determined that the cost to decommission existing access roads closest to the creek and relocate them to a higher elevation was near a betterment ratio of 1:1 when compared to repairing the access road in the current location. This means the access roads could be relocated for approximately the same cost as rebuilding them where they stood. To date, the campground has not suffered any subsequent losses due to flooding.
Resilient Design to Abate Debris Flow
Mount Shasta in northern California has an elevation of 14,179 feet (4,321.76 meters) and includes several glaciers, such as Konwakiton. As these glaciers melt, water is trapped within them. This water builds up over time and then develops into basins of water within the glacier. When the force of the water in these basins exceeds the strength of the glacial ice, the ice breaks and the water is released along with rocks and sediment in the form of a debris flow. These debris flows can extend for miles from the release site.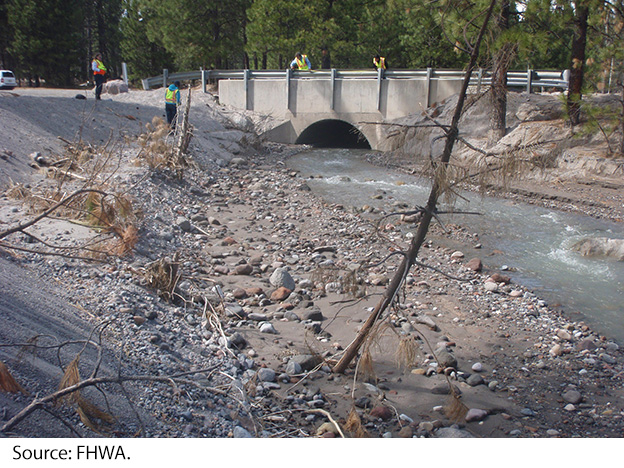 The upper section of the Mud Creek culvert shown in 2014 after extensive emergency removal of debris from a melting glacier on Mount Shasta in northern California. The initial debris removal partially restored creek flows until the entire structure was replaced with a bridge to withstand future events. On September 20, 2014, a debris flow from Mount Shasta's Konwakiton Glacier resulted in the overtopping of two U.S. Forest Service roads and plugging of multiple drainage structures in the Mud Creek drainage system of the McCloud River basin.
One of the damaged structures was a 10-foot (3.05-meter) corrugated metal arch culvert with concrete headwall. The project team used its expertise in mud flows and fluvial geomorphology and developed a design for the replacement structure that was a 32-foot (9.75 meter) span, with an 11-foot (3.35-meter) rise precast concrete arch culvert that would accommodate the additional flows and sediment transport. After the contract was awarded, the contractor proposed a value engineering cost proposal that resulted in the construction of a 75-foot long concrete bridge at no extra cost to the Government that increased the hydraulic capacity even further. In June 2021, the new bridge structure was tested with another debris flow event and the structure performed admirably with no damage to the roadway or structure.
"At FHWA and FLH, we work diligently to ensure the flexibility and resilience that our partners and traveling public deserve, while providing stewardship of the Emergency Relief program." says Lorell Duteil, an FLH ERFO coordinator. "This crossing provided a great opportunity to put in to practice the expertise, partnerships, and program flexibilities that resulted in a replacement structure that has proven to withstand future events.
Betterment Analysis Results in Longer Bridge
From late November to early December 2007, warm heavy rains fell on deep snow in the Olympic National Forest, WA, causing extensive flooding and the Lake Cushman bridge to be severely damaged by the North Fork of the Skokomish River. The peak flow of 20,100 cubic feet per second (cfs) (6,126.48 cubic meters per second) was 20 times the mean flow and calculated to be a 75-year storm event. The west abutment embankment eroded 25 feet and swept away some of the riprap and gabion embankment protection that was installed. Scour at Pier 4 resulted in 10 feet (3.05 meters) of pile exposure, which was the largest scour experienced at the bridge.
The new bridge at Mud Creek with a larger clear opening has proven to withstand debris flows from Mount Shasta's Konwakiton Glacier. A transverse benefit to more hydraulic flow is an optional, unimpeded corridor for terrestrial and aquatic species to cross under the structure.
The Lake Cushman bridge was constructed in the 1940s. At the time, the annual average daily traffic was less than 50 vehicles per day and was designed for a flow of a 25-year storm event The bridge is the primary access point to the Olympic National Park, Olympic National Forest, and private residences, and critical to remain open because there are no alternate routes.
The U.S. Forest Service completed emergency repairs that included construction of a temporary bridge to span the eroded gap and reestablish access. A collaborative effort between FLH and the U.S. Forest Service was also initiated to determine the best permanent solution and perform a betterment analysis. The options evaluated were to: repair-in-kind for $325,000; rebuild the abutment and extend the bridge by 50 feet to accommodate a 50-year storm event for $875,000; extend the structure to accommodate a 100-year storm event for $1,625,000; and extend the structure for a 200-year storm event for $2,500,000. Based on the betterment analysis, the best solution was to accommodate a 50-year storm event and armor the abutment for protection against future storms events.
The eroded west approach of the Lake Cushman Bridge over the North Fork of the Skokomish River in Washington. The bridge is the primary access point to Olympic National Park.
The new Lake Cushman Bridge stands ready for future river flows. To date, the bridge has not experienced a significant storm event since the repairs were completed.
To date, the bridge has not experienced a significant storm event since the repairs were completed. In November 2017, the bridge experienced the largest flow since the repair—a flow of 11,000 cubic feet per second (311.49 cubic meters per second), which is an 8-year storm event —and the structure performed very well. All indicators are that the new Lake Cushman bridge will perform well for large flows in the future providing reliable, safe access at this primary river crossing.
Resiliency Makes Smart Business Sense
FHWA has considered and implemented resilience as a standard of practice in the ER Program for many years. FHWA and FLH have demonstrated that consideration and implementation of resiliency when rebuilding damaged transportation facilities can be accomplished in many ways. Repair projects have shown that it doesn't always require significant increases in costs to increase resilience if teams can take a creative and innovative approach to fully evaluate options and their total budget. Creativity and ingenuity are the solutions to building a resilient transportation network with limited funding.
Steven F. Hinz, P.E., is the FHWA ERFO Road and Tribal Transportation Program manager. He earned a bachelor's degree in civil engineering from Arizona State University and a master's degree in civil engineering from the University of Colorado.
Justin Henwood is a project manager at FHWA's Central Federal Lands Highway Division. He earned a bachelor's degree in civil engineering and a master's degree in geotechnical engineering from Utah State University.
Eric Wright began his Federal career with the Bureau of Indian Affairs in Washington State. He has been the FHWA ERFO Coordinator for Eastern Federal Lands since 2012.
For more information, contact Sergio Mayorga (sergio.mayorga@dot.gov), J. Eric Wright (john.wright@dot.gov), Lorell Duteil (lorell.duteil@dot.gov) or Steven Hinz (steven.hinz@dot.gov).