PennDOT Agility Program: Building Partnerships and Breaking Boundaries
Agility helps PennDOT and it partners make the most of limited resources, develop strong and rewarding relationships, and conduct roadway improvements.
Pennsylvania's 67 counties share a challenging responsibility with the Pennsylvania Department of Transportation (PennDOT): to manage key components of a far-flung and extensive road and bridge network.
Pennsylvania has the third largest State-managed bridge system in the Nation and the fifth largest State-maintained road network. Pennsylvania's transportation system is comparable in size to all of the State systems in New York, New Jersey, and New England combined. Counties manage roughly 6,600 of the State's 32,000 bridges, and local governments oversee roughly 75,000 miles (120,701 kilometers) of the 120,000 miles (194,731 kilometers) of roads that crisscross the State.
Thus, an overriding issue is how does PennDOT address intricate encounters with the jurisdictional boundaries created by Pennsylvania's various State, county, and local governments with the responsibility—and mission—to offer a seamless transportation experience for the State's citizens? The answer: Through a system that enables the exchange of services, equipment, and staff, without monetary payments—the PennDOT Agility Program (also known as Agility).
The story of Agility—which celebrated its 25th anniversary in 2021—begins in 1995, when then-PennDOT Secretary Brad Mallory came across a book by Roger Nagle titled, Agile Competitors and Virtual Organizations. The book outlines a concept to spur businesses to think outside the box.
That December, Mallory bought each one of his deputy secretaries a copy of Nagle's book and asked them to read it and provide ideas on how to bring the agility approach to PennDOT.
"Rob Wonderling, then-PennDOT deputy secretary for administration, and later president and chief executive officer of the Chamber of Commerce for Greater Philadelphia, came back with a program layout to reach out to local governments and trade services with them," says Mallory. "Instead of stopping the plows at the borough line, [he suggested that we] continue with a straight pass, and they do a similar loop and hit some of our network."
By enabling PennDOT and partners to equally exchange services—like snow plowing, mowing grass, or street sweeping—without the exchange of money, transportation could improve in Pennsylvania. The idea for these synergies propelled itself into the Agility Program. Prior to the program, local and State jurisdictions were responsible for maintaining their respective networks with no mechanism in place to lawfully exchange services.
Reflecting on his often-stated mantra, Mallory says, "People don't care who owns the road, they want seamless service, and the Agility Program really played to that."
Service-for-Service Partnering: Tested
Mallory and his team launched Agility in May 1996. The program commenced with a six-week pilot that involved partnerships between two of Pennsylvania's counties, Crawford and Venango; three cities, Meadville, Franklin, and Oil City; three townships, Crawford, West Mead, and Vernon; and the American Federation of State, County, and Municipal Employees (AFSCME)—which represents PennDOT employees. During the pilot, PennDOT painted traffic lines on local streets while crews from local jurisdictions performed mowing, cleaning, and other maintenance services on State highways. The initial savings amounted to about $25,000.
Winter maintenance services are often exchanged with municipal governments as part of the PennDOT Agility Program.
Within two years, the program had expanded to all 11 PennDOT engineering districts; within five years, the program was being used in all 67 counties. Since its inception, the Agility Program has united PennDOT with nearly 2,000 partners through nearly 3,300 agreements. 
PennDOT and the partner organizations must enter a formal written agreement called an Agility Agreement. There are three general steps that must be followed on the road to securing an Agility Agreement:
The partner must evaluate what services it needs and what services it can provide to PennDOT.
The partner must complete the Agility Agreement, which includes a resolution indicating acceptance by the partner's officials. The resolution must be adopted at a public meeting.
The partner, PennDOT, and AFSCME must negotiate a work plan that spells out who will do what for whom.
Chris Robinson, roadway programs coordinator for PennDOT's Butler County operation in western Pennsylvania, noted the circumstances when partners are drawn to an Agility Agreement. "Usually, it's when you have a resource that either is unavailable to the other group or you [have and] can do at a more efficient cost than the other group," Robinson says. "If you have something that is easier for you to provide or the other group doesn't have, that's a good time to look at things."
With all levels of government trying to deliver the very best services with limited resources, the Agility Program represents an important tool to assist in meeting that goal. The program's benefits are numerous including completing work that otherwise may not have been completed, providing better service to the traveling public, and providing smoother, safer, and cleaner roads and bridges.
Service-to-Service Partnering: Proven
Creativity is a hallmark of the Agility Program as evidenced by an agreement between PennDOT and the State Correctional Institution at Mercer (SCI Mercer). As inmates performed litter pickup on various State routes and painted a PennDOT wash bay, PennDOT graded and paved an access road on SCI Mercer property. This exchange allowed PennDOT to redirect its maintenance staff to more pressing roadway concerns that otherwise would have been delayed.
"It's one of the best programs that has been offered around the State, for municipalities in general," says Jason Dailey, now former utilities director and former public works director for Cranberry Township in Butler County, located in western Pennsylvania. "We certainly had a really good experience with the program."
For Dailey, Agility inspires creativity on both sides of the exchange. "The creativity you can bring to it, the flexibility the PennDOT engineering district offices have to make this program work for everyone… the opportunities are really endless," he says. "If you can think it up, your district will work with you to make that happen."
A common Agility exchange over the past 25 years has involved litter pickup along PennDOT roadways by local government workers.
Since it's origination, Agility has expanded its offerings to include a three-year renewal period for Agility Agreements and Web-based training for PennDOT staff. Many of the additional offerings came under the direction of PennDOT's Bureau of Innovations (BOI), which assumed management of the program in 2016. Under BOI, during 2021 alone, PennDOT executed 32 Agility Agreements—27 local governments and five non-profits or schools—in 12 of Pennsylvania's 67 counties. Additionally, three Agility Agreement renewals were attained, including with the Pennsylvania Turnpike Commission (PTC). Initial agreements between PennDOT and an eligible partner are typically over a 5-year period. BOI also has a detailed and enhanced communication plan in place to attract more agreements.
Service-to-Service Partnering: Unique Partnerships
Agility helps PennDOT and its partners to make the most of limited resources, while developing strong and rewarding relationships. And it is these relationships that help sustain the program. Those eligible to enter into an Agility Agreement with PennDOT must be an eligible public entity under Pennsylvania's Procurement Code. This includes county and local governments, metropolitan planning organizations, rural planning organizations, public school districts and colleges, volunteer fire companies, charitable hospitals, and many others.
Often, it's also the dedication of individual PennDOT staff members that helps drive the program forward. One example is Joe Rossi, former equipment operator in PennDOT's District 4, located in northeastern Pennsylvania. While working on the front lines for PennDOT, helping to maintain an extensive road network, he also worked as assistant chief and president of the Union Dale Volunteer Fire Department in Susquehanna County. In working these positions, Rossi saw an opportunity to help advance PennDOT's innovative program.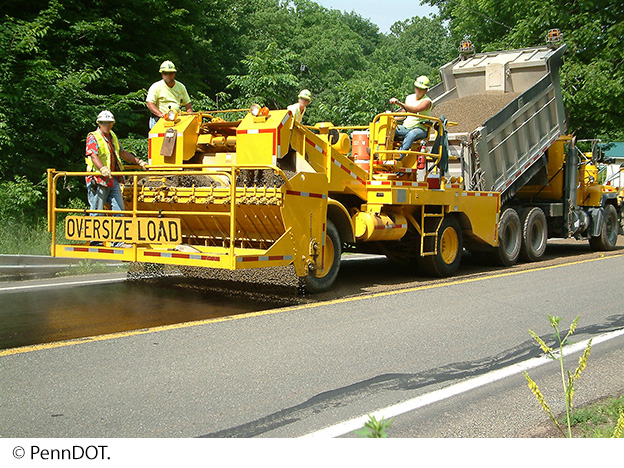 Surface treatments, such as "oil and chip," are common roadway maintenance operations exchanged as part of the Agility Program.
Through the years, the fire department assisted PennDOT in informal ways by hosing off PennDOT equipment and permitting the agency to park transportation equipment in the fire station's lot to keep it near a project site. It was this parking lot that needed significant repairs, and the volunteer fire department was not in a position to pay an estimated $20,000 for a full repaving.
"I inquired if there was a way PennDOT could help us with patching the parking lot," Rossi says. "The Agility Program was mentioned. We could get involved since we had helped them in the past, and they were glad to help us." "It was a good idea," Rossi continues. "Being a volunteer fire department, we don't have the resources to go in and do pavement repairs. Not everyone knows how to do blacktop. It would cost us a small fortune." In return for the patching that PennDOT performed, the fire department agreed to continue to allow PennDOT to store equipment and materials (e.g., chipping stones) needed on the fire department's property for nearby projects.
"We are fortunate to have such a good partner like the Union Dale Fire Department," says Erin Mazikewich, assistant highway maintenance manager for PennDOT in Susquehanna County. "When planning future projects, it helps to know that we may have a storage location closer to the actual job site. The reduced time in hauling from the fire department's storage location to the job site can result in more timely completion of our project. We appreciate all the fire department does in and for the community, and we're happy to be able to help them out through the Agility Program."
In addition to the volunteer fire department, PennDOT has participated in exchanges with other non-traditional partners and, in some instances, in exchanges involving nontraditional services. In Warren and Forest counties, PennDOT has had a long-standing Agility Agreement with the Allegheny National Forest. PennDOT painted dividing lines on the roadway and swept and resurfaced some of their forest roads. In exchange, the U.S. Forest Service provided conference room space for PennDOT business meetings and events and graded nearby dirt roads in PennDOT's jurisdiction.
A common Agility exchange over the past 25 years has involved PennDOT applying crack sealing on local roads.
PennDOT's District 12, in southwestern Pennsylvania, had an Agility Agreement with Fayette County Airport. The airport gave PennDOT space in an empty hanger to use for equipment and spare furniture storage and, in return, PennDOT painted yellow road lines, applied crack sealing, and sprayed herbicide for weed control on the airport's taxiways and runways.
District 12 also had an Agility Agreement with the Washington County Fairgrounds in which PennDOT received storage space, and, in return, PennDOT used a flush truck to wash down the fairgrounds' bleachers and perform a few fairgrounds roadway repairs.
Agility enables PennDOT and its eligible partners to exchange services, equipment, and staff without monetary payments.
PennDOT District 5, based in Allentown, had an agreement with the Lehigh Valley International Airport where PennDOT applied salt brine to airport roadways and, in exchange, the airport plowed snow off of turning lanes leading into its facility and PennDOT used the airport's wash facility to clean its trucks. A key specification of Agility Agreements is that materials alone cannot be exchanged as part of an agreement except for salt brine, millings, and certain road signs.
Similarly, under an Agility Agreement with the PTC, PennDOT performed the pumping of water storage tanks and truck wash separator cleanings, and provided a salt stacker, building space, and a salt dome. In exchange, the PTC provided salt brine, an electric forklift, a salt dome, truck washes, building space, trash removal, and holding tank pumping.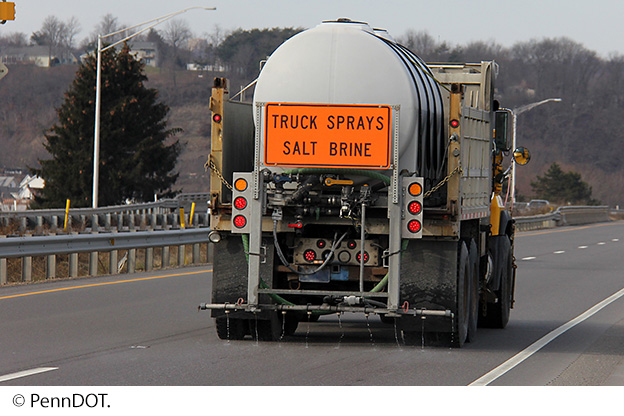 PennDOT can provide salt brine to municipal governments as part of the Agility Program exchanges.
"There have been numerous Agility Program success stories across Pennsylvania over the past 25 years, several with nontraditional partner organizations," says Bob Snyder, acting Agility Program manager in PennDOT's BOI. "PennDOT and its partner organizations, nontraditional or otherwise, have continued to recognize the potential for innovative 'win-win' opportunities to make the program work for everyone involved and ultimately benefit the citizens of the commonwealth."
"We welcome new ideas and partners for our Agility Program," says Yassmin Gramian, P.E., current PennDOT secretary. "The Agility Program has fostered effective and lasting cross-government relationships that have enhanced transportation services across Pennsylvania. We invite more eligible partners to consider entering into Agility Agreements with PennDOT."
Rich Kirkpatrick served for nearly two decades as PennDOT's press secretary. Currently, he serves as an annuitant in PennDOT's Bureau of Innovations. He holds a B.S. degree in journalism from Temple University.
For more information on PennDOT's Agility Program, visit http://www.penndot.pa.gov. Select "Local Government" from the "Doing Business" drop-down menu and select the blue "Agility Program" tile. You can also contact PDAgility@pa.gov.