Communication Product Updates
Communication Product Updates
Below are brief descriptions of communications products recently developed by the Federal Highway Administration's Office of Research, Development, and Technology. All of the reports are or will soon be available from the National Technical Information Service (NTIS). In some cases, limited copies of the communications products are available from FHWA's Research and Technology (R&T) Product Distribution Center (PDC).
Compiled by Lisa A. Shuler of FHWA's Office of Corporate Research, Technology, and Innovation Management
When ordering from NTIS, include the NTIS publication number (PB number) and the publication title. You also may visit the NTIS website at www.ntis.gov to order publications online. Call NTIS for current prices. For customers outside the United States, Canada, and Mexico, the cost is usually double the listed price. Address requests to:
National Technical Information Service
5301 Shawnee Road
Alexandria, VA 22312
Telephone: 703–605–6050
Toll-free number: 1–888–584–8332
Website: www.ntis.gov
Email: customerservice@ntis.gov
Requests for items available from the R&T Product Distribution Center should be addressed to:
R&T Product Distribution Center
Szanca Solutions/FHWA PDC
700 North 3rd Avenue
Altoona, PA 16601
Telephone: 814–239–1160
Fax: 814–239–2156
Email: report.center@dot.gov
For more information on R&T communications products available from FHWA, visit FHWA's website at www.fhwa.dot.gov, the FHWA Research Library at www.highways.dot.gov/resources/research-library/federal-highway-administration-research-library (or email fhwalibrary@dot.gov), or the National Transportation Library at ntl.bts.gov (or email library@dot.gov).
Developing Crash Modification Factors for Adaptive Signal Control Technologies 
Publication Number: FHWA-HRT-20-072 (Report) and FHWA-HRT-20-073 (TechBrief)
Adaptive signal control technologies (ASCTs)—using traffic sensor systems to measure traffic conditions in a corridor—can alter traffic signal timing in real time. They enable a better distribution of signal green time that reduces delay and traffic congestion. Research has found that ASCTs reduce fuel consumption, emissions, and air pollution; prioritize public transport and emergency vehicles; and improve accommodation of roadwork and special events traffic.
As part of FHWA's Development of Crash Modification Factors Program, members of the technical advisory committee for the Evaluations of Low-Cost Safety Improvements Pooled Fund Study conducted a project evaluating the safety effectiveness of ASCTs at urban intersections. This study looked at how the implementation of ASCTs impacted safety improvements through a crash-based evaluation. For this study, the researchers collected and analyzed crash data for traffic intersections with ASCT installations from three States: Florida, Texas, and Virginia. The project team also conducted an economic cost/benefit analysis of installing ASCTs at traffic intersections in those three States.
The report is available at www.fhwa.dot.gov/publications/research/safety/20072/20072.pdf.
The TechBrief is available at www.fhwa.dot.gov/publications/research/safety/20073/index.cfm.
Effective Indicators of Partially Automated Truck Platooning 
Publication Number: FHWA-HRT-21-016
As automated trucking technology continues to develop rapidly, full-scale commercial deployment of partially automated truck platoons (two to four cooperative adaptive cruise control-equipped trucks that follow each other closely over long trips) on public roads is on the horizon. Establishing positive interactions between these truck platoons and other vehicles is crucial to the continuing implementation of automated driving technologies. To help facilitate these safe interactions and increase road user understanding of truck platooning operations, a team of researchers conducted experiments for developing effective novel signage on roadways.
The project team conducted two experiments. The first experiment surveyed a group of drivers' feelings toward, and behavior around, trucks (conventionally driven and partially automated) on the road. They also surveyed how certain novel signs might influence these drivers' feelings and behavior. The second experiment had a different group of participants examine and answer questions related to scenarios with two truck platoons, evaluating how novel signs could impact these participants' judgment around platoons on roadways.
The TechBrief is available at www.fhwa.dot.gov/publications/research/safety/21016/index.cfm.
Statistical Analysis of Pavement Profiler Data to Evaluate the Bump at the End of the Bridge 
Publication Number: FHWA-HRT-21-037
The bump at the end of the bridge (BEB) remains a chronic problem for the Nation's roadway bridges. Occurring at the point of transition onto and off the bridge deck, the BEB can cause many problems, including user discomfort and safety concerns, vehicle damage, and increased maintenance. The occurrence of the BEB is often related to bridge and approach roadway design and construction processes, but factors like pavement or deck roughness at bridge approaches are often not quantified.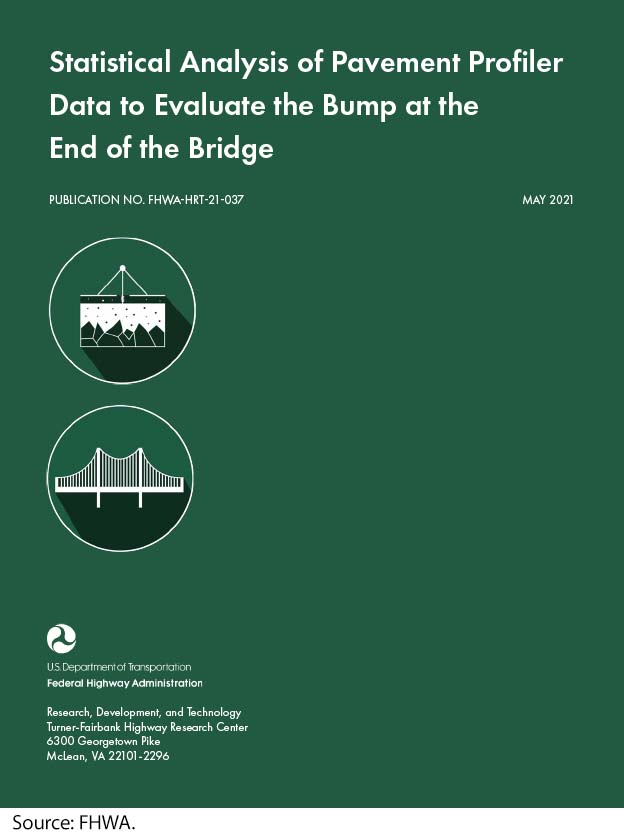 This study aimed to quantify the magnitude and roughness of the BEB on various bridges throughout the United States by evaluating results collected from high-speed inertial profilers. The researchers also employed statistical analysis of these BEB data to analyze the effects of different site and bridge characteristics on the magnitude and roughness of the BEB.
The report is available at www.fhwa.dot.gov/publications/research/infrastructure/structures/bridge/21037/index.cfm.
Long-Term Pavement Performance Information Management System User Guide
Publication Number: FHWA-HRT-21-038
Existing for more than three decades, FHWA's Long Term Pavement Performance (LTPP) program has become an important database for pavement performance research.
This document provides an overview of the LTPP's Information Management System (IMS). It gives an overview of the three main parts of the IMS: products (for example, research findings and new software tools), the Pavement Performance Database, and the Ancillary Information Management System. The various database modules for specific types of data tables are also outlined, including administration, automated weather station, climate, and Modern-Era Retrospective Analysis for Research and Applications (MERRA) modules.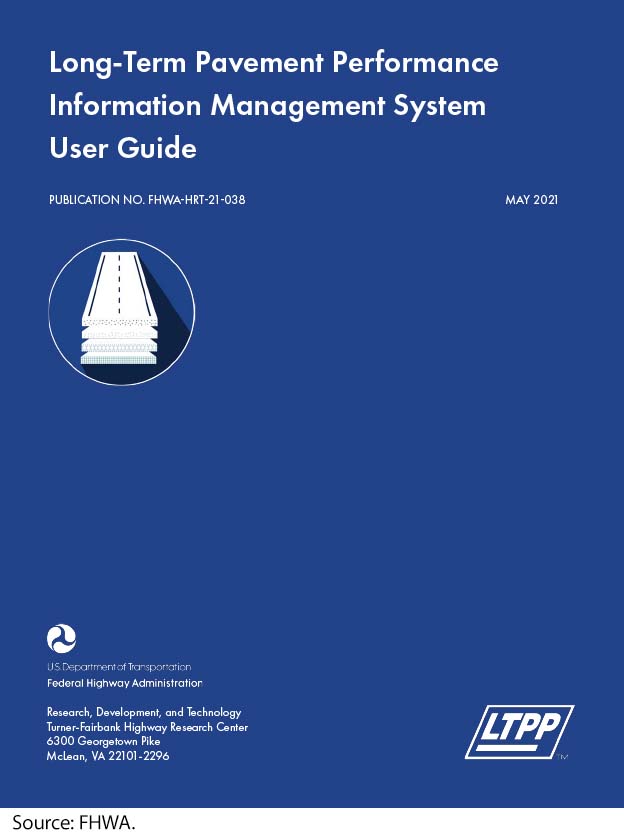 The report is available at www.fhwa.dot.gov/publications/research/infrastructure/pavements/21038/index.cfm.
Developing Analysis, Modeling, and Simulation Tools for Connected and Automated Vehicle Applications: A Case Study for I–66 in Virginia
Publication Number: FHWA-HRT-21-050
FHWA continues to support research related to connected and automated vehicles (CAVs), sponsoring three case studies examining the impact of CAVs on traffic and energy, and the applications of CAV and traffic management strategies on various freeway and arterial corridors. In this case study, the researchers investigated the effectiveness of certain CAV applications (platooning, speed harmonization, and cooperative merge) in mitigating traffic congestion. The research team used roadway simulations on a 13-mile (21-kilometer) strip of I–66 in northern Virginia. The project team also looked at the potential benefits of dedicated ramps and a realistic managed-lane concept.
The report is available at www.fhwa.dot.gov/publications/research/operations/21050/21050.pdf.