Building a Better Mousetrap Improves Communities
In transportation, building a better mousetrap means solving problems by going outside the box. Each year, FHWA and Local Technical Assistance Program Centers recognize government agencies that build a better mousetrap to creatively solve problems and improve transportation in their communities. FHWA honors four organizations with 2021 Build a Better Mousetrap Awards.
Building Better Mousetraps in Local Communities 
Smart Transformation Award 
Seminole County, FL, received this year's Smart Transformation Award. Its developers built a mobile application to improve Americans with Disabilities Act (ADA) accessibility throughout the county. This solution reduced the county's reliance on paper, increased data accessibility, improved how ADA field inspections are conducted, and increased productivity.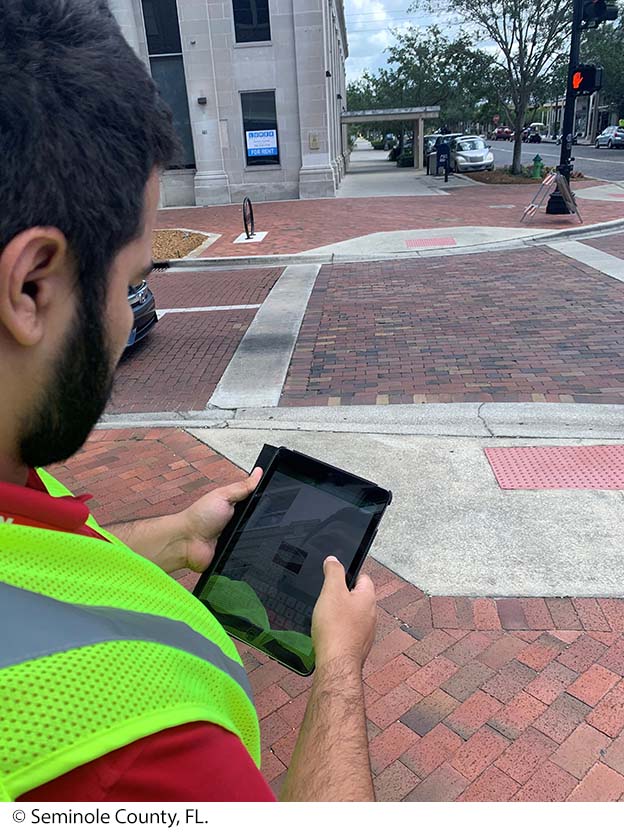 A mobile app increased data accessibility and improved ADA inspections.
Jose Salas with the Seminole County Public Works Department is proud of the solution. "We continue to discuss ways to improve the application and have received feedback for improvements from users," he says.
Innovative Project Award 
FHWA named the Jones County, IA, Secondary Roads Department recipient of the 2021 Innovative Project Award for its development of a hopper, a dump truck attachment that saves time and money when conducting shoulder maintenance along the roadways. The hopper results in fewer materials wasted and reduced labor and equipment costs while increasing lane miles covered. The county currently has two hoppers, with a third in production.
Jones County's hopper improved shoulder maintenance.
"Shoulder edge dropoff is a major safety issue that our Secondary Roads Department continually mitigates with our shoulder replacement program," says Todd Postel, the Jones County assistant to the engineer.
Pioneer Award 
A Pioneer Award recipient is among the first to solve a maintenance problem with a homegrown solution. The Independent Highway District in Sandpoint, ID, did just that by developing a new process to extend the life of centerline markings on a roadway that sees a lot of wear and tear from residents, commercial truck drivers, and heavy snowfall.
Thermoplastic centerline markings improve visibility and safety.
"Schweitzer Mountain Road leads to the local ski area,…receives 100 to 300 inches [254-762 centimeters] of snow annually, and has 2,000 to 5,000 vehicles traveling up and down the mountain daily," says Mel Bailey, the agency's board chair.
The district developed a process to make indentations, or divots, along the roadway's centerline using metal plates and then cover them with thermoplastic markings that can remain visible for up to 10 years. The solution saved time and money, and also improved roadway safety.
Bold Steps Award 
The recipient of the 2021 Bold Steps Award, the Illinois Tollway, took a bold move toward improving safety. With many veteran roadway electric workers set to retire in the coming years, transportation officials needed a safer and faster way to train new electrical workers to assess, repair, and maintain the nearly 18,000 light fixtures along the 294-mile (473-kilometer) Tollway system. Traditionally, the biggest challenge was performing the training alongside high-speed traffic and in variable weather conditions while working with high-voltage equipment.
Models of roadway electrical equipment make training safer and more efficient.
Roadway lighting technician Ben Pierce, who has been with the Tollway for more than 20 years, teamed up with two of his peers and gathered input from others in the agency to develop a portable training device that models the tollway's actual electrical equipment. With the device, electric workers can be trained in a safe environment more quickly and with less downtime for inoperable equipment.
Celebrating Innovative Solutions 
"As always, we are excited about this year's honorees and how they are helping to transform transportation," says Joe Conway, director of FHWA's Local Aid Support team. "Recognizing innovative agencies not only shines a spotlight on the public service they provide to residents, but it also encourages other agencies to move away from the standard ways of conducting business."
For more information, visit www.fhwa.dot.gov/clas/babm.
Trinette Ballard is an FHWA Local Aid Support Program manager in the Office of Transportation Workforce Development and Technology Deployment.