Challenges and Opportunities
The year 2021 has been busy at the Federal Highway Administration. We are all excited about the new opportunities created by new leadership at the White House and throughout the Department of Transportation, as well as by congressional interest both in reauthorizing surface transportation funding and enacting a bipartisan infrastructure bill. Even though I've only been with FHWA for several months, it's been a busy and exciting time.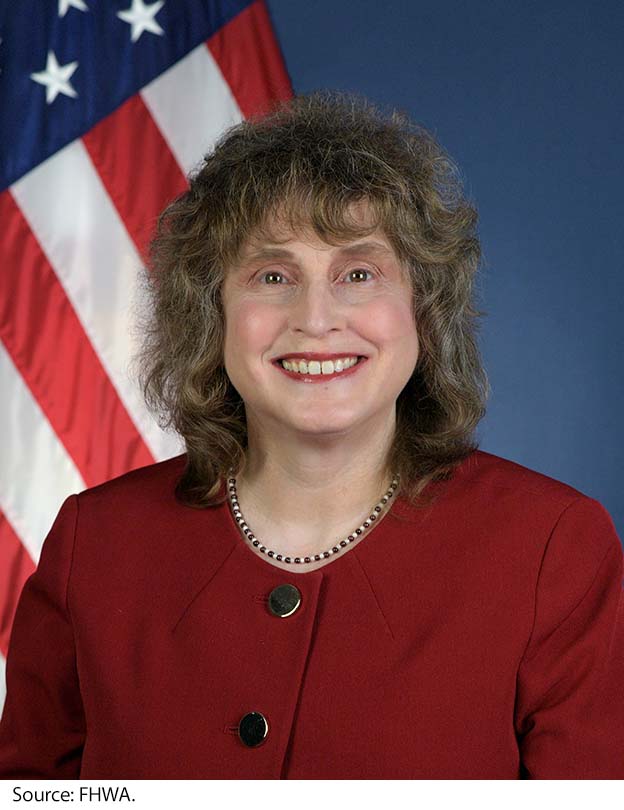 This issue of Public Roads spotlights bridge safety—from the history, decline, and recent recovery of the century-old Arlington Memorial Bridge in Washington, DC, to an article about the 50th anniversary of the National Bridge Inventory System, which has kept all public bridges safe since the tragic collapse of the Silver Bridge in West Virginia in 1967. Shining a light on the importance of bridge inspections is especially timely, given the fracture discovered in May on the Hernando DeSoto Bridge over the Mississippi River between Tennessee and Arkansas.
This year featured many historic milestones, including the Interstate system's 65th birthday on June 29. Such occasions prompt many to look back and reminisce about the difficulties of travel before the age of the superhighway. While we all can and should learn lessons from the past, we also must look to the future. How will the Nation be better because of the decisions and investments we make today? When others look back 65 years from now, how will they judge the work we are doing in 2021?
For me, one topic that raises those very questions is our response to the climate crisis. The recent report by the Intergovernmental Panel on Climate Change is a stark reminder that no matter how much we work to reduce greenhouse gas emissions, we must also make our transportation infrastructure more resilient to the heat, precipitation, and sea level rise already locked in by climate change. Weather has been a significant factor in the safety of the traveling public this year—from a week of extreme heat over the Pacific Northwest that caused roads to buckle, to the flash floods and mudslides that closed I–70 through Glenwood Canyon in Colorado. This issue of Public Roads focuses on strategies used to respond to unusual weather, as well as coastal resilience and Arizona's massive dust storms.
Making the Nation's roads safer and more resilient to a changing climate are only two of the challenges we face as we work to Build Back Better. We seek a transportation system that is safe, reliable, equitable, sustainable, and resilient—but with each challenge comes opportunity. Each problem invites creative new solutions.
While new to the job, it's already clear to me that FHWA is a problem-solving agency that is up to these challenges and eager to take advantage of new opportunities. It's also clear that we will not succeed alone but by collaborating with our State and local partners, advocates, and stakeholders. Indeed, I believe that facing the challenges ahead together will prove to be the greatest opportunity of all.
Stephanie Pollack
Acting Administrator
Federal Highway Administration