Along the Road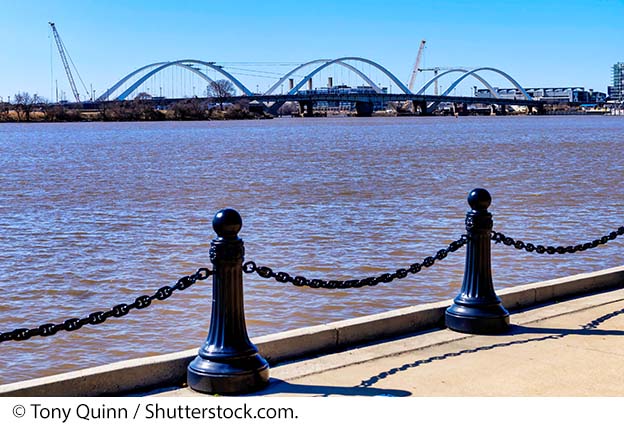 The new Frederick Douglass Memorial Bridge in Washington, DC, is the city's largest ever public works project.
Public Information and Information Exchange 
FHWA Launches MATCH for Local and Tribal Agencies 
The Federal Highway Administration recently launched the Mentoring, Assistance, Training, and Communication Help (MATCH) program to provide broad-based technical assistance to local and Tribal agencies facing roadway safety challenges. The program connects agencies requesting assistance (mentees) with peer mentors who have specific expertise to help successfully address the identified challenges. The technical assistance is free for mentees, and mentors volunteer their time to help peers.
FHWA's MATCH program offers mentoring to local and Tribal agencies to improve roadway safety.
FHWA's MATCH program offers mentoring to local and Tribal agencies to improve roadway safety.
Local and Tribal agencies own and operate approximately 75 percent of the Nation's roadway network, much of which is in rural areas. These agencies often face unique safety challenges on their roads involving roadway departures, intersection safety, speed management, and pedestrian and bicyclist safety. The MATCH program will augment FHWA efforts and support local and Tribal road practitioners with integrating safety into their roadway programs. The program leverages the mentor's knowledge and experience to provide short-term technical assistance to local and Tribal agencies wanting to resolve safety or safety-related concerns or issues. Mentors will assist in identifying the problem and recommend appropriate implementation strategies when paired with mentees. This enables mentee agencies to benefit from this knowledge to potentially save lives and reduce serious injuries on roadways.
All local and Tribal agencies are eligible to apply for technical assistance from a mentor through the MATCH program. Public agency transportation safety professionals and those from centers of learning who have specific expertise related to local or Tribal road safety can serve as mentors. Mentors must be actively employed by or retired from a public transportation agency and have a minimum of 5 years of continuous transportation safety experience. Both mentors and mentees will be required to produce a short report once the activity is completed to document and share noteworthy practices.
For more information, visit https://safety.fhwa.dot.gov/local_rural/MATCH or contact Rosemarie Anderson at rosemarie.anderson@dot.gov.
USDOT Announces Expanded Workforce Pilot Programs 
In May, U.S. Transportation Secretary Pete Buttigieg announced expanded construction hiring and workforce development pilot programs to be managed by FHWA and the Federal Transit Administration. Buttigieg made the announcement at an event at the construction site of the new Frederick Douglass Memorial Bridge, where he joined Washington, DC, Mayor Muriel Bowser; the director of the District Department of Transportation; and other Federal and local leaders. The bridge replacement project is the largest public works project in DC history and is tentatively scheduled to open in fall 2021.
Both FHWA's and FTA's programs will give contracting agencies expanded flexibility to use hiring preferences to enhance workforce development opportunities for those in economically or socially disadvantaged communities. A similar USDOT pilot program was in effect from 2015 to 2017. The local hire initiatives will improve participation in existing training and apprenticeship programs, such as FHWA's on-the-job training programs.
FHWA's Enhancing Workforce Development Opportunities Contracting Initiative will help to rebuild the skilled workforce needed to improve the Nation's transportation infrastructure. The 4-year pilot program will enable State transportation agencies and contractors to better recruit qualified construction workers, which can be challenging in many parts of the country.
For more information on FHWA's pilot program, visit www.fhwa.dot.gov/construction/workforcedevelopment. For more information on the bridge project, visit www.newfrederickdouglassbridge.com.
NHTSA Launches Recall Dashboard
In July, the National Highway Traffic Safety Administration unveiled a new cloud-based recall dashboard to make searching for auto safety recall data easy and efficient. The dashboard offers user-friendly and transparent ways to sort, filter, visualize, and export recall data.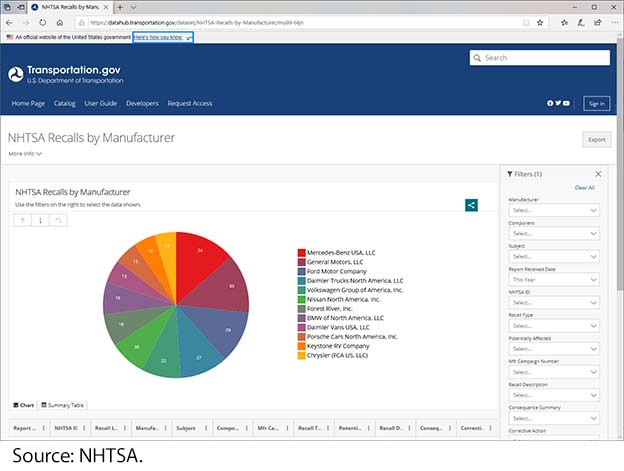 NHTSA's interactive dashboard provides improved access to vehicle recall information.
The dashboard, available at https://datahub.transportation.gov/dataset/NHTSA-Recalls-by-Manufacturer/mu99-t4jn, will be updated daily. It enables users to sort and filter data; search by keyword; and export data in CSV, TSV for Excel, XML, and other formats. It also presents data in easy-to-read charts and graphs.
Previously, NHTSA made its recall data available through a bulk download, requiring users to download large data files and import them into a database like Microsoft Access. The new dashboard makes this information easier to access and analyze.
NHTSA encourages everyone to search for open recalls by using NHTSA's VIN Look-Up Tool (www.nhtsa.gov/recalls) and to download the SaferCar app (www.nhtsa.gov/campaign/safercar-app) to stay informed on current recalls. Make sure to promptly address any open recalls.
Arizona DOT Works to Preserve Rare Cactus 
The Arizona Department of Transportation (ADOT) is helping to relocate a rare and endangered species of cactus growing near the Pinto Creek bridge replacement project along U.S. 60 near Globe-Miami. The project is expected to wrap up in 2022.
Initiated in 2018, this relocation effort is the latest step in a long-term partnership between ADOT and the Desert Botanical Garden in Phoenix, AZ, to protect the hedgehog cactuses that only grow in one tiny area of the State.
ADOT is helping to preserve the endangered hedgehog cactus.
The rescue effort required botanists to rappel into the canyon and carefully dig up, cover, and transport the plants to the botanical garden's complex in Phoenix. There, the botanists will care for the cactuses and breed them so there are more of them when returned to the Pinto Creek Bridge site in a few years.
In June, a wildfire burned the area near the Pinto Creek bridge project. The project itself was undamaged, but many cacti were burned in the fire. ADOT's partnership with the Desert Botanical Garden to rescue, preserve, and propagate more of the cacti at the garden in Phoenix will help ensure the continued survival of the species.
Visit https://azdot.gov/adot-blog/redoing-bridge-saving-endangered-cactus-pinto-creek for more information.
ADOT
Technical News 
INDOT Partners with Purdue to Develop Innovative Highway Infrastructure 
The Indiana Department of Transportation (INDOT) and Purdue University recently announced plans to develop the world's first highway segment paved with contactless wireless-charging concrete. The project will use innovative magnetizable concrete, developed by a German startup, that enables wireless charging of electric vehicles as they drive.
Indiana is working to develop an innovative highway that can wirelessly charge electric vehicles that drive on it.
The project is part of the Advancing Sustainability through Power Infrastructure for Road Electrification (ASPIRE) initiative, an Engineering Research Center funded by the National Science Foundation, and involves the collaboration of universities, government laboratories, businesses, and other stakeholders developing next-generation charging technologies for the electrification of transportation vehicles of all classes.
The project will include three phases. Phases 1 and 2 will feature pavement testing, analysis, and optimization research conducted by the Joint Transportation Research Program at Purdue's West Lafayette campus. In phase 3, INDOT will construct a quarter-mile-long testbed at a location yet to be determined, where engineers will test the innovative concrete's capacity to charge heavy trucks operating at high power (200 kilowatts and above). Upon the successful completion of testing of all three phases, INDOT will use the new technology to electrify a yet-to-be-determined segment of interstate highway within Indiana.
INDOT
NCDOT Pilots New Commercial Trucking Alert System 
The North Carolina Department of Transportation (NCDOT) is taking a novel approach to reducing the risk of commercial truck crashes to help keep work zones and highways flowing smoothly. The department is partnering with a Canada-based company that provides innovative connected-truck technology, including in-cab communications. The in-truck messaging provides real-time alerts of urgent road conditions. The alerts will help commercial drivers react more quickly before encountering stopped traffic or major slowdowns.
"We want drivers to have every tool and technological advancement necessary to reach their destination safely and efficiently," says Beau Memory, NCDOT's chief operating officer. "This collaboration demonstrates our commitment to driver safety with technology that could become an invaluable tool for transportation."
The first-in-the-Nation pilot covers all 182 miles (293 kilometers) of I–95 and the rural portions of I–40. The safety alerts under the pilot can reach commercial drivers even where there are no digital signs to provide traffic updates. The alerts have messages such as "Sudden Slowdown Ahead" and "Congestion Ahead" about 2 or 3 miles (3 to 5 kilometers) before commercial truck drivers encounter the slowed traffic or incident.
Big rigs need more time to slow down, and crashes involving tractor-trailers can close highways for extended periods and contribute to secondary crashes, such as rear-end collisions. A fully loaded tractor-trailer traveling at 65 miles (105 kilometers) per hour takes 66 percent longer to stop than a passenger car, according to the trucking industry.
The 1-year contract to employ the alerts began on May 17, 2021. After the pilot period, NCDOT will evaluate the safety benefits of the pilot.
NCDOT
A pilot program in North Carolina is exploring in-cab alert messaging to provide traffic updates to commercial truck drivers.