Improving Safety for Travelers and Wildlife
Wyoming has been addressing collisions between animals and vehicles on highways for decades. Here's what they have learned.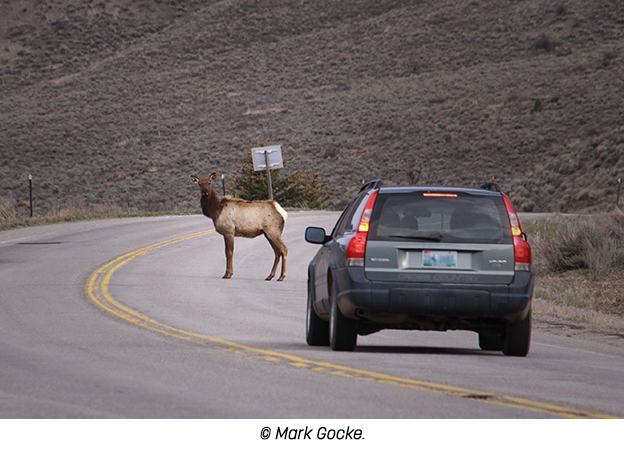 Roadways inevitably bring conflict between wildlife and vehicles, especially on rural highways, leading to carcasses in or beside travel lanes, injured animals, damaged vehicles, and injured people. Wyoming is no exception. As in other States, Wyoming roadways commonly overlap, intersect, or travel along common wildlife habitats and migratory corridors.
One of the ways to help keep migration corridors intact while improving safety for travelers and wildlife is to provide highway crossing structures in select locations. In Wyoming alone, studies have shown an approximate 80-percent reduction in wildlife/vehicle collisions where such structures have been installed. While obviously benefitting wildlife, these structures ultimately serve transportation agencies by addressing their highest priority—traveler safety. Although such additions to roadway design can be expensive, they provide worthwhile benefits to wildlife and the traveling public, such as reducing crashes, injuries, property damage, emergency response, and carcass removal and disposal.
Understanding Wildlife/Vehicle Conflict
To improve safety and prevent collisions, transportation agencies must first have data on where the wildlife is, how animals are moving, and where conflicts occur. With the advent of GPS technologies incorporated into radio telemetry collars, wildlife researchers could begin to identify migration corridors for mule deer and pronghorn—two of the most common species in Wyoming's wildlife/vehicle conflicts—and identify these routes in Wyoming. In addition, the Wyoming Department of Transportation (WYDOT) has long been collecting carcass location data along highways. Combining these long-term data with new telemetry data has greatly improved identification of hot spots and helped focus priorities to mitigate wildlife/vehicle conflicts.
Wyoming is home to some of the longest intact mule deer and pronghorn migration corridors in North America.
"The vast majority of deer, elk, and pronghorn are migratory, so it's important we maintain functional migration corridors that allow them to move between distant winter and summer ranges," says Hall Sawyer, a research biologist and project manager with Western EcoSystems Technology, Inc.
In February 2020, Wyoming Governor Mark Gordon recognized the importance of these migration corridors when he signed an Executive Order outlining their protection and management.
While many collision areas correlate with migration corridors, other hot spots are due to more localized animal populations, vehicle densities, and speeds. Conflicts arise in nonmigration areas such as seasonal or year-round wildlife habitats.
Typically, wildlife/vehicle collisions result in a low percentage of fatal and injury crashes. However, conflicts with large game animals comprise 15 percent of overall crashes in Wyoming, and of these, 80 to 85 percent involve mule deer. Fortunately, very few collisions have resulted in human fatalities, although the same cannot be said for wildlife. Regardless, wildlife/vehicle collisions result in tens of millions of dollars in vehicle repairs, as well as roadway maintenance costs to dispose of carcasses. In addition, it is becoming more difficult to dispose of carcasses as fewer and fewer municipal landfills are accepting them, forcing WYDOT to find alternative sources such as paying for private contracts.
2013-2017

 

Crash Severity

 

Total Crashes

 

Wildlife Caused

 

Wildlife Crashes Percentage of Total

Fatal Injuries

540

6*

1.1%

Injury Crashes

13,387

282

2.1%

Property Damage Only
Crashes

 

54,882

 

12,275

 

22.4%

*5 of the 6 fatal injuries were individuals riding motorcycles.
Early Methods to Mitigate Conflicts
WYDOT's initial attempt at reducing wildlife/vehicle conflict in the State began in the 1980s with the installation of wildlife barrier fencing at the right-of-way boundaries on select highways. This was a cooperative effort between WYDOT and the Wyoming Game and Fish Department (WGFD) as the two agencies worked to identify the best locations to implement the new fencing. Wyoming now has more than 25 miles (40 kilometers) of wildlife barrier fence on I-80, 4 miles (6.4 kilometers) on I-25, and 35 miles (56 kilometers) on several other highways.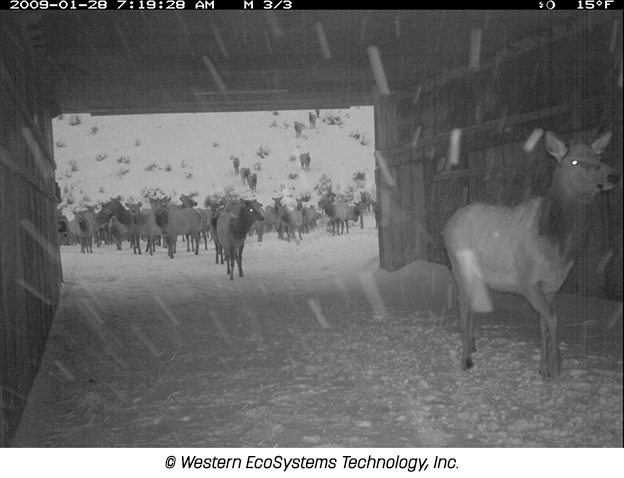 In the early 1990s, WYDOT and WGFD initiated a focus on facilitating mule deer migration across Wyoming roadways based on information from research studies on U.S. 30 west of Kemmerer, WY. This section of road experienced hundreds of deer/vehicle conflicts annually. In 2001, WYDOT mitigated the issue by installing a reinforced-concrete box culvert at Nugget Canyon with associated wildlife barrier fence to facilitate animal movement toward the culvert. WYDOT monitored the 11-foot-high by 20-foot-wide (3.4-meter by 6-meter) culvert structure to determine effectiveness after installation. The agency constructed numerous facias, or temporary openings of various sizes, to determine the minimum size that mule deer preferred. Researchers found the 10-foot by 20-foot (3-meter by 6-meter) configuration to be the optimum dimensions. WYDOT subsequently installed six more underpasses and associated barrier fencing along U.S. 30. This successful wildlife crossing effort has reduced wildlife vehicle collisions by 81 percent.
Moran Junction to Dubois Road
In the mid-2000s, WYDOT convened the first wildlife working group to support the Moran Junction to Dubois highway reconstruction (U.S. 287/26) project. The wildlife working group included representatives from Federal Highway Administration, WYDOT, WGFD, the U.S. Forest Service, U.S. Fish and Wildlife Service, and a local wildlife advocate. The group was tasked with developing a process to review potential crossing locations and structure types. The group evaluated structures to fit natural topography and drainages, and identified crossing locations based on research projects and local knowledge.
The Moran Junction to Dubois corridor is a high-elevation project along the southern Greater Yellowstone Ecosystem and is located in core spring, summer, and fall habitats, rather than along a migration corridor. The road, within Bridger-Teton and Shoshone National Forests, receives more than 300 inches (760 centimeters) of snow each winter and therefore cannot support a fence of any kind—the snow load would destroy it in one season. To address wildlife/vehicle conflicts in this environment, the working group recommended extending two bridges, creating an under-passage on each side, as well as adding a new bridge, four new large box culverts, and a large arch culvert. Less than 10 percent of the project's $120 million cost went toward these wildlife mitigation strategies. The structures have proven to be effective for facilitating safe crossings by mule deer, elk, moose, and grizzly bear, as well as numerous small mammals.
"An extra selling point was the structures could also be used by snowmobiles in the winter without wildlife conflict, as most species migrate to lower elevations or hibernate," says Mark Hinschberger, a retired wildlife biologist formerly working in the Shoshone National Forest.
Highway 789 Underpasses
North of the town of Baggs, WY, State Highway 789 bisects crucial winter range and migration corridors for mule deer. Oil and gas production in the area contributed to a drastic increase in deer/vehicle crashes. With funding help from WGFD, Wyoming's Bureau of Land Management, the local conservation district, and other nongovernment organizations, WYDOT constructed two 10-foot by 20-foot (3-meter by 6-meter) box culvert underpasses and approximately 5 miles (8 kilometers) of barrier fence in 2009 and 2012 to mitigate deer/vehicle crashes. As in Nugget Canyon, the underpasses have been very effective at safely moving mule deer under the highway. WYDOT and its partners documented more than 16,000 mule deer crossings during the first 2 years after construction of the first underpass and more than 1,200 crossings during the first 7 months after construction of the second underpass. Other species such as elk, bobcat, and coyote have benefitted from the underpasses as well.
Trappers Point
The Trappers Point project is perhaps Wyoming's most famous. Pronghorn and mule deer migrate through this area and, according to wildlife researchers, have done so for thousands of years. This important and long-length migration corridor, known as the Path of the Pronghorn, was even documented by National Geographic.
The wildlife migration corridor intersects U.S. 191 near Pinedale, WY. In addition, there are small private acreages and other developments that, combined with the highway and topography, create a bottleneck for wildlife to navigate, increasing the risk of vehicle conflict. WYDOT, with support of other agencies, installed two overpasses and six underpasses, along with a barrier fence to guide animals to the structure to help mitigate this crossing issue. Pronghorn tend to prefer open areas with greater visibility, so they tend to prefer overpasses. However, recent data show that the animals can habituate to underpasses that provide appropriate openness. Mule deer are less selective of structure type. Monitoring has since shown that the project has resulted in an 80- to 90-percent reduction in collisions while maintaining this critical migration corridor.
Togwotee Pass and Hoback Junction
Built in 2010, the buried bridge on Togwotee Pass cost approximately $2 million. The roadway is on a curve and has a 6 percent grade, and with an elevation of 9,500 feet (2,900 meters), can experience ice accumulation most months of the year. To minimize differential icing between the roadway and the overpass, WYDOT designed 3.5 feet (1.1 meters) of soil between the structure and surfacing. Travelers don't even realize they have traversed a bridge. The structure enables elk and deer to move back and forth under the highway along the reestablished drainage.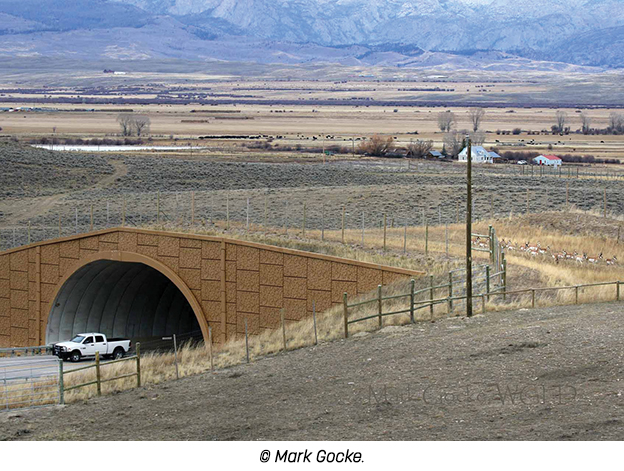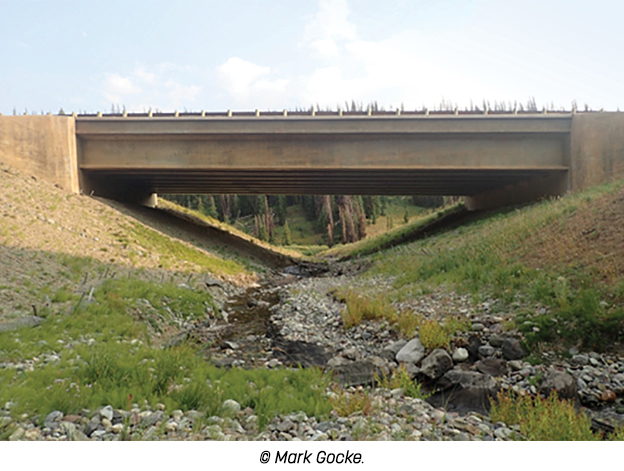 Like Moran Junction, the Hoback Junction to Jackson project also used a wildlife working group to develop a prioritized list of crossing locations and structures. The group recommended lengthening three bridges, building two new bridges, and building a new box culvert along with the associated wildlife barrier fence. The project consists of a north and south phase. The north phase is complete, with two new lengthened structures and one new bridge. The new and longer Flat Creek Bridge has remote camera data showing use by deer, moose, and elk—and even a family of mountain lions.
Looking to the Future
Transportation and wildlife agencies, along with Wyoming's Bureau of Land Management, the U.S. Forest Service, nongovernmental organizations, and Wyoming landowners, continue to work together on wildlife/roadway related issues in the State. In 2017, WYDOT and WGFD, along with their Federal, State, and local partners, created the Wyoming Wildlife and Roadways Initiative (http://www.dot.state.wy.us/wildlife-initiative) to improve public safety on the State's highways, reduce loss of lives and property, and reduce wildlife mortality.
The initiative established a collaborative group to prioritize a list of about 240 locations for potential wildlife/roadway projects across the State. The group determined the top 10 projects for WYDOT and WGFD to focus on for the foreseeable future. The list includes the Dry Piney project that has been awarded a BUILD grant. The highway bisects deer and pronghorn migration. The agencies are exploring efforts for funding opportunities by nongovernment organizations and other partners in this statewide effort.
---
Bob Bonds is the environment and design program engineer with FHWA's Wyoming Division. He holds a B.S. in civil engineering from the University of Wyoming.
Scott Gamo is the environmental services manager at WYDOT. He holds a B.S. in biology from Black Hills State University, an M.S. in wildlife biology, and a Ph.D. in rangeland ecology from the University of Wyoming.
Thomas Hart is a wildlife biologist in WYDOT's Environmental Services Section. He graduated from the University of Wyoming with a B.S. in wildlife and fisheries biology and management.
For more information, contact Bob Bonds at bob.bonds@dot.gov.