Ensuring Quality Through Inspection
Helping the Nation's transportation workforce recognize and address significant causes of early asphalt pavement distress is a critical goal of the Federal Highway Administration's Office of Infrastructure, Pavement Materials Team. To address this growing need and help achieve that goal, the National Highway Institute (NHI) developed the new instructor-led training, Constructing and Inspecting Asphalt Paving Projects (course 131139).
A Proactive Approach
During the 2-day classroom training, individuals learn construction and inspection techniques that meet quality standards and technical specifications for asphalt paving projects. The course focuses on the importance of a proactive approach to managing and inspecting construction projects at every stage. Participants identify and solve associated problems, implement corrective actions, and document communications between the agency and contractor. An indepth review of the inspection process enables learners to leave the classroom ready to apply the knowledge and skills they need on site to maximize quality in construction projects.
"We cover the gamut in this course—from typical preconstruction to the most important elements of laydown operations and compaction including emphasis on joints," says Jason Dietz, a pavement and materials engineer in FHWA's Resource Center. "Not only does this course prepare participants to identify best construction practices before, during, and after asphalt pavement placement, it also encourages them to consider minor to severe consequences that could result from poor construction practices."
NHI developed Constructing and Inspecting Asphalt Paving Projects with a single goal in mind: quality. To achieve high-quality results on a project, inspectors must be knowledgeable and proactive at resolving construction concerns and avoiding future problems with the pavement by insisting upon proper methods before and during construction on each project.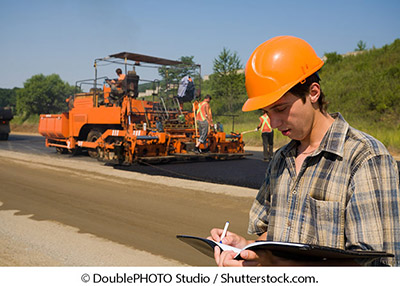 Proactive inspection of pavement at every stage of construction helps ensure the best outcomes for roadway surface conditions.
Who Should Participate
NHI recommends this course for individuals who are involved in the planning, construction, and review of asphalt paving projects and who must ensure that projects are built to required specifications. Participants may be relatively new to asphalt or general project inspection. However, those with broader experience also will find value in the course as they learn about innovations in asphalt pavement construction technology and share successful practices with their peers. Participants must complete a 5-minute online pre-assessment to identify their familiarity with their agency's asphalt pavement construction and inspection standards.
This instructor-led training costs $525 per person and awards 1.3 continuing education units upon the successful completion of the course's 13 hours of instructional time.
For more information or to register for this course, visit www.nhi.fhwa.dot.gov. To sign up for alerts when a course session is scheduled, visit the individual course description page and select the "Sign Up for Session Alerts" link.
How to Host or Attend a Training Course
NHI invites professionals interested in earning continuing education units or professional development hours to visit www.nhi.fhwa.dot.gov to browse the complete digital course catalog, which lists more than 400 courses spanning 18 program areas. Interested hosts can submit a Host Request Form or find more information about hosting NHI 131139.
NHI is approved as an Accredited Provider by the International Association for Continuing Education and Training (IACET). As an IACET Accredited Provider, NHI offers continuing education units for its programs that qualify under the ANSI/IACET Standard.
---
Gay Dugan is an NHI training program manager. Vanessa Almony and Amber Clark are contractors for NHI.