National Hydraulics Research Program
Laboratory Purpose
The National Hydraulics Research Program includes the J. Sterling Jones Hydraulics Laboratory at the Federal Highway Administration's (FHWA's) Turner-Fairbank Highway Research Center. The Office of Infrastructure Research and Development's Bridge Engineering Research Team (HRDI-40) is responsible for research related to the impacts of flooding on highway infrastructure.
The J. Sterling Jones Hydraulics Laboratory has conducted research on highway hydraulics for more than 30 years. The Laboratory is a state-of-the-art research facility equipped with computational fluid dynamics (CFD) modeling capabilities. The Laboratory's instrumentation and experimental testing equipment includes a multifunctional flume system, force balance flume, and multiple soil-erosion resistance testing devices that have improved significantly over the past several years. Past research tasks in the laboratory included working on bridge scour, culvert hydraulics and aquatic organism issues, highway drainage concerns, and stream stability problems. The Laboratory has developed design guidelines for bridges that may become submerged in high flood risk areas and guidelines to prevent or combat the effects of scour around bridge foundations.
CFD modeling is conducted through collaboration with the Department of Energy's Argonne National Laboratory Transportation Research and Analysis Computing Center. This collaboration allows access to high-performance cluster computing. Access to these clusters enables the Hydraulics Laboratory to solve highway hydraulics research problems more efficiently.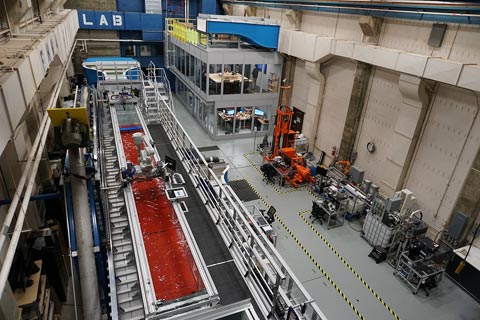 Figure 1. The FHWA's J. Sterling Jones Hydraulics Research Laboratory at the Turner-Fairbank Highway Research Center.
Research Program
The Hydraulics Research Program is a part of the National Hydraulics Program and is coordinated with the National Hydraulics Team (NHT), including the Program Office (HQ), FHWA Resource Center, and Federal Lands Offices. The research program studies problems related to the six functional areas that were developed by NHT:
Hydrology and Extreme Weather
Highway Drainage
Culvert Hydraulics
Bridge Hydraulics
Scour, Steam Stability, and Scour Protection (Countermeasures)
Coastal Highways
Laboratory Description
The Hydraulics Laboratory is divided into seven zones for better laboratory management, maintenance, and capital improvements. The zones include:
Zone 1 – Multifunctional flume system
Zone 2 – Force balance flume system
Zone 3 – In situ scour testing device (ISTD), lab drill rig
Zone 4 – Lab soil erosion testing devices
Zone 5 – Particle image velocimetry (PIV), lasers, and cameras
Zone 6 – Laboratory office and 3D printing
Zone 7 – Laboratory machine shop
 

Figure 2. Hydraulics Laboratory zones.
Recent Accomplishments and Contributions
Publications
For a complete list of publications produced by the Hydraulics Laboratory, use the Research Publications page.
Technical Assistance
Technical Assistance Subjects

| Agency | Fiscal Year | Subject |
| --- | --- | --- |
| Caltrans | FY15/FY16 | Scour Study for the Feather River Bridge over the Feather River in Sutter County, California |
| Caltrans | FY15/FY16 | Scour Countermeasure Study for the Middle Fork Feather River Bridge over the Middle Fork of the Feather River in Plumas County, California |
| MnDOT | FY15/FY16 | MnDOT ADA compliant grate study |
| USACE –LA District | FY15/FY16 | Pier Extension and Guide Wall Design Alternatives to Mitigate Local Scour Risk for the Burlington Northern and Santa Fe (BNSF) Railroad Bridge over the Santa Ana River downstream of Prado Dam in Riverside County, CA |
| MD SHA | FY16 | User Guide is to assist HY-8 users in the application of HY-8's Low Flow capability for identifying zones of lower velocity during low flows in culverts |
| VDOT | FY16 | Improve design methodology for estimating scour in rock for abutments |
| USACE – ERDC | FY17 | Design, fabricate and install two instrumentation robotics systems for the USACE/ERDC Cognitive Ecology and Ecohydraulics Laboratory |
| MDOT | FY17 | Soil Sample Erosion Testing for Michigan DOT for M-20 Bridge over the Tittabawsee River |
| Western Federal Lands | FY17 | Testing Engineered Log Jams for road side erosion protection for a proposed project next to Hoh River Olympic National Park in Washington State. |
FY: fiscal year; Caltrans: California Department of Transportation; MnDOT: Minnesota Department of Transportation; ADA: Americans with Disabilities Act; USACE: U.S. Army Corps of Engineers; MD SHA: Maryland State Highway Administration; VDOT: Virginia Department of Transportation; USACE - ERDC: USACE's Engineer Research and Development Center; MDOT: Michigan Department of Transportation.  
Other Accomplishments
In-Situ Scour Testing Device Patent: Patent No.: 9,322,142 (Issue Date: Tuesday, April 26, 2016).
Laboratory Capabilities and Equipment
For detailed explanations of the capabilities and equipment at the J. Sterling Jones Hydraulics Research Laboratory, visit the pages on physical capabilities and numerical modeling. These pages include specifics on the laboratory zones and the Advanced Computing Center.
Laboratory Services
The Laboratory Services page lists the ongoing research conducted at the J. Sterling Jones Hydraulics Research Laboratory. See this page for brief descriptions of ongoing tasks and their functional research areas.
Updated:
Wednesday, October 3, 2018